All
Registration
Usability
Profiles
Prices
Special Features
faq
Grindr is the ideal solution for matchmaking in the LGBTQ community. It's a location-based tool started in 2009 and aimed to help the participants find trans, bi, and gays nearby. There are over 27 million subscribers around the globe. The provider represents the modern lifestyle of the LGBTQ community. This innovative network helps you connect with like-minded individuals.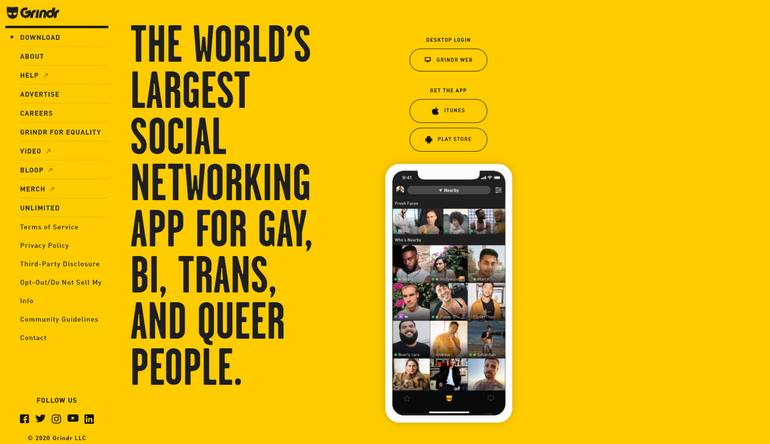 Find out how this unique platform works. Check out this Grindr review to explore the various perks, pricing structure, and features it offers. After taking many Grindr reviews of users into consideration and the network's benefits, you get the final thoughts in the following article. So, let's analyze why it's the tool you need.
Grindr Sign up
The good:
Free registration
Facebook login
The bad:
Grindr.com has a quick and non-paid registration process. It's an application based platform which is free to download. The process will take less than a minute. Moreover, new participants can sign-up using Facebook. You'll not be required to verify your email but you have to upload a picture which the backend team will validate.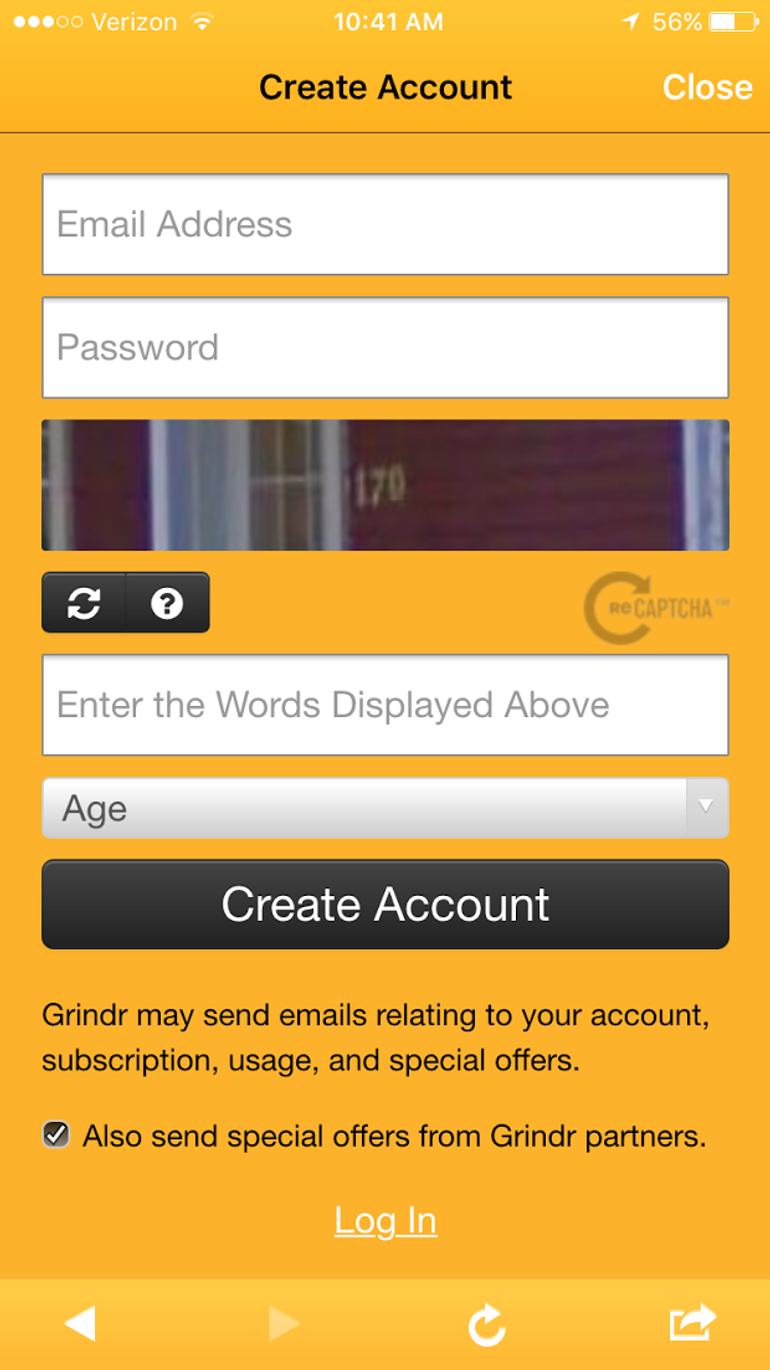 Since this tool works on the location basis, check if your GPS is always turned on. If you're seeking many great matches, you should provide as much information as possible along with attractive photos.
Grindr Usability
The good:
Simple interface
Easy navigation
The bad:
Grindr is an application based tool which only functions on smartphones. There's no website to date on computers. Though, the interface of the app is well organized, and everything is pretty neat and clean. You can understand all the features and functions of the tool in one go. You don't need to be tech-savvy. Just download the app and start dating.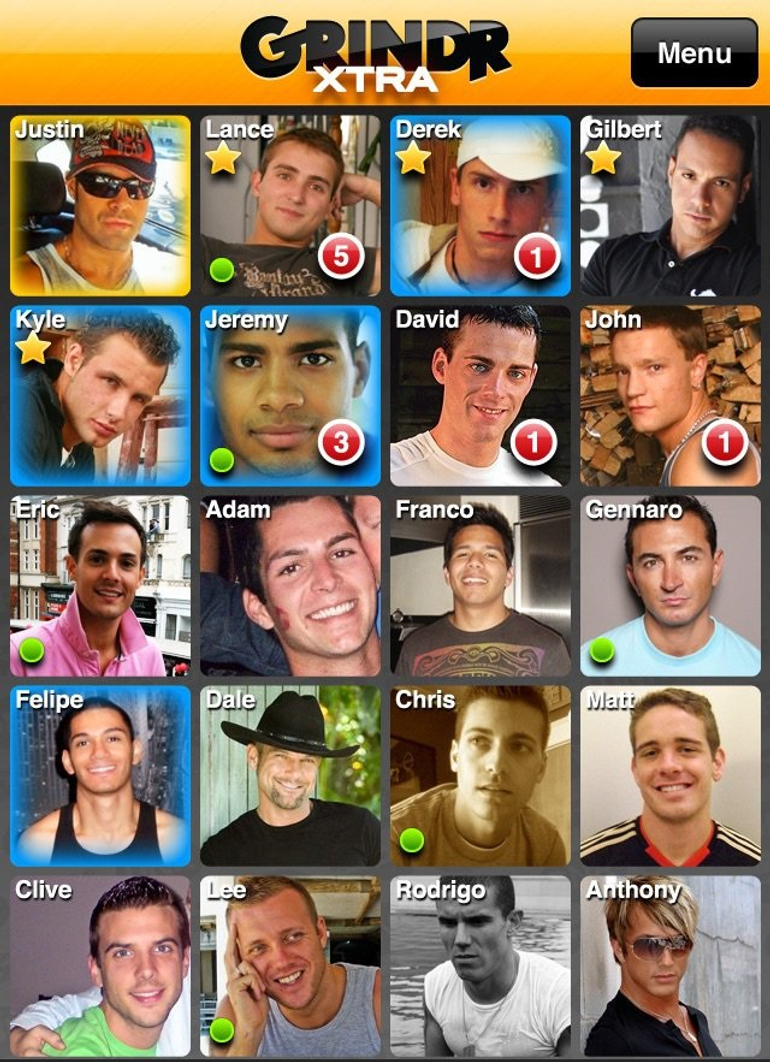 Contact
The good:
Free texting
Active participants
The bad:
Poor offers for premium members
Grindr has an active user base. Participants can interact with each other for free usingTaps and Messages. Subscribers are allowed to send texts to the participants who are close to their location. Moreover, you can deliver messages to members in the nation. All your conversations will be filtered on the basis of unread texts and favorites' texts.
Taps show those who want to demonstrate interest in you. There are different ways to do that: Looking, Hot, and Friendly. This is a useful and unique perk. If you think a participant is friendly, there will be corresponding emoticons for you to send.
Grindr Profile quality
The good:
Complete and detailed personal pages
Social media accounts links
The bad:
There are five different sections on everyone's profile. You can opt to fill out these details later or completely ignore them. It's not a mandatory step. Moreover, participants have the advantage of linking their social media accounts. Meanwhile, subscribers can only upload a single photo on their page.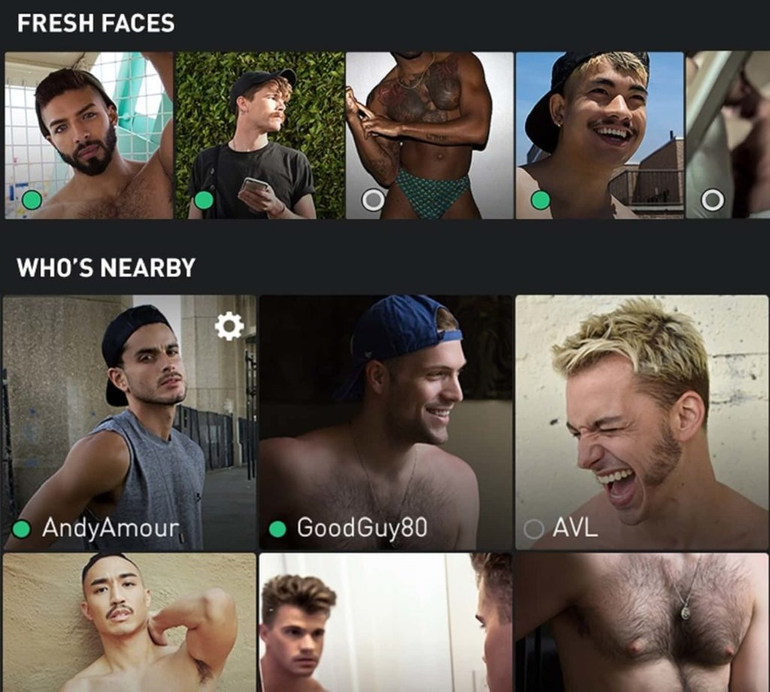 Youll also get the possibility to see other user's location on the profile. Alsp there are extra sections:as info, stats, identity, sexual health, and social links. You can get enough information from the pages of other participants to start interaction.
Grindr costs and prices
There are different and unique packages on the network. As a welcome bonus you get a 7 day free trial to understand and figure out how the premium membership works. There are various perks on offer with the superior paid account. Compared to other networks, Grindr provides average and not expensive packages. The pricing structure and other details are mentioned below.
To experience an unlimited surfing on the site get one of the following packages:
Free services:
Signing up
Browsing through the network
Checking out member profiles
Creating a complete profile page for yourself
Getting up to 100 matches
Creating group chats
Sending messages
Selecting 1 tribe
Fee based services:
Ad free
Getting up to 600 matches
Selecting 3 tribes
Push notifications
Online-only view
Saving and delivering chat phrases
Unlimited favorites and blocks
Payment options
Grindr Special Features
The good:
Easy-to-use tools and services
The bad:
Who read my message
This is a premium benefit and it's available for a price. Participants can find out who has read their text. This helps to figure out whether a subscriber is ignoring their messages or not.
Taps
This is a unique benefit that is available to all participants for free. Subscribers can use taps in three different forms. There are emoticons for friendly, hot, and looking. They allow the participants to send these emojis to ones you like. It's a great interaction tool and not common for other networks. Meanwhile, this feature works on GPS and participants need to have their location turned on always.
Free services
Most of the features of Grindr are available for free. Even though, these are limited to a certain point, all members can get a basic services list. Therefore, it'll be easier for you to figure out if you want to invest in their perks or not.
Grindr App
The good:
Great interface
Easy navigation
The bad:
No mobile-friendly site
No iOS ap
Grindr has a free application which can be downloaded from the Play Store. There is no website sadly, so, the entire dating scene happens on gadgets. It has a modern and simple design and allows participants to date in a hassle-free manner.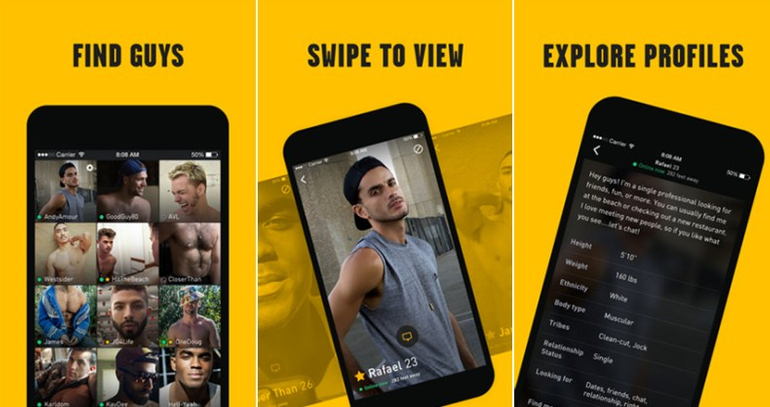 Dating on the go is really simple and has great and convenient features for every participant.
Yes, most of the perks on the network are available for free. There are premium packages as well though.
How to build a page on Grindr?
You can opt for the Facebook option or simply sign up using your email. The process is quick and simple.
How does the payment system work?
There are a couple of different packages available on a monthly basis.
Yes, the network is considered to be safe and secured.
Yes, texting is completely free but you can send limited texts with a standard account.
How can I delete my account?
You can do so by heading to the 'My Profile' section and then choosing 'Profile Settings.' Click the option to delete your account there.
Can I use the network anonymously?
No, you cannot operate this network anonymously.
How can I know accounts are real?
There's no email verification required. Meanwhile, participants can link their social media accounts. So, you better interact with those who have done so.
How long does the approval take?
The authorization process is simple and takes less than a minute. After that, you can utilize network services.