All
Registration
Usability
Profiles
Prices
Special Features
faq
EastMeetEast is a dating platform where Asians who were born and / or live in the USA are the main audience. There are also many people of other nationalities who want to get married or make friends with Asians. The website is free for all women, but male users must purchase a premium subscription. It's pretty good, right? Here are all the pros and cons of this platform.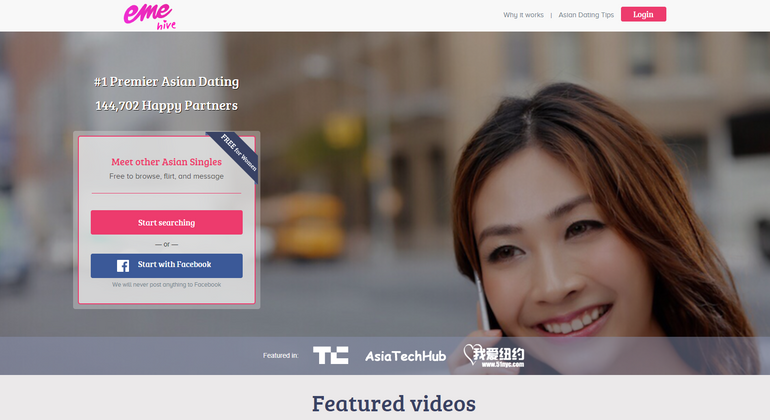 EastMeetEast Registration
The good:
Easy to figure it out
Takes a few minutes
Account Verification
Registering here can make you really happy. This EastMeetEast review will make it clear for you. It is much more convenient than on any other dating websites. You only need to indicate the basic information about yourself: who you are (a woman or a man), and whom you are looking for; your ethnicity and occupation; date of birth, name, etc. You won't notice how quickly answers are filled and ta-dam... Your profile has already been created!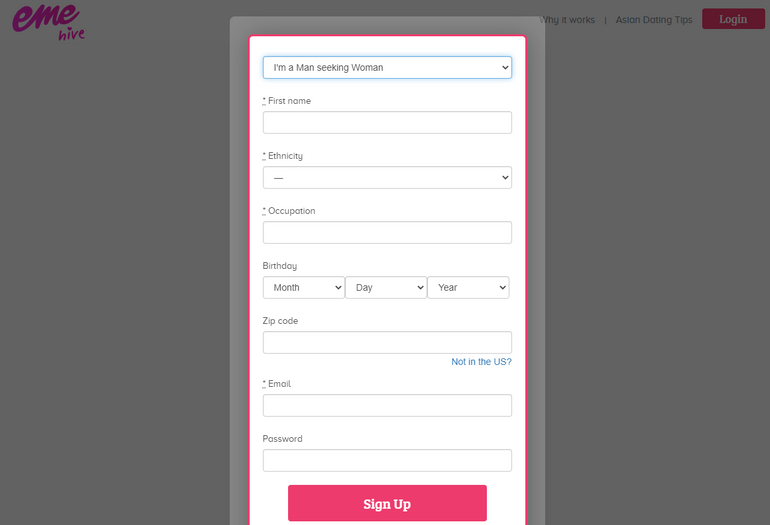 After that, you will see your ready account. Here you can indicate the languages ​​you speak, your education, income, habits, children, and even the university. Of course, you will need to add your real photo, because all the pictures are checked by the administration. For more active communication on East Meet East, you can even attach a link to your Instagram account.
EastMeetEast Usability
The good:
Pretty interface
Useful categories
Search filter
The bad:
You may like the usability of this platform or not. It has a nice design, but a minimalistic set of buttons and functions. Although, here you have everything you need. A search filter helps you find users by age, location, ethnicity, and profile photo. Premium subscription also has an advanced search with a lot of points.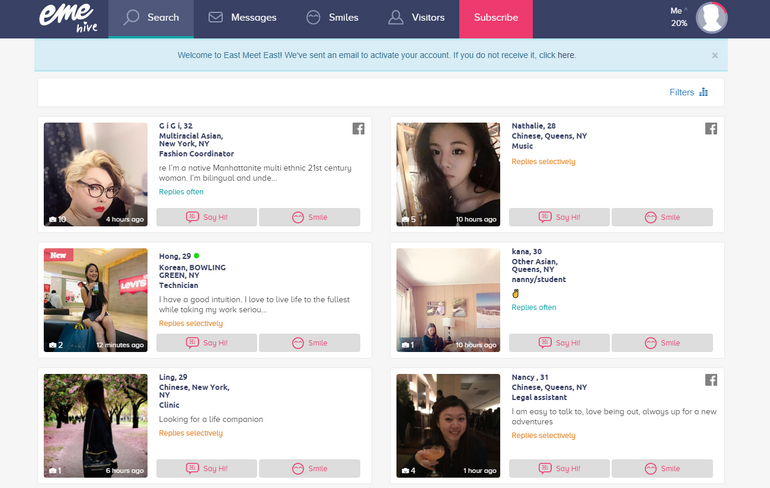 There are many EastMeetEast reviews that say the same. Of course, you have limited opportunities on the site if you are a man and you do not have a paid version of the profile. But in general, you can easily understand the capabilities of the site yourself, because everything is here and located quite simply. For girls, it's still completely free.
Making contact
The good:
Smart user search
Free posts
Large audience
The bad:
In order to write a message to someone, your email must be confirmed. You must also have a profile photo uploaded so that you can view pictures of other users. You can chat premium users for free, but for unlimited communication, you need a subscription of East MeetEast.
But after all, making contact is pretty easy here. First, you need to fill out your profile correctly: specify a detailed description, add real photos and do it in such a way as to interest other users for communication. Then you can receive messages from others or start it on your own. Use the search to filter profiles and find the ones you like. Hope this EastMeetEast.com review will make you contact more people here.
EastMeetEast Profile quality
The good:
Detailed descriptions
A lot of photos
Diversity of people
The bad:
If you are not looking for hookups, but for a long relationship with an Asian girl, this website is perfect for you. There are many interesting and smart beauties who indicate a lot of information about themselves. It is also customary to add many pictures here.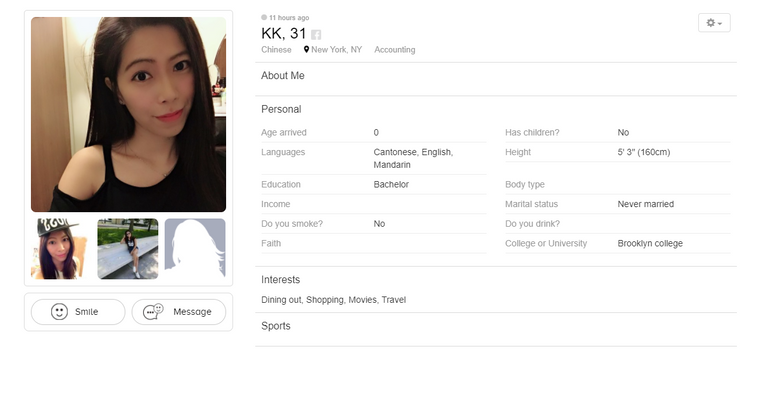 Profile structure on East Meet East is awesome. If the user answered all the questions in the description, then you can find out everything you need. There are items on language skills, education, income, religion, habits (smoking and drinking), marital status, height, body type, and even having children.
EastMeetEast costs and prices
What is East Meet East reviews without writing about money? This platform is paid because you cannot communicate with all users without restrictions. But the matter is completely different if you are... a woman. Premium subscription applies only to men. Very gentlemanly, huh?
In any case, the premium account gives you the opportunity to communicate unlimited with all users. You get instant feedback from users, so this money pays off quickly when you get a lot of communication. If you do not want to update your profile, but just try some features, you can buy coins. By the way, you get 1000 free ones after registration.
Free services:
Account registration
Send smiles to users
View other profiles
Fee based services:
Unlimited chat
Matching recommendations
There are two sides to the coin. EastMeetEast.com is free for girls and therefore it is worth paying attention to it. A premium subscription is needed for male users and this price is pretty average. You have the choice to start with a full premium account or buy coins to familiarize yourself with the platform.
This has an honest policy towards users. If you want to cancel your subscription, you can do this at any time. Do not forget about this until the monthly renewal, as paid money can not be returned.
Payment options
You can pay for an East Meet East premium subscription or coins with a credit card. To do this, you will automatically go to the payment page and you will need to enter payment information. This is a standard procedure, therefore it is protected and cannot lead to the theft of your data.
When you pay for the app in the AppStore, payment is also carried out in the usual way. If you previously linked a credit card to a payment account, you can pay for your subscription in a few clicks. Just go to Settings and follow the instructions to upgrade your profile to premium.
EastMeetEast Special features
The good:
Target audience
Good interface design
The bad:
There are no unique features
If you tried all dating platforms and want to see something new, then this one may disappoint you. EastMeetEast differs in that it has a narrow audience, primarily American Asians. It really attracts a lot of people and it can be very helpful for you.
As for the interesting features, there is nothing special here. You can use the basic chat, search by users, make a detailed profile description and add a lot of photos. Although, there may be an advantage in that everything is so familiar here?
App
The good:
Matches available
Live Streaming
High-quality interface
The bad:
Most users are still more likely to use apps than the web version of dating platforms. The biggest drawback of EastMeetEast is that you cannot download it on Android. But in general, the app is convenient and has all the same functions as a website as many user's East MeetEast review says.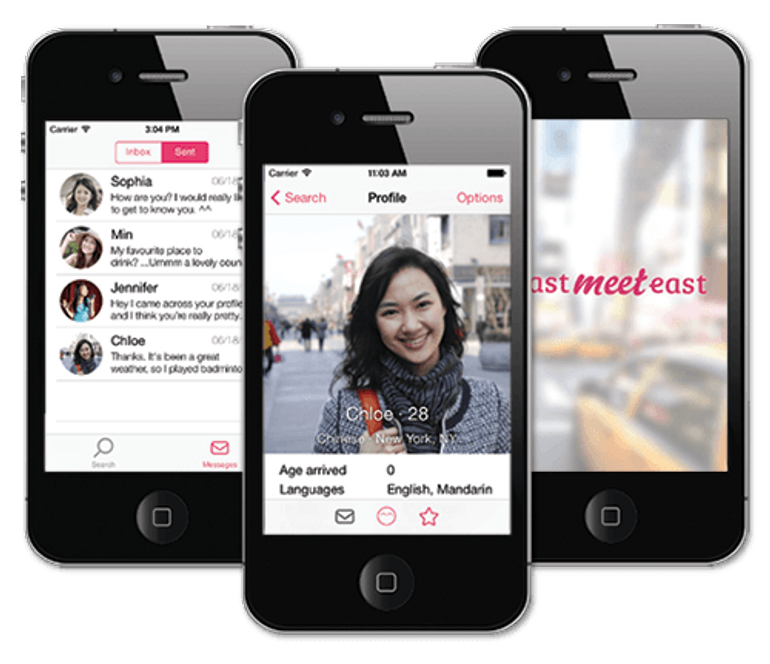 If you are set up for constant chatting, you will definitely like it. There is a very nice interface for messaging, so nothing will stop you from enjoying communication.
It is free for women and paid for men. Also, you get some coins as a gift
How to create an account on EastMeetEast dating website?
Just go to the platform, click Start searching or Start with Facebook and follow the instructions.
What is the coins on EastMeetEast dating site
This is the currency of the website. You buy a certain amount of coins for real money and then spend on the functions of the site. For example, sending messages.
How safe is EastMeetEast?
The platform does not distribute or collect your data and also has a secure subscription payment system. It is absolutely safe.
How to delete a profile on EastMeetEast dating website?
Go to your account settings and select the option to delete the profile. This is an irreversible action, so you should think about it well.
What is the number of active users on EastMeetEast dating site?
It has over 500 thousand users from the USA and 1500 active users daily. Enough to have a lot of acquaintances and not too much to be crowded here.
How to use EastMeetEast dating platform in incognito mode?
You cannot hide your profile. But you can temporarily delete your photo and then no one will recognize you.
What to do to make sure that a person I talk to is real?
The administration of the platform checks all profiles, so you can not worry about it. In addition, many users add a link to their Instagram account.
How to contact people for free on EastMeetEast?
After registering, you get 1000 free coins and you can use this to send 10 messages. Also, girls have full free access.