All
Registration
Usability
Profiles
Prices
Special Features
faq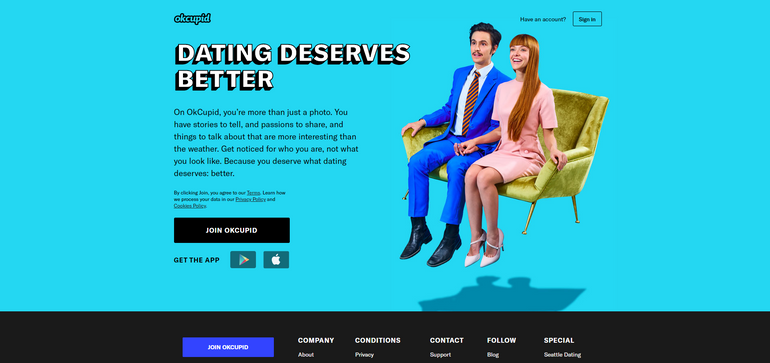 OkCupid is an online international dating website. It has a long and successful experience. For three years, it has been listed in Time Magazine's top 10 dating websites. It is a great achievement. The secret of such a success is that OkCupid is the only provider which is renewing to catch up with all the new trends.
This platform is a free open place for people of different ages and with various purposes. The only rule is - to be fair. You'd better state from the very beginning of what you are looking for here. Be sure, among such a vast number of users you will find a like-minded one.
You have to choose an appropriate aim — short - term or long - term dating, hookups, or new friends. No one will blame you if you don't want close relations for now. It is your life, and only you are to decide what to choose. Don't hide anything, and it is of no avail.
OkCupid Sign up
The good:
Quick and easy process
It is possible to sign up from a desktop, as well as mobile app
The bad:
Quite a long questionnaire
Want to be a member of this community - nothing is more comfortable, it will take about 10 minutes of your time. You need to fill in some simple information, like your name, age, place of living, email address. There is a possibility to register on via your Facebook or Instagram account. As plain as ABC. Such connection of accounts will be proof that you are real and have serious intentions.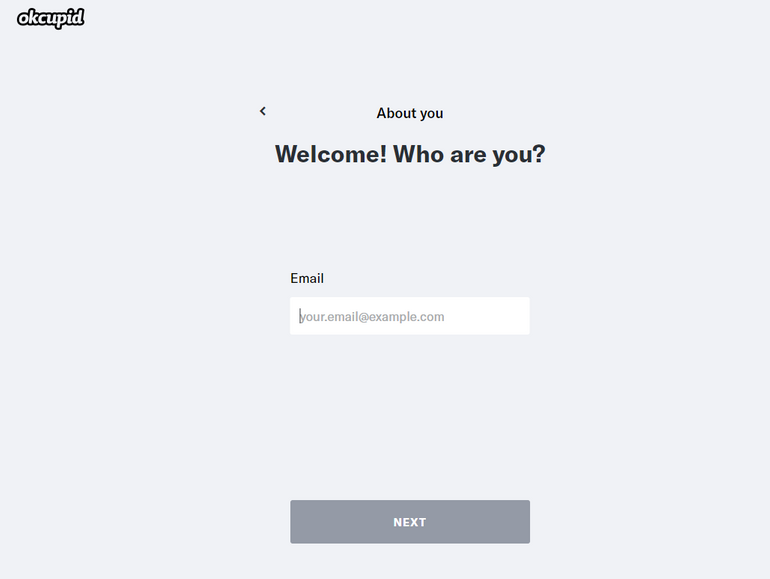 Though, it is not the end yet. There is a supplemental questionnaire. It is a must for a successful search of a partner who matches you most of all. The questions are about your likes, dislikes, hobbies, religion, habits, traits, and more. All these facts will help the searching system of the site to select the most appropriate person for you.
It should be mentioned that this questionnaire is not dull or tiresome. But, the users find it to be entirely cognitive, even for themselves. They say that it helps them to analyze their inner world, find out some traits they want to change, or also get rid of. The searching system will show you some suggestions right after your registration. It is an excellent option among other dating providers. Quick, precise, reliable - it is all about OkCupid.
Quite an important step is to upload your pictures. For better results, it is recommended to choose several photos. They might be not artificial but attractive in a natural way. Do not forget that to pretend is not an option. Early or later you will have to show your hand.
Creating an account here is a vital process that you shouldn't underestimate. It is like your business card, your image that makes the first and so foremost impression about you. It is better to state accurately who you are and what you are looking for here. The creators took your comfort into account. They established that for exchanging messages, both people have to like each other.
When you will create your page, you will receive a letter with recommendations. As you see, OkCupid members are never alone, and the agency takes care of them from the very beginning.
OkCupid Usability
The good:
Simple interface
Attractive design
The bad:
The design seems to be too plain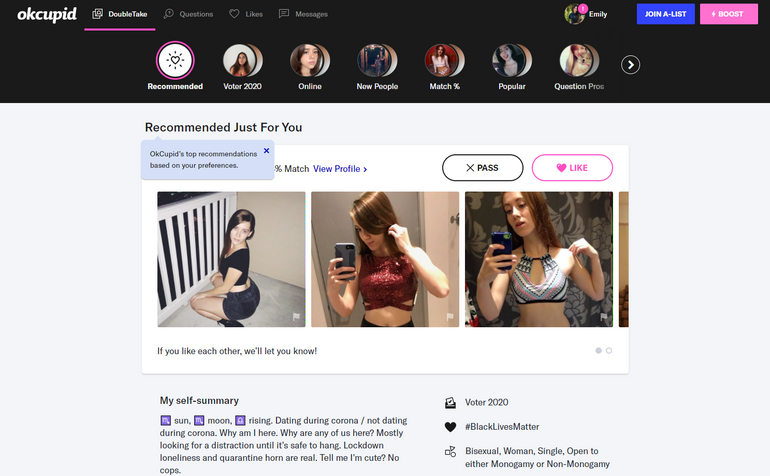 This platform has an excellent user interface. All the links are straightforward. You will not be confused or redirected to another webpage. The design of OkCupid will probably make you calm and pleased. Nothing is distracting or overwhelming — simplicity, elegance, and unique style.
Various shades of blue, white, and pink colors, which are warm, calm, and pleasant, are used. You do not want to leave the site. Maybe the secret is hidden incorrectly picked up tints? May be - in everyday use?
Making contact
The good:
To send and receive messages is free of charge for men and women
Excellent searching system
The bad:
Message exchange is available only after getting alike from each other
OkCupid Profile quality
The good:
Detailed accounts
Obligatory verification of each profile
Free access to the users' profiles
The bad: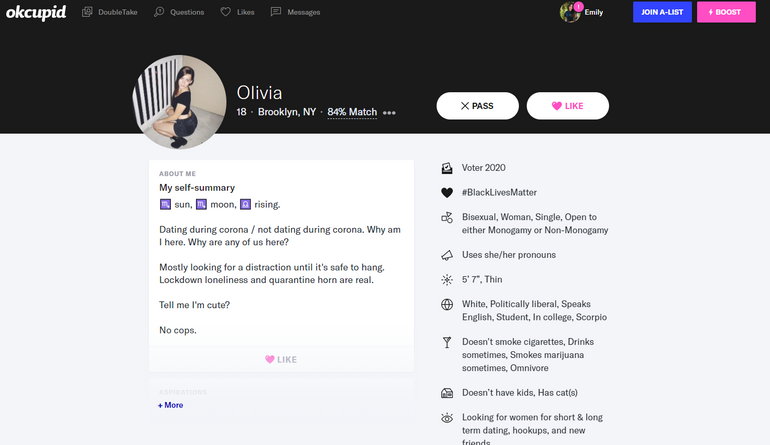 Due to a questionnaire, every member has to fill in, all the profiles are informative. There is a place for a so-called summary, where each user writes at least several words about himself. It depicts his attitude towards himself so helps to understand his inner world a little bit better.
OkCupid has many peculiarities which aimed to ease the users' membership. It contributes to their successful search of a partner. One such feature is the so-called double-take. It is a roulette - type search. An agency offers you profiles of girls who match you perfectly. If you are not interested in a woman - you swipe left and continue the
OkCupid is known as a modern website, though it was created in 2004. The reason is that they used to adjust to the new trends or the users' needs, improving the services. One of the innovations was a policy on messages. Now before sending a message, the user has to show a like of the lady's profile. The thing is that she will see the text only when she will like his account in return.
So, no small talks are available on this webpage. If people are interested in each other - they will have an opportunity to get acquanted . You will not find such a demand on other dating platforms. It is one of the OkCupid's peculiar features.
As for a searching system, it is well organized. It has plenty of filters to choose from. That is why it is obligatory to give a detailed description of yourself and the desired partner. Each section, each tiny component of OkCupid are interconnected. They are aimed to help the members to find a decent match.
After completing your profile creation, you will have some women's pages who match you. In such a way, you will not waste any minute of your time for nothing. Have you ever come across such an option before? Definitely, no. It is unique, created by the site's team.
There is a particular blog that contains essential information. It tells me how to be a successful user of a dating platform. There are many useful tips and recommendations about the creation of your profile. They discuss how to search for the desired partner, communication and so on.
To tell the truth, it was an excellent decision of the OkCupid team. So often poor people go flop because they go the wrong path. They make silly mistakes that reduce their chances significantly. Some common tendencies that contribute to successful search were pointed out. All of them are described in the community's particular blog.
OkCupid costs and prices
The main and the most useful services, you have to pay for include access to more advanced search filters. Also, the priority of your messages, seeing who likes your profile. And the absence of commercials and ads. All these services are not obligatory when you want to meet a decent partner on a dating platform. But they will help you to do it quicker and more professionally.
Imagine that you don't see the millions of stupid, idle advertisements surfing the website. Nothing is distracting you from the things that matter, from your chief aim of being here. It is a great achievement, the worth of premium membership. Being on the top of a search range, having your messages above all the others means to be more accessible. So that you'll have more chances to contact a lady, you are interested in.
As for the paid membership, there are two kinds of it. A - list basic, which has some extra options for a more productive search and A - list premium. It is a super plan. It embraces the services you can easily do without, even for a successful result. Prices for these options are average, in comparison to other agencies.
Like the other dating pages, OkCupid has free and paid services to offer. Still, it must be admitted that even free membership is enough for a search of a partner. You can create your profile and message, other members. You can look through their pages, search for the desired partner using some basic filters. Also, you can see who likes your account for free. By the way, it is a solid proof that the site itself is reliable and doesn't try to gain money only, isn't it?
Fee services:
Sign up
Search for a partner
Look through other profiles, including pictures and information
Send and receive messages
Fee based services:
See who likes your profile
Stay at the top of a search result
Use advanced search filters
Turn advertisements off
Payment Options
Credit cards
PayPal
Via mobile phone
OkCupid App
The good:
Mobile app offers the same features, as a desktop version
The bad:
Much time is needed for loading some pages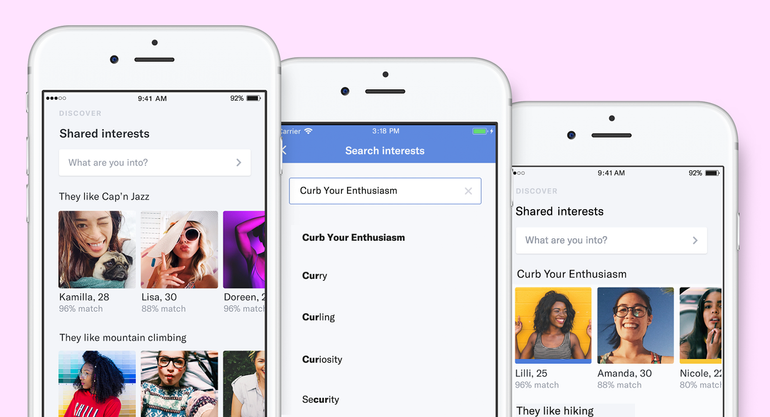 It is possible to register on and use the site online or download a mobile version for iOS or Android. This agency cares about everyone. It considers that it is crucial in modern society to be available all the time, from any device. Today almost all the sites in a dating sphere have mobile apps, but not all they are so well developed and detailed.
OkCupid is a free site which offers premium membership.
How difficult is it to create a profile on OkCupid?
You may create a profile by filling in your personal information form or by connecting your Facebook or Instagram account to the site.
How does the payment system work on OkCupid?
There are A-List Basic and A-List Premium membership. The first one costs 7.95 USD for 1 months, 19.05 - for 2 months, 23.70 - for 6 months. The second one - 24.90 USD for 1 months, 68.70 - for 2 months, 119.40 - for 6 months.
OkCupid has a privacy policy on the site. Every account undergoes verification before being registered on. Besides, there are report and block buttons on each profile.
If I want to delete my profile from the OkCupid, how do I do it?
It is possible to delete your profile through account settings.
How many people use the services of the site OkCupid?
There are over 50 million users from all over the world.
Is the function of anonymous data viewing available on the OkCupid?
Unfortunately, OkCupid doesn't have this option.
How can I be sure that the profiles of women are real?
Every profile on OkCupid has to undergo strict verification. If you have some suspicions concerning a certain account, you may block it.
Sending and receiving messages is totally free on OkCupid.
How quickly can I get confirmation of my profile?
Confirmation of a profile will take you about 5-10 minutes.
How do I keep my account secure?
Create a reliable password and don't tell it to anyone. There is a possibility to block a profile which seems suspicious to you.