All
Registration
Usability
Profiles
Prices
Special Features
faq
Malaysian women often attract men from the United States, Britain, Canada, and other countries. But on regular dating websites, it can be difficult to find them among hundreds of thousands of other users. What if you make a platform where you can choose ONLY among these beautiful girls? Wait, it already exists...
PinaLove dating platform is one of the best dating websites for Malaysian women. There are also gay and ladyboys here, so everyone will find someone for themselves. Here you can meet your love or find a partner for your spa romance. Who knows how your online adventure will end?
PinaLove Registration
The good:
Takes a couple of minutes
Easy navigation
The bad:
Only via Facebook or Phone number
Adding a profile picture is required
A questionable sign-up option here is the need to register a profile using your Facebook account or phone number. Many PinaLove reviews say about it. This scares some users off, but let's put everything in place. This protects the platform from fake profiles and scammers, which means it is an excellent registration procedure. If social networks no longer use email registration, obviously dating websites should not do this either. In addition, your number will not be published anywhere.

All in all, this is a simple and quick registration that shows the high class of this platform. However, you still have to take the time to at least add your profile photo. Here everything is done so as to motivate you to provide real information about yourself. Otherwise, your account may be blocked.
PinaLove Usability
The good:
Nice design
Many functions
Fast website and app
The bad:
Limitations for basic accounts
Pina Love is a convenient and useful website. This is similar to all the niche Asian platforms. It has a good interface design, convenient page navigation and easy ways to communicate. The advanced search page is factual because here you can find interlocutors in many ways: gender, height and weight, location, education and the presence of children.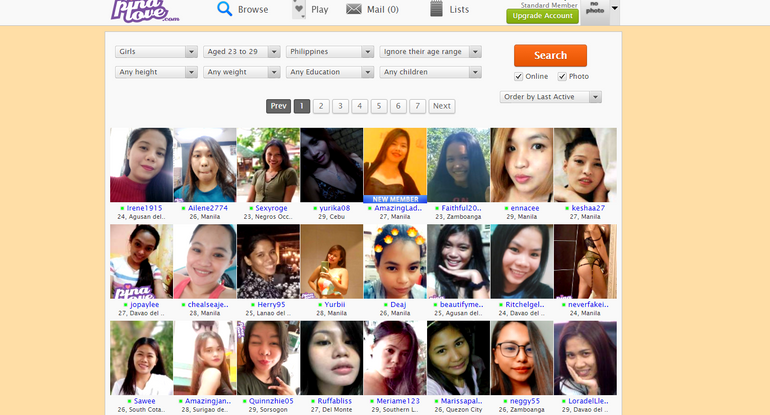 The disadvantage is that few profiles have a lot of user information. Most prefer to just add photos. But if you're not eager to write a lot about yourself, you'll okay with that. The advantage is that all profiles are open to all users for free, that is, you do not need to have a membership to see the photo.
Making contact
The good:
Sending hearts
Favourites list
Live chat
The bad:
Limited messages
Most functions are paid
So, this is a platform where American, English and other men get to know Filipino women and men for a long romance. Also here you can find ladyboys. Therefore, you will have a large selection of those with whom you can chat here. You can also show your sympathy not only in the message but also by sending hearts and adding a user to the list of your Favorites.
Unfortunately, basic accounts get only a limited ability to send messages. Without buying a membership, you can send 1 message in 10 minutes. Perhaps this is enough to test the platform, but for active communication, it is very small. After purchasing a subscription, you get not only an unlimited number of messages, but also live chat. Hope this PinaLove review will help you to make it clear.
PinaLove Profile quality
The good:
Basic accounts can view all the profiles
Friendly and honest users
Editing profile anytime
The bad:
Profiles don't have much information
PinaLove.com is a typical dating website where few fill in a lot of information about themselves. According to surveys, few people like to write about themselves and prefer to talk about it in person. Therefore, this will not be considered as a platform flaw, but as a feature.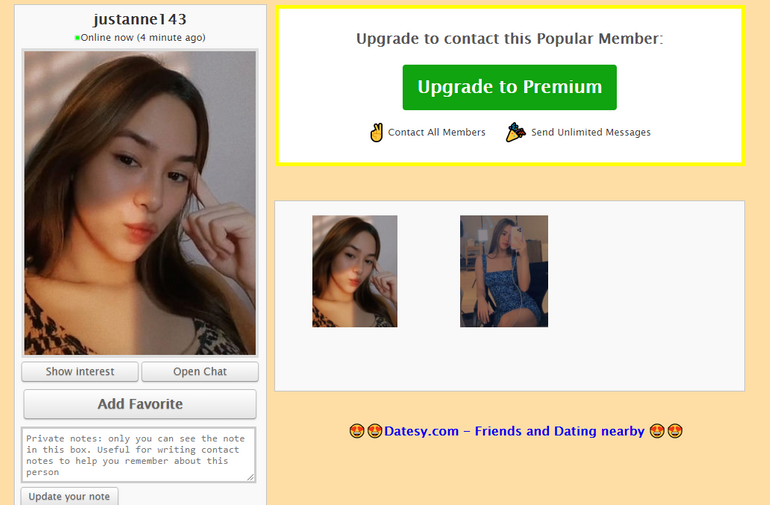 What can please you are open profiles for everyone. Without a membership, you can view all photos of users. Some platforms do not offer this feature. Also, besides the fact that there are Filipinos for every taste (women, gays, transgender people), you can see that they all have real photos. Thanks to the registration via mobile phone, it has a good audience.
PinaLove costs and prices
PinaLove com cannot be regarded as a free service, so it is obvious that the functionality for basic accounts is limited. In the free version, you can only get acquainted with the capabilities of the platform, and for this purpose, there are quite a lot of open functions. For example, you can write 1 message in 10 minutes. Yes, this is not enough for active correspondence, but for testing it is okay.
You can also show your interest to other users, add them to Favorites. You can use this to save someone until you have a membership. After the purchase, you can easily find this person in your list and can write to him. A premium subscription gives you the freedom to use the website: send messages to anyone, use live chat, read tips and much more. If you do not want to renew your subscription, do not forget to cancel it in your Account Settings. If you do not, the money will be debited from your account automatically.
Free services:
Limited messages
Showing interest and Adding to Favorites
View all profiles
Fee based services:
Unlimited communication
Live chat
Many other features
Is PinaLove dating website expensive or cheap?
It has an average price compared to other paid platforms. You can view the website for free, but for full communication, you need a membership.
Payment options
You can use a credit card, PayPal and Bitcoin to pay for membership.
Payment discretion
All payments are protected by a standard system.
PinaLove Special features
The good:
Showing your and user's visits
Interests and Favourites
Notes and saved photos
The bad:
-
The platform has really many interesting features that you will not find on other dating services. There are many minor but cool details here. For example, you can see who visited your profile, as well as which profiles you visited. This will show you your interest and not lose those who were interesting to you. You can also add people to Favorites, save notes about users and save their photos if someone seems very attractive to you.
The disadvantage is that not only special but also basic functions remain paid. You cannot fully use the platform without a premium membership. Well, this is not the most expensive dating website as it said on many PinaLove com reviews.
Apps and mobile website
The good:
Quick registration
Same functions
Cheaper membership
The bad:
If you do not have a computer at home, this is not an excuse not to try online dating. PinaLove has a good application that is even more efficient than the desktop version. And, unbelievably, it has an even cheaper subscription. However, this is only available for iOS. If you do not have an iPhone or iPad, you can use the mobile version of the site. Just follow the link through your mobile browser.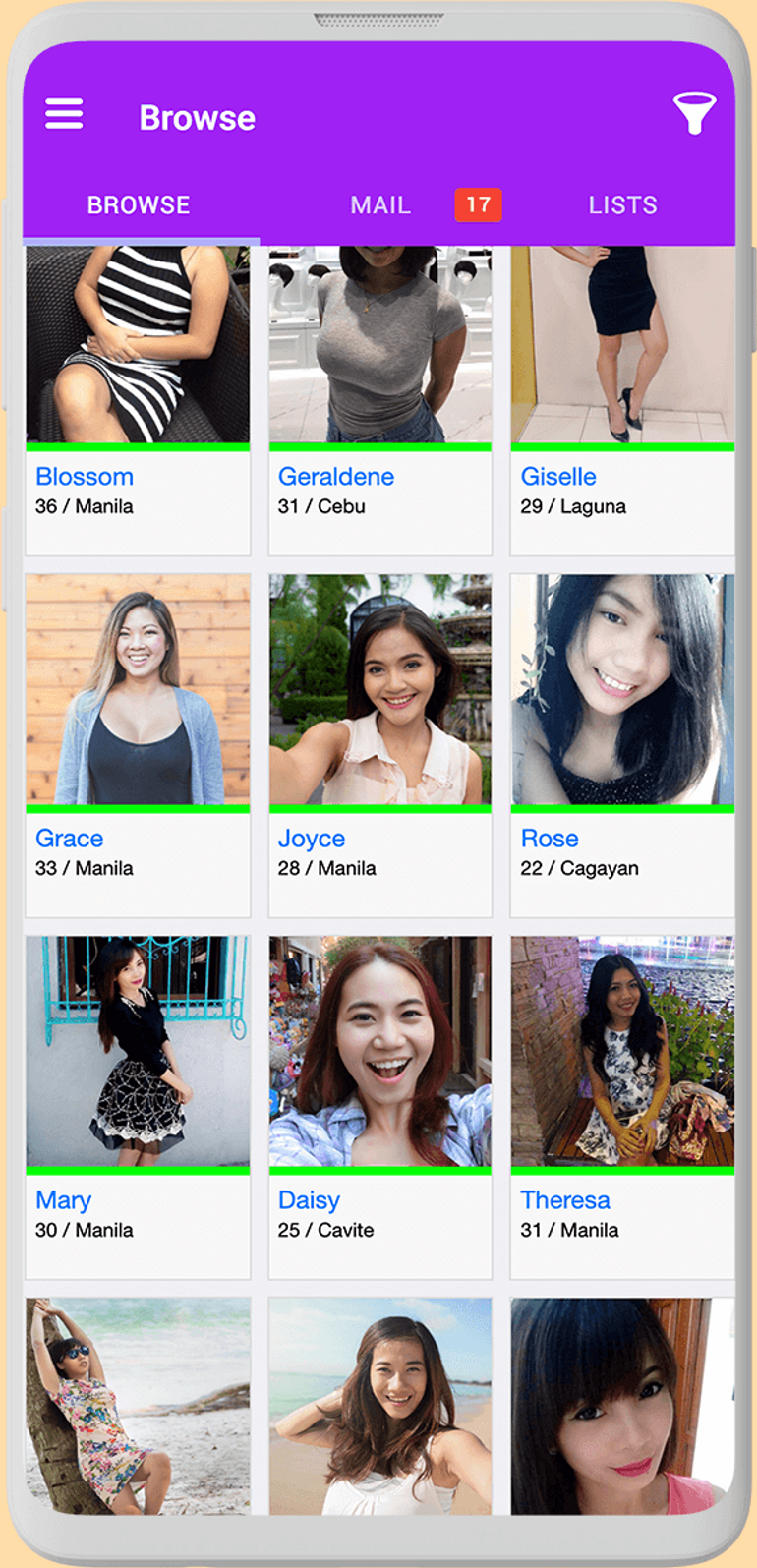 In the PinaLove app you can send stickers, photos and voice clips to other users. In general, it has all the other functions that are on the website. This is an adaptive and functional application that has a good design and user-friendly interface. You can quickly register here without having to visit the website. This is a convenient way to always have online people with you and not be attached to your home.
You can use it for free, but for active communication, you need to buy a membership.
How to create an account on PinaLove dating website?
Go to the website and click Continue with Facebook or Continue with Phone number. Accordingly, then you will need to log in through the social network or confirm the registration via SMS.
All profiles are checked here, so here you will not find a large number of fakes and scammers. It is a secure platform.
How to delete a profile on PinaLove dating website?
Go to your profile settings and select the delete function. Indicate the reason and your account will be deleted. After that, recovery is not possible, so think twice.
What is the number of active users on PinaLove dating site?
There are over 1 million users worldwide. Every day, over 3,500 thousand attend this.
How to use PinaLove dating platform in incognito mode?
Unfortunately, there is no anonymous user function.
What to do to make sure that a person I talk to is real?
After a long chatting, you better talk to this person in a video chat. So you will know for sure that this person is who he claims to be.
How to contact people for free on PinaLove?
You can send for free only 1 message in 10 minutes. For free communication, you need to have a membership.