All
Registration
Usability
Profiles
Special Features
Prices
Conclusion
faq
It is a dating platform that unites people from all over the world for more than 20 years. Established in India, it has made its way to the Muslim world and now hosts over 6 million singles. Shaadi will be a perfect fit for those who strive for the exquisite quality.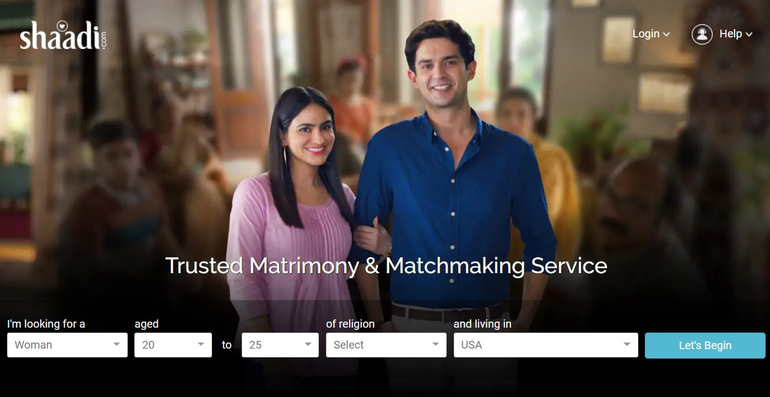 The good:
Utmost level of security and protection
Professional help
Unique features
Vast audience
Hosts people with disabilities and HIV
The bad:
Non-removable online ad
Only available for straight people
More males than females
Sign up
The good:
Easily understandable
Quality that ensure security
Helps you writing descriptive paragraphs
The bad:
May seem too lengthy
May be time consuming
You cannot get straight to chatting afterwards
Signup on the Shaadi is and straightforward. On the main page, you can find a registration box. There you have to fill in some information. It includes your birthday, gender, your religion. Then set your password and email. After this, you have to add more information about yourself that will let other users get to know you better. You can do it with the help of many questions. And to conclude the whole process you have to add your photos for better recognition and matching.
Usability
The good:
Pleasant atmosphere
User-friendly navigation system
Amiable design
The bad:
May seem overwhelming at first
You may not see the relevance of some aspects at the beginning
The website looks user-friendly and has an excellent color scheme. You can see the consideration of people's needs in it. You will have no trouble navigating. The first impression from the site is that it has a high level of security, and it owns its individuality. The unique atmosphere will be an exciting specialty that will make you want to stay there for longer!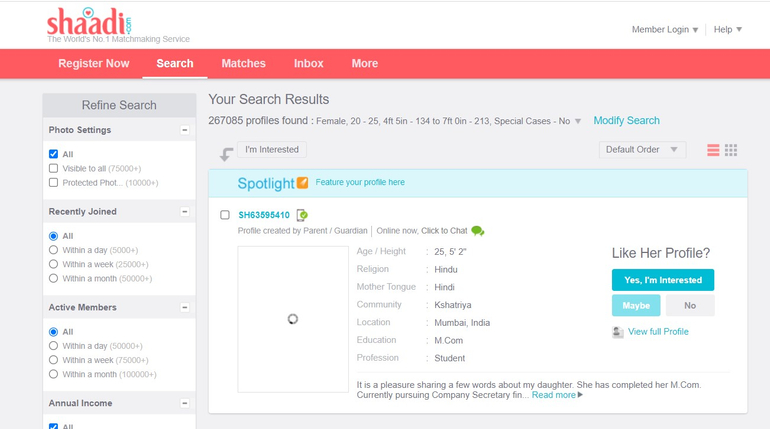 Making contact
The good:
Free users can converse with premium members
Subscribed people have full access to the site's specialties
The bad:
No video or audio chat options
Free users cannot start the conversations
There aren't many communication options provided by Shaadi. You can talk in the instant chat or send private emails. You can also express your interest by liking profiles and adding to the favorites. So far, Shaadi.com cannot provide any more communication tools.
Profile quality
The good:
Extensive descriptions
Every bit of information is checked beforehand
The bad:
Descriptions may seem extremely similar after browsing for long
Due to the enormous level of security there, you can be sure in the realness of every person. ID verification rules out anyone with bad intentions and low commitment goals. With the help of many questions and a text generator, you can get to know users by browsing their profile pages. Photos are also checked by the online help team. Thus you will not find any inappropriate pictures.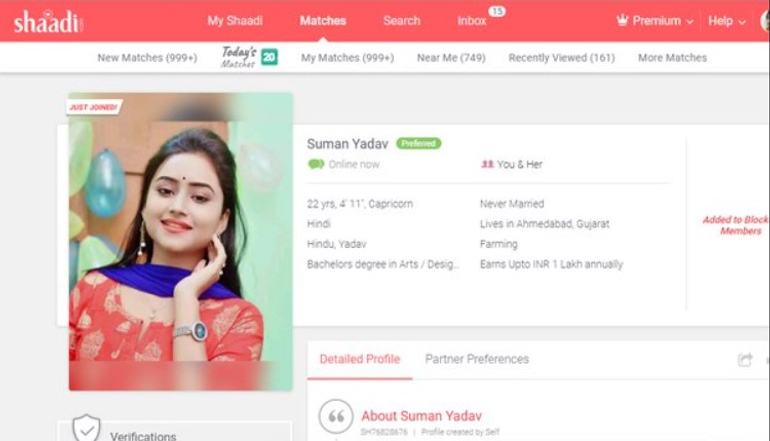 Mobile App
The good:
Available for Android and iOS
Easy interface
All the features included
The bad:
You may forget how the desktop version looks like
Shaadi provides an app that you can download on iOS and Android. It features the same tools and services that you can use in the desktop version. You do not need to sacrifice your convenience and sit long hours in front of the computer. You can access the site from the app!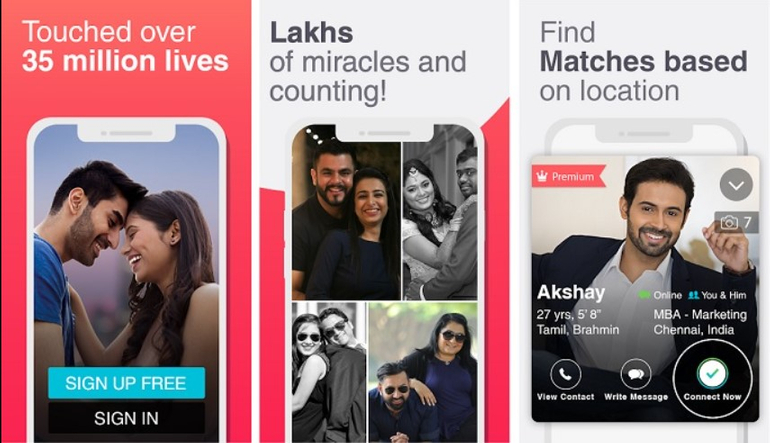 Special features
The good:
Exciting personalization
Helpful materials to read
The bad:
Nothing that will extend the communication tools
Extended search
There is a particular search engine. It helps you find users based on their education, income, and lifestyle.
ShaadiTV and ShaadiLive
You can watch useful videos or read handy blog posts about dating and romantic life. It may help you find your soulmate online.
Select Shaadi
It is an extra service that comes with a special price of $599 for three months or $899 for six months. You will get a personal advisor. He/she will help you with your dating and flirting skills. Your matches will become thorough. You will receive arranged meetings with your crushes.
Shaadi costs and prices
Free services:
Registration
Browsing the site
Search for the matches
Read the blog
Fee based services:
Messaging
Personal advisor
Viewing of private media
First place in the search and various listings
Personalized online help
Unfortunately, free users do not get much freedom on the site and cannot try any special tools. To enjoy the offered utilities, you have to pay for the subscription.
What is the pricing policy for Shaadi?
This Muslim dating platform offers different types of premium memberships. They may vary in access on the site.
Gold Plus for $119
3 months
meaning $39.67 per month
Diamond for $147
6 months
meaning $24.50 per month
Diamond Plus for $187
6 months
meaning $31.17 per month
Platinum Plus for $269
12 months
meaning $22.42 per month
Payment options
PayPal
Credit Card
Bank transfer
Payment discretion
Every single financial transaction is encrypted on Shaadi.com. Your personal information will stay private.
Further costs
On top of your subscription plan you can buy Select Shaadi which costs $599 for three months and $899 for six months.
Editor's conclusion
Shaadi is a prestigious Muslim dating website that was made purely for the comfort of its members. A high level of online protection and exquisite services make it interesting. Such a vast audience gives a definite chance to mingle with someone suitable.
Contact information
Company: Shaadi.com operated by People Interactive Pvt. Ltd.
Address: 2B (2) II Ground Floor, Film Center Building, 68 Tardeo Road, Mumbai - 400 034, India
Phone number: 022 43517007
FAQs
No, the platform offers various subscription plans. They provide you access to almost every tool developed by the site. Some users may have limited access in comparison to those who decided to buy the best option.
How to create a profile on Shaadi dating website?
You have to register and set your information. To complete your sign up, go through a 2 step verification. There you have to present your real ID.
How do Shaadi credits work?
This venue uses membership options you may choose from instead. There are Gold, Gold Plus, Diamond, Diamond Plus, and Platinum subscription plans. They will provide you with enough clearance to enjoy the tools.
It is indeed a completely secure website for everyone. Due to the 2 step verification, there is a little chance of meeting scammers. The online help team works day and night to detect suspicious activity.
How can I delete Shaadi profile?
Erasing your presence from this dating platform is a quick process. All you have to do is access your profile settings and find the account managing section. There you can find the "Delete Account" button. You cannot reverse this action.
How many members does Shaadi have?
There are over 6 million active users on the platform. Daily, the website hosts about 50 thousand online members. These extreme numbers assure you a long matching list. They provide enough stunning singles to choose from without any hesitation.
Can I use Shaadi anonymously?
Yes, there is an incognito mode you can use daily. Moreover, premium members can also send anonymous messages. It excites when you receive a private message but cannot identify the sender. Almost like an actual post.
How can I know that the profiles are real?
There is a 99% chance that everyone you meet is a genuine person. A high level of security makes it impossible to come up with fake accounts and scamming people. If the accidents happen, Shaadi will have information to proceed in the court.
Free members can still communicate with premium users. Yet, messaging is free for those who bought a subscription, and you cannot chat with fellow non-paying members. Like any other tool, chatting is available for those who have purchased a subscription plan.
How long does it take to have my profile approved?
It may take up to a few days to start mingling and flirting. The website officials need time to process every new coming user and make sure the safety is at a high level. Your ID verification and photos approval may take up to 48 hours, so be patient.