All
Registration
Usability
Profiles
Prices
Special Features
faq
The modern world opens countless doors with various opportunities. Herewith, you do not need to go a long thorny path, and everything is right behind the door. What you need to do is to decide what place you want to reach. In a few words, if you wish to close romantic relations - there are places where you can find the best match. If you want to have fun without dozens of timid meetings - there are other places created for such desires. What's Your Price is an example of the sites like this.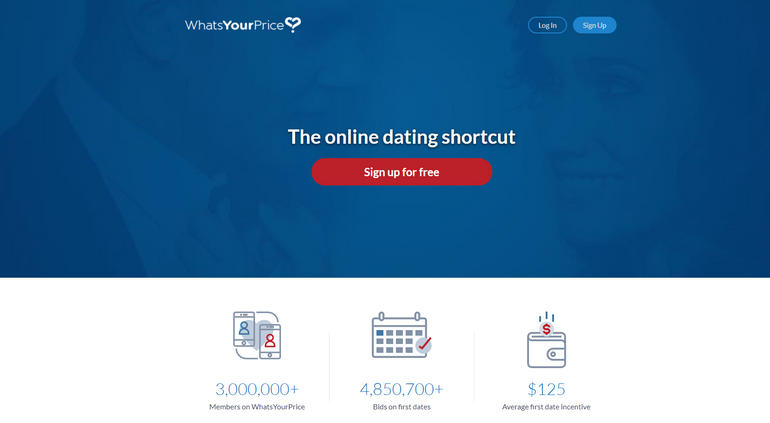 What's Your Price exists since 2010, and since that time is flourishing and attracting more and more users. It is something like a game for adults with an effective outcome. It doesn't have the same methods of making contacts as the other dating sites. It is a unique platform where a member doesn't refer to a searching system to find a partner who matches him substantially. Instead of wasting time on many messages or emails, people stick straight to the point.
What'syourprice suggests its members place a bid with a description of services. If one wants to get emotions and has the sum of money, he/she is ready to pay for it. In other words, it is an auction. Though, not a trading of expensive goods, but a bulk of unforgettable emotions. Please, admit that what'syourpric.com promises that it takes not more than three days to find a date. Quite an assertive claim, isn't it?
What's Your Price Sign up
The good:
Creating an account is free of charge
Quick and easy process
Possibility to get limited access to the site
The bad:
Limited access is followed by constant reminders to fill the account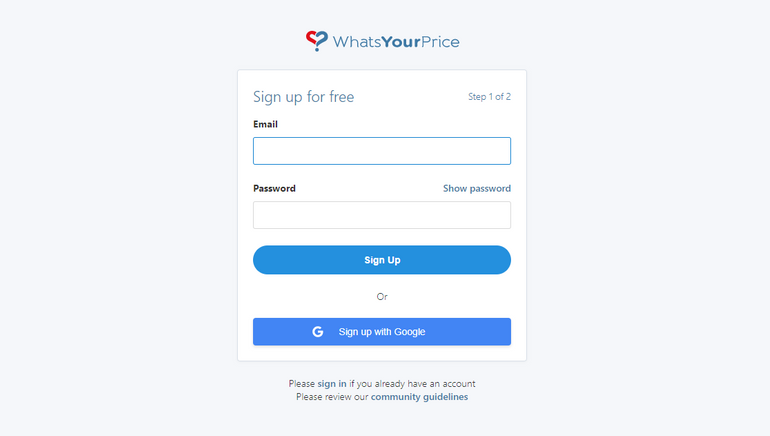 What's Your Price members are divided into two types: those who bid and those who pay. So the first thing you have to do while signing up is to select your gender and purpose of being the site's user. Answering these two questions guarantees you limited usability of the platform. It means that you will have access to it. But there always be a reminder on the top of your screen to add some information and to confirm your email.
To complete your page, you will have to state your place of living and physical characteristics. You need to mention more like character traits, ethnicity, body type, education, income. This information may be changed later.
What's Your Price Usability
The good:
User friendly interface
Stylish design
The bad:
The homepage seems to be rather simplistic
What's Your Price is a simple website for people who used to stick straight to the point. That is why it is quite understandable in usage. On the homepage, you will see the users who are online for the time being and who are in your area.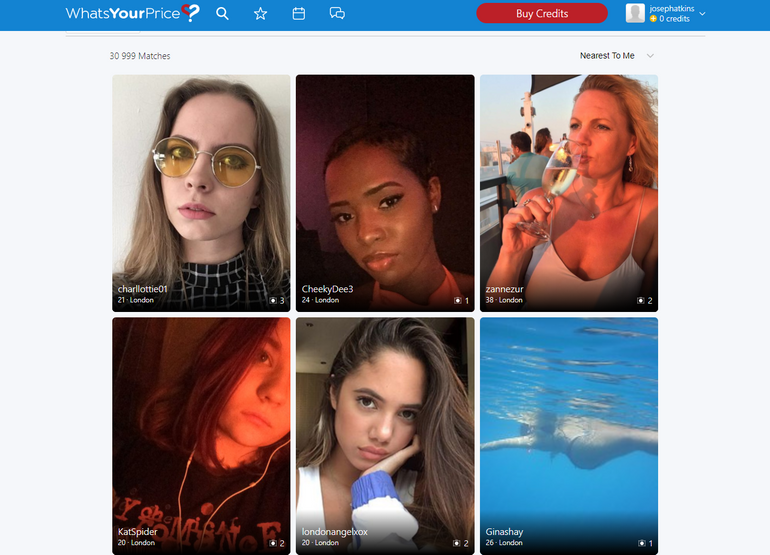 There are four options you may choose from on the web page: search system, list of your favorite members, your bids and messages. Redundancy is not about what'syourprice. The creators preferred minimalist and user-friendly interface to all that unnecessary tinsel.
Despite almost ten years on the market, the platform looks modern and stylish. Each detail was considered and made to please the eyes.
Making contact
The good:
Sending winks is free of charge for men and women
A chat room available
No limits for bids' conditions
The bad:
Messaging service is locked before the profile is verified
There is an obstacle that will complicate your life on the site. On what'syourprice.com, you may start to exchange messages only when your account is verified. To get this status, you have to complete your profile by adding all the necessary information and a photo. Besides, there is one more point needed for a full-fledged messages exchange. It is an offer or bid one. Don't forget that it is impossible to do without credits available.
Still, there is a way to show and receive someone's attention for free - just sending a free wink.
If you are a bidder - you have an opportunity to get a date if you have at least 5 $. A person who is searching for a bid and is ready to follow the conditions may earn any sum of money. It depends on the situation, agreements between two people, and so on. In a few words, it is an entirely subjective point, like during the auction.
What's Your Price Profile quality
The good:
Obligatory verification of every profile
Customer support 24/7
Possibility to order extra verification
The bad:
An extra verification is not free
Every profile on What's Your Price has to be verified. Otherwise, the user will not have the possibility to use its services. There is one more option, which is not common for the other dating sites. The member may ask to pass the extra verification that will safe his profile from scam and make it more popular. This service is not free.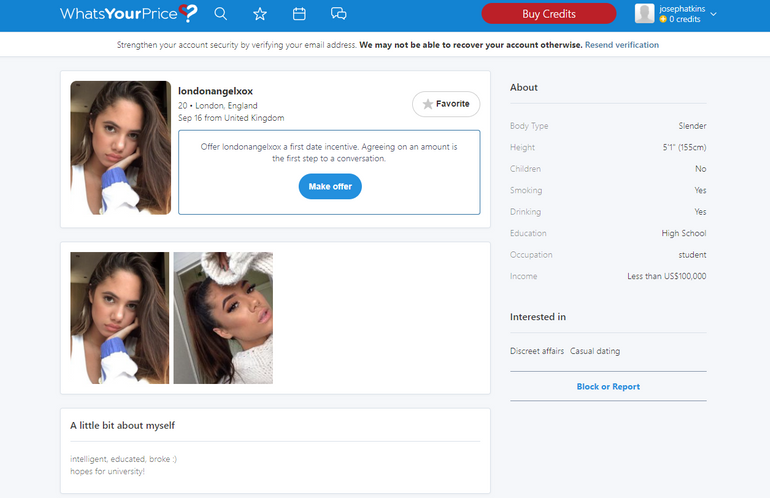 To know all the details of the site's privacy policy, you can read it online. Moreover, if a user has some questions or difficulties - there is customer support. It stays in touch 24/7 and will help you in no time. You will never be left alone with your problems.
What's Your Price costs and prices
This site doesn't presupposes VIP membership. Still, you will need credits to send and receive messages and to create a bid. Besides, there is extra verification available to raise the level of security.
Free services:
Sign up
Look through other profiles, including pictures and information
Send and receive winks
Fee based services:
Messages exchange
Bids creation
Extra verification
Payment Options
What's Your Price App
The good:
The site is functional enough on any gadget
The bad:
There is not a smartphone version of what'syourprice.com. The creators are working hard on this point, to make their services more convenient for the users. Even so, for the time being, it is possible to open the platform on any device, you will not be disappointed.
Is what'syourprice.com free?
There are costless and paid services on the platform. Create an account, see the other profiles, and exchange winks are free.
How difficult is it to create a profile on What's Your Price?
Making an account is a quick and straightforward process. You can get limited access even without answering general questions about yourself.
How does the payment system work on What'sYourPrice?
100 credits costs 50.00 dollars, 450 credits - 150 dollars, 1000 credits - 250.00 dollars.
How secure is What's Your Price?
The site itself guarantees its clients the absence of scam. All your personal information is reliably encrypted. Still, don't forget that 60% of your security depends on you and your advisability.
If I want to delete my profile from the what'syourprice.com, how do I do it?
You have to go to the help section and select a point Delete Profile.
How many people use the services of the site What'sYourPrice?
There are over 455.000 users from the USA, 40% of them are female, 60% - male.
Is the function of anonymous data viewing available on the What's Your Price?
This option is of no avail on such kind of platform.
How can I be sure that the profiles of women are real?
Each account here undergoes necessary verification. Moreover, you have to communicate with a woman before the date.
Sending and receiving messages is not free on what'syourprice.com.
How quickly can I get confirmation of my profile?
It will take you about 5 minutes.
How do I keep my account secure?
Create a strong password and don't tell it to anyone. There is an option to order an extra verification.