All
Registration
Usability
Profiles
Prices
Special Features
Safety
faq
The reputation of the venue is proved. And not only by many successful love stories. But also by rankings are done by the respectful business companies and media. According to them, Zoosk is one of the most popular and fast-growing dating sites in the world. It also has an outstanding app.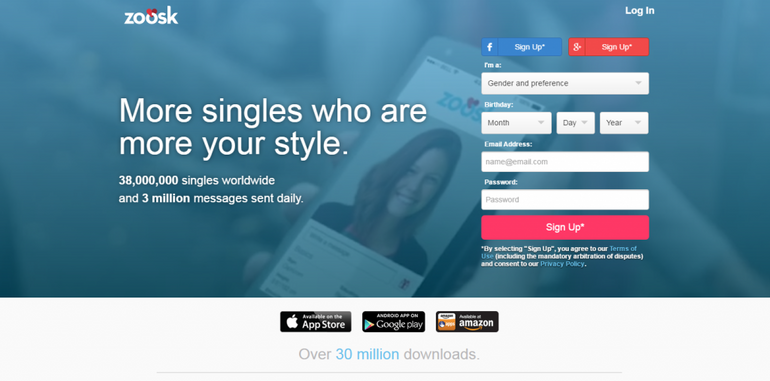 One of the unique features of Zoosk.com is the specific matchmaking algorithm. Instead of asking newcomers to fill in a questionnaire, Zoosk works with behavioral matchmaking. This Zoosk review will describe this technology and other features of the platform.
Zoosk Sign up
The good:
Easy registration processes
Sign up with a Google or Facebook account
The bad:
Registration takes several minutes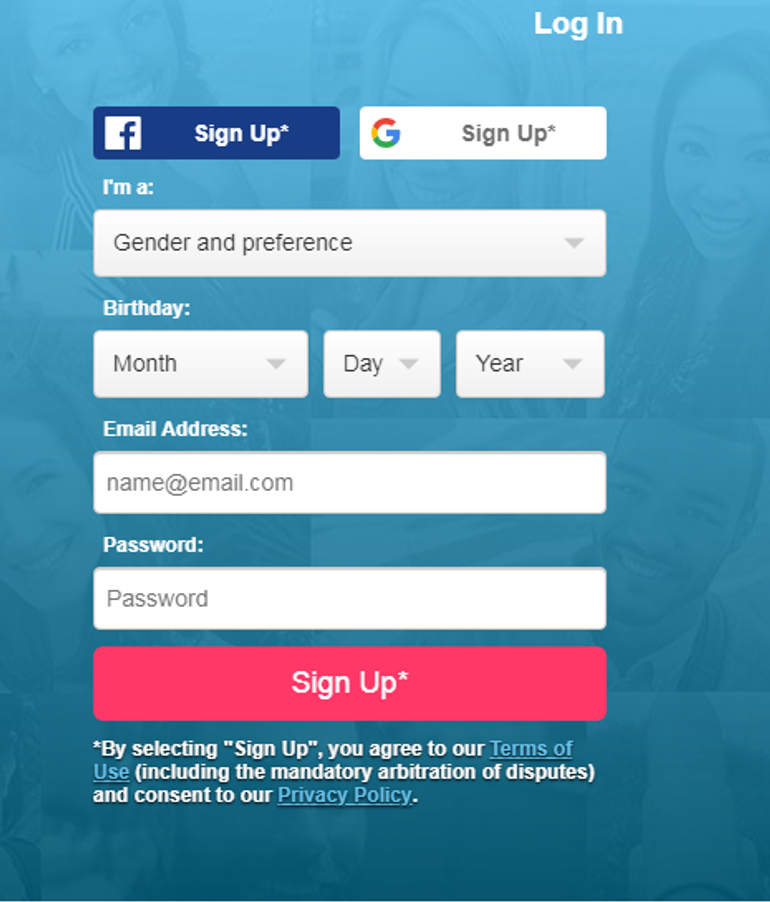 The signup form is placed on the start page, so you will quickly find it. To become a member of the venue, you should state your gender, age, email, and password. This step is fast and easy to complete, that is the definite advantage. After this, newcomers should state the city in which they live. Next, users need to download a profile photo. You can omit this step if you do not want to publish pictures.
At the next stage, you have a couple of questions to answer. They are about body complexion, children, education, and ethnicity. Since the moment you verified your registration via personal email and phone number, you can use the site.
Zoosk Usability
The good:
Convenient site structure
All necessary functions are on the same page
The bad:
Registration takes several minutes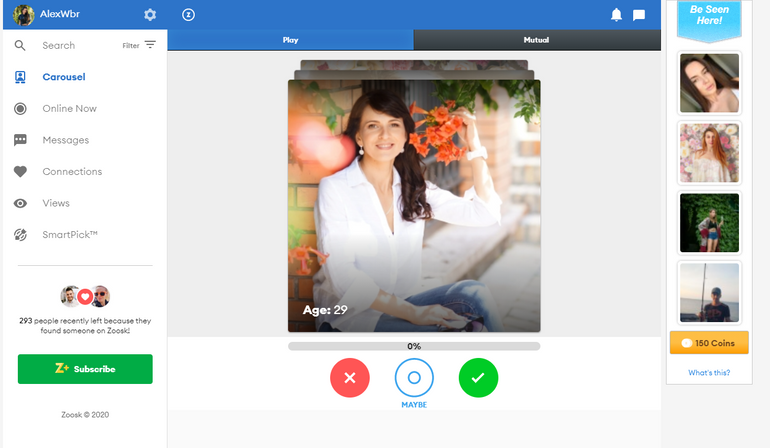 The design and interface of Zoosk.com were constructed not to confuse members. Their goal is to provide a pleasant and comfortable journey in the world of beautiful singles. The carousel of users is in the center of the page. While the menu of messages and contacts is on the left side.
Moreover, there are some news from the company. For example, you can read about many couples who negotiated on a date right now. It encourages and brings hope to users. In general, the design is well-thought and handy.
Making contact
The good:
SmartPick technology
Little questionnaire
The bad:
Browsing for users on Zoosk is called Carousel. Looking at the profiles, users press "yes," "no," or "maybe" to decide whether to contact a person. There are also two functions of meeting and matching. So you can state the intention more specifically. The profiles are suggested based on the questions answered before. To make matchmaking more proper, you can explain more personal matters.
Another algorithm to find love is a matchmaking feature called SmartPick. According to this technology, the site suggests the profiles of users grounding on your site experience. It means that the algorithm counts on which patterns you opened, to whom you sent smiles and hearts.
But, making contact on Zoosk.com is limited. For free, members can browse accounts and send pings. Unlike other dating sites, users can see likes and virtual gifts of other people for free. Still, messaging on the venue requires paying.
Zoosk Profile quality
The good:
Live photos
Extensive profiles
The bad:
Users may want to disclose private information only in a conversation with a match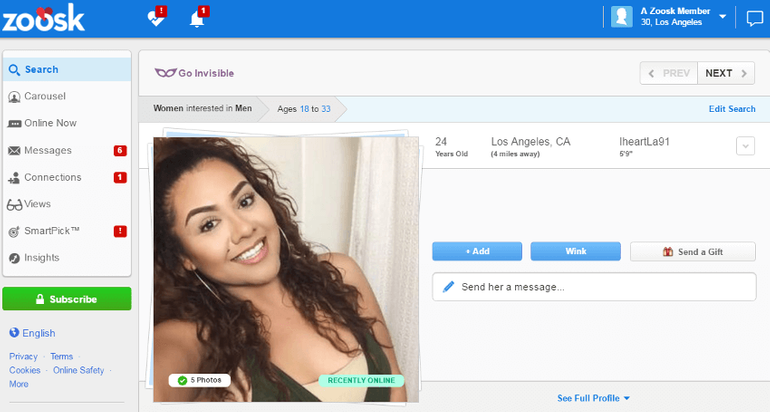 Zoosk has an impressive number of members, so the chances to meet love increase. Due to the popularity and reputation of service, users contribute to the matching process themselves. They are ready for severe actions and relations; thus, their profiles are real and full. You can read about physical appearance, hobbies, and other preferences on members' pages and make a choice. The photos of singles are natural.
The verification of users is guaranteed by indicating email and phone number and linking social network accounts. Thus, members have real photos and stories. They frequently add new personal information to make profiles more up-to-date.
Zoosk costs and prices
Zoosk offers its clients one premium subscription. It includes all the paid features. For activating this plan, you should pay a one-time activation fee of $24.95.
Another method of getting paid options is purchasing of coins. This option is suitable for those who plan using premium features for a while.
Comparing to other dating sites, Zoosk has quite an average and reasonable pricing policy.
Fee services:
Registration
Setting up a profile
Sending smiles and hearts
Full access to profiles
Using Carousel
Fee-based services:
Chatting
Full access to SmartPicks
Incognito mode
List of who likes you
Go Invisible
Payment options
Credit cards
PayPal
Debit cards
Zoosk Special features
The good:
Innovative tools for in-depth matchmaking
The bad:
To provide its clients with the best matchmaking service, Zoosk integrates several unique options. They guarantee an exceptionally proper matching of lonely hearts.
Carousel
This feature suggests you users, and you decide whether to try reaching them. You can send a flirt, skip, or put a profile in a 'maybe' list.
SmartPick and Behavior Matchmaking
Being highly innovative in the matching area, Zoosk developed a progressive tool. It's called the Behavioral Matchmaking engine. While you are taking action on the site, it collects this data. Then it creates a unique model of your preferences.
The site suggests you to users that may be interested in you and vice versa based on this tool. Also, you can use it to recommend SmartPick introductions that are available for some time. You'd better explore them before the disappearance.
Dating Insights
Grounding on the collection of data on your actions, Zoosk prepares a little report. It tells what kind of people may be interested in you. Also, what are your features that attract other people and extra information? It is the tool lonely hearts have dreamed about for ages.
Connections
You do need a mutual connection to be in contact with someone. With a smile or a heart sent, you automatically establish a starting point for further actions
Super Send
This option means sending a message to many people at once. Zoosk suggests you some message templates. It is a convenient option, especially for those who are new to the dating world.
Boost
This option means showing your profile to a more significant number of users. This feature requires paying. But it increases the probability of meeting an ideal partner.
Go Invisible
This option is an incognito mode that lets you discover new users, and they will not know about it.
Application
The good:
Available for all mobile devices
Simpler registration
The bad:
Some options like Dating Insights is unavailable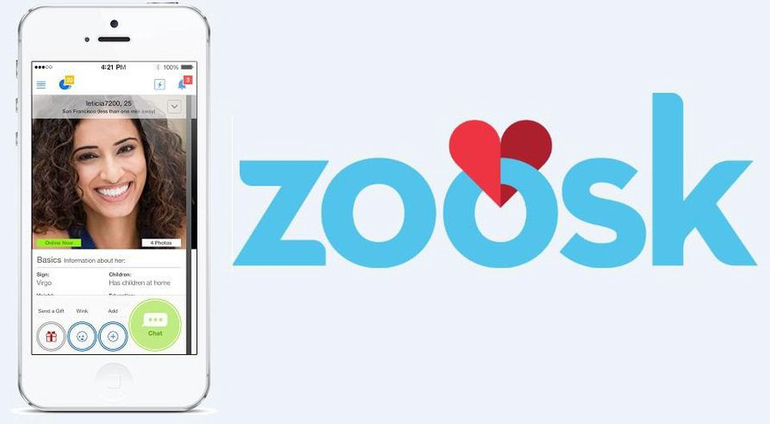 Zoosk mobile application contains all the site options except Dating Insights. The argument is that this feature requires showing many data, and a mobile screen is too small for this task.
The application design reflects the idea of intuitive and convenient usage. All kinds of users enjoy the handy menu and features. The design is in non-irritating colors. For free users, the app shows some advertisements. With a premium subscription, you will enjoy a version without it.
All the on Zoosk.com are ensured by 128-bit TSL 1.2 encryption technology. This protocol guarantees the highest level of protection.
Zoosk Contact information
Company: Zoosk
Address: 989 Market Street, Fifth Floor, San Francisco, California 94103 USA.
Contact: https://www.zoosk.com/contactinfo.php
The site provides for free options of registration, setting up a profile, browsing singles, and making connections. Chatting with users needs paying. In the list of fee-based services are also a boost of profile, access to exclusive matchmaking technologies, and incognito mode. Thus, you can use this venue for free with some limitations.
How difficult is to create a profile on Zoosk.com?
Signing up does not confuse newcomers with a complicated procedure. The process is straightforward and easy to pass. You can use the login data of a Facebook or Google account. If not, then you should type gender, date of birth, email, and password. Additionally, you need to state your city, upload a profile photo, and answer a couple of questions. Also, you should verify your profile with a mobile number.
How does the payment system work on Zoosk.com?
To enjoy full access to premium features, you have two opportunities. A membership plan costs from $15.00 to $29.95 per month, with a one-time activation fee of $24.95. Another method is purchasing coins that cost from $0.07 to $0.10. You can proceed the transactions via credit cards, debit cards, and PayPal.
The profiles are verified with not only an email but a mobile number too. Additionally, users frequently link their profiles with social network accounts. The site team highly protects personal data and transactions.
If I want to delete a profile on Zoosk dating site, how do I do it?
You can deactivate a profile by yourself in the settings menu. You can do it without addressing the support team.
How many people use the services of Zoosk?
The estimated number of users is over 40 million from 80 countries. It looks like a real chance to find love!
Can I use Zoosk.com in incognito mode?
The site offers its users to exploit a fee-based incognito mode called Go Invisible. It lets you explore profiles, and these persons will not know about your visit to their pages.
What to do to make sure a person I talk is real?
Due to the extensive verification process, Zoosk ensures the genuinity of profiles. The possibility of faking is extremely low. In case of doubts, you can ask for a real-time photo or a video call.
This function is accessible only for premium users. You can still send smiles and hearts free of charge.