All
Registration
Usability
Profiles
Prices
Special Features
Safety
faq
DominicanCupid belongs to the vast Cupid Media dating network. It exists to help singles to find their ideal partners for a romantic affair or happy family life. It was created in 2006 and gathered over 400,000 worldwide. They came from the USA, Germany, and Latino countries. This is a top-rated recourse for new acquaintances and flirting with lonely girls. All the females here wish to fall in love with foreign guys. A significant number of them are open to both severe relationships and hookups.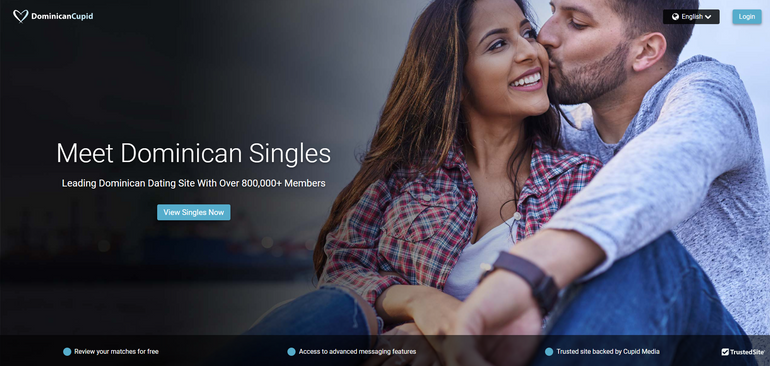 All on DominicanCupid was created to make your interaction experience easy and hassle-free. The participants can enjoy an easy search and efficient pairing mechanism. It allows receiving the list of the most appropriate partners who will match your taste. Thanks to the flat design and simple structure, every newcomer can find what he/she needs in a couple of clicks. Many exclusive perks will never make you feel bored.
This DominicanCupid review reveals all the details you have to know about it. Keep reading to discover the full description of this virtual place below.
DominicanCupid Registration
The good:
Costless sign-in;
Personal photo isn't required;
The bad:
DominicanCupid offers everyone to become a part of a virtual community. The sign-up presents access to viewing and chatting with the alluring female singles. This process takes less than 5 minutes and required only elementary details.
The provider asks to enter your first name, gender, and age. You also have to put your active email and password. After the approval of your account page, you will find yourself on your portfolio. The describing of your character and goals takes a few minutes. If you wish to personalize your page, upload several photos. Having a wonderful photo always works. This thing attracts singles because they are interested to know how do you look like, for sure. It is the so-called first step of connecting with other participants.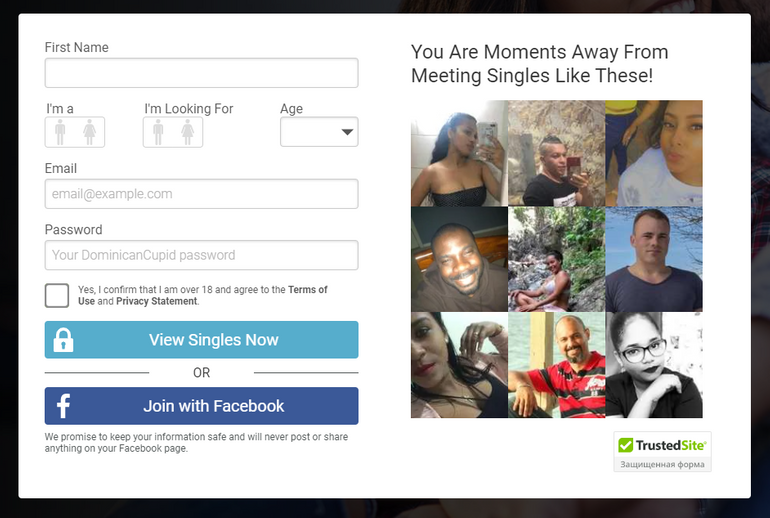 Besides, it is best to fill in your portfolio as full as possible. Highlight the brightest of your traits there. Show that you are active and engaged in finding the future spouse. List your hobbies, style of life, showing that you are successful and well-educated. It will be super if you mention in empty fields what you're looking for in a partner. Take it seriously, because it is often essential for foreign ladies, and they will always scan it.
DominicanCupid Design and usage
The good:
Clear design with intuitive buttons;
Well-organized menu.
The bad:
DominicanCupid.com can boast with a simple and clear layout of every section and button. Every newbie will appreciate easy registration procedure and fast verification. All tabs are well-organized. The menu bar allows finding all the necessary information in a few seconds.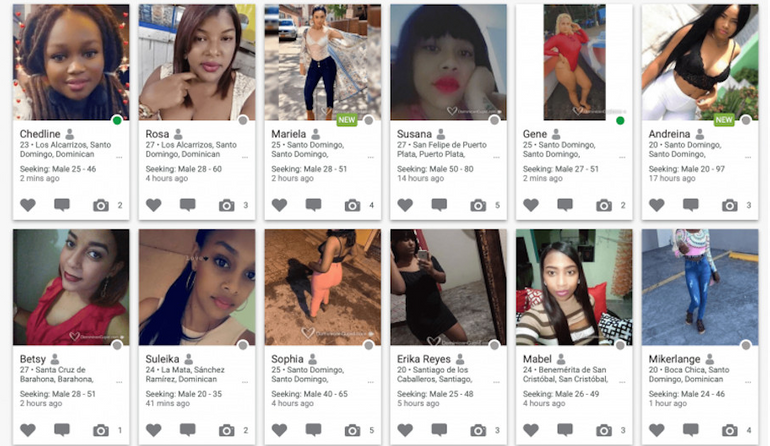 It is relatively simple to navigate through this virtual place. You can get access to every option you need on all webpages. The buttons for making contact are at each portfolio, and you can find them while hovering on the main photo. Try it and see that everything is logical and straightforward.
Communication aids
The good:
Detailed search instruments;
Free participants can reply to others;
Available chat room;
Costless sending of hearts.
The bad:
Unlimited interaction requires paid participation;
So you have passed the signing up, and now you are ready to dive into the world of virtual interaction. The new acquaintances and chatting are fascinating. Free guests can reply to paid consumers. Pretty much every similar portal nowadays has the basic chat function available. You are allowed to test the service quality and decide how much you need its aids. See someone attractive? Start your first message or send a heart to show your interest.
If you want to interact right now, apply the platform's search facilities to know who is online at the moment. Just click on search, get the list, and select a single to chat with from the list. Send a quick message to the woman of your choice and get a conversation started.
DominicanCupid Accounts quality
The good:
High-quality photos;
Verified portfolios.
The bad:
The female portfolios can turn you on or intrigue at least. The majority of them are full of interesting details and captivating photos. There are a lot of open-hearted singles. They are serious in their aspirations to find a true match. That's why they do all their possible to make their accounts attractive. They are trying to give themselves the best chance of success. You will learn the details about their lifestyle, habits, tastes, and interests.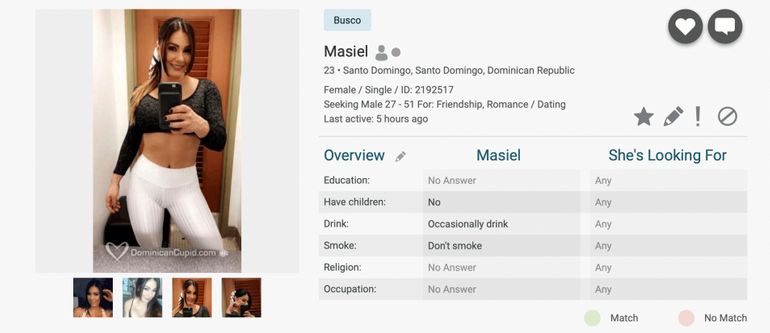 DominicanCupid Aids and Prices
This social network offers two partnership types —Gold and Platinum. Each of them has its benefits and terms. You can select one, three, and twelve months. Every member can bill them in one payment, which will renew automatically. You can turn off this function. You can receive up to 50% discount for a 12-months plan. Here are the prices:
With the original participation package, you can contact all members. The Standard plan lets you only to answer to income messages. If you wish to save money, you can choose a cheaper package and buy the Gold subscription type. But if you want to use an in-build Translator, you have to pay for the Platinum plan.
Free peculiarities
Sign in;
Portfolio creation;
Sending interest;
Viewing others photos;
Applying the elementary search;
Answering the messages.
Fee-based services
Unique search facilities;
Convenient translator;
Invisible browsing;
Unlimited interaction;
VIP sign;
No ads.
Is DominicanCupid Expensive or Cheap?
In comparison to other similar virtual places this one has upper-moderate prices.
How to pay
Paying by credit cards, PayPal, bank transfer or Paysafecard service is acceptable.
DominicanCupid Mobile usage
The good:
Free downloading;
Same options as in the web version;
Clear interface.
The bad:
Mobile app is only for Android devices.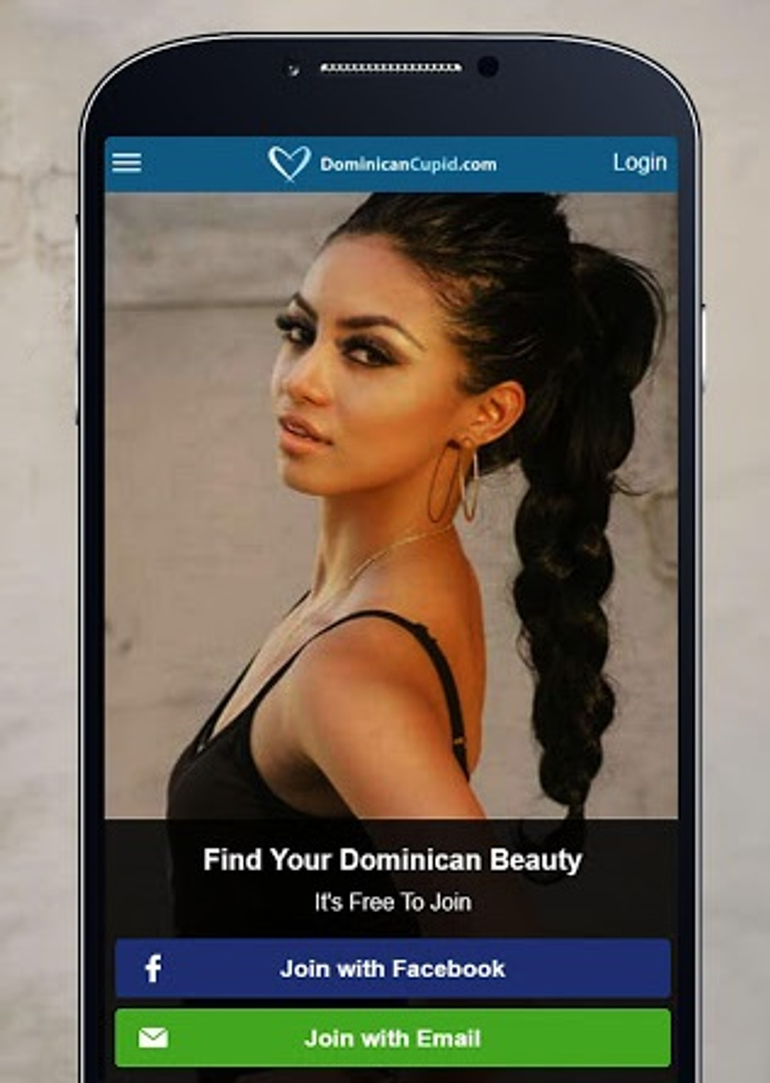 The creators of the site gave you the possibility to be in touch with your matches on the go. DominicanCupid.com has its mobile version, which is available for Android smartphones. You can download it for your device without any paying. Discover, that it's convenient to search and chat with a lady on your smartphone. You receive all the same functions and the possibility to apply the prime ads. Be in touch with the belle of your fantasies regardless of your location.
Be sure that all your transactions are secure and defended from the theft. The 128-bit SSL encryption protects users from scam and illegal activity.
Is DominicanCupid coustless?
This virtual place is convenient and available for all Internet users. It is one of the reasons for the extensive popularity of this source among foreign singles. That's why it offers both free and paid peculiarities for everyone.
How to set up a portfolio on DominicanCupid?
New visitors receive their profiles after the sign-in and account approval. This step is easy and fast. Later, you will see your portfolio, which you can fill according to your taste. Describe your life and personality and what you can present your future spouse. The data you leave is a background for the pairing engine, so that be honest.
Does DominicanCupid offer credits?
This portal provides membership participation. There exist two variants: Premium and Gold. The participants can select any on them and get the pack of extra exclusive functions.
Is this portal secure for me?
Yes, of course. The robust security engine guarantees the absolute safety of every guest. You can bring anyone suspicious to the attention of the site's moderators. Users with illegal activity or fake account will be blocked immediately.
How can I turn off my portfolio?
You can stop your partnership in this social portal at any moment. Just use the function of deleting your page in a network's settings.
How many consumers does DominicanCupid include?
You will be impressed by the enormous database of the site. It includes over 400,000+ participants, and this number is still growing. You will find a lot of gorgeous belles from different countries. You can filter your search by various criteria and get a big list of your potential partners.
Can I use DominicanCupid invisibly?
Yes, this function is provided for paid clients. It lets you browse the network and view many female portfolios anonymously. You will be able to answer somebody only when you wish to do it. It is quite comfortable when nobody sees you are online if you don't communicate at that moment.
Yes, but partially. In case of being a visitor for free, you are allowed to reply to other clients, but you can not use a live chat. Only a paid membership pack allows interacting with all members you like.
How can I be sure that online brides are veritable?
No doubt that all ladies you chat with are genuine and honest. There are no empty or fake pages, owing to the strict verification process. This social community has gathered real singles looking for a romantic affair.
How long I have to wait for my portfolio to get approved?
This step is important, but it doesn't take much time, as other participants notice. It is best to wait politely until all the detail you leave will be checked, and the account page will be approved.
How to be in safety on online dating networks?
Pay attention to all little details while browsing the new networks. Trust your instincts if you feel unsafe or uncertain on the site or user. In order not to become a victim of a scammer, don't share your passport and credit card data with anyone on the web.