All
Registration
Usability
Profiles
Prices
Special Features
faq
Plentyoffish.com is an online dating platform that unites about 90 million users. It was established in 2003. According to the site's statistics, it prompts one million relationships every year. The number is impressive. So, what is the secret of such stunning success? Spend 10 minutes of your time to read this information, and you will find out the answer.
From the very beginning, POF seems to be an ordinary dating site, like hundreds of others. But when you plunge deeper into this ocean, you will see the excellent opportunities. This site offers something you have never come across on other webpages. Plenty of fish creators planned it to the last detail. It was needed to achieve the best results and helping people to get rid of loneliness.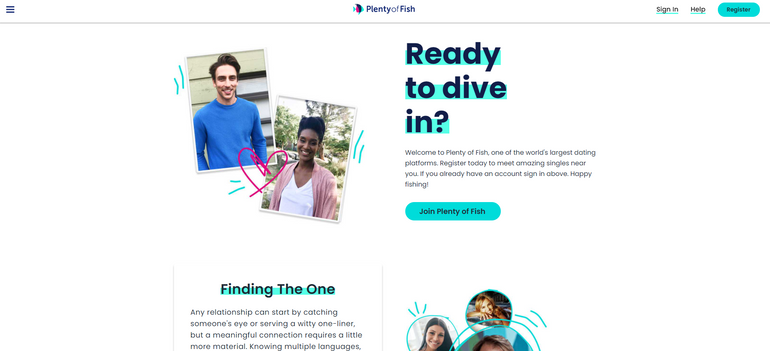 Plenty of Fish Sign up
The good:
You don't need to pay money for creating an account
It is possible to sign up from a desktop, as well as from a mobile app
The bad:
A lot of questions to answer
Signing up is an easy and transparent process. Still, POF is not focused on getting as many users as possible. There are enough of them. It is focused on supplying its members with qualitative, secure, and efficient services. That is why each client has to fill in a detailed questionnaire before being registered.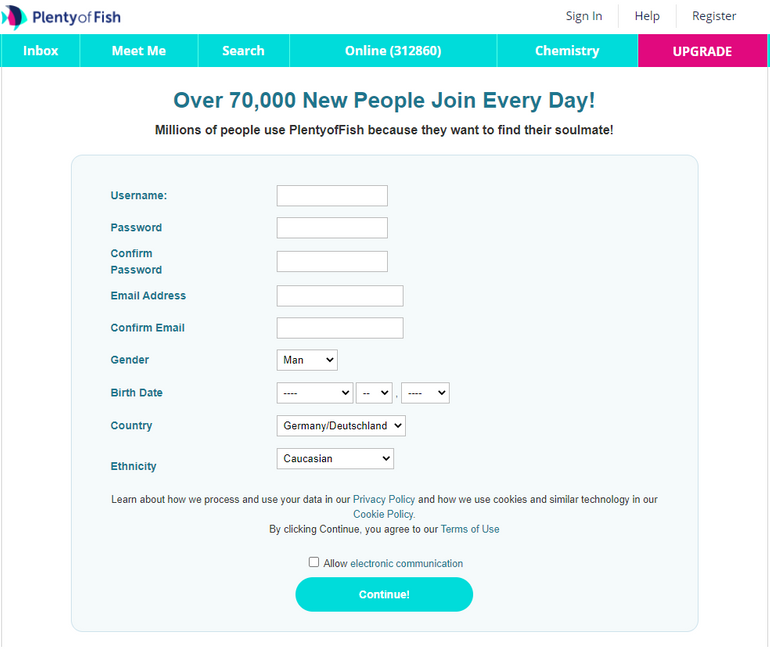 There are some general questions about your age, gender, and appearance. There's a second block about education, languages you speak, properties you have. Some items are about your ambitions, requirements to a partner, desire to have children, and so on. These demands are quite reasonable. Your answers contribute to a more precise search and minimize time spendings. You will not be involved in senseless communication with a person who doesn't match you at all.
Besides, POF has one more unique option, so-called chemistry predictor. It consists of various tests. Needs assessment, psychological assessment, keeper test, sex test, and so on are included. Each test has some questions from 30 to 100. Your task is to choose one and answer all the points. This option was created to get more information about a person. It is significant for a search for a perfect match.
Plentyoffish.com doesn't ask you to connect your profile with your accounts on other social media. It is something like a private space where you can be yourself and not bother about someone's opinion. You may upload some pics from your Facebook or Instagram. But no one will see the account, the information depicted there, or people from your friends' list.
There is an important thing you should be aware of: a username plays a significant role on a dating site. When you send a message to a woman - it is the first thing she sees. Thus the first impression about you depends on your username. You may be the best man in the world. But the wrong username will reduce your chances to get a response from the lady who has your interest.
It is also recommended to create a catching headline that will be placed under your username. It seems to be a tiny detail, but its power is significant. A girl may be intrigued by the first sight at your page. It was found out that profiles with appealing and creative headlines are the most popular.
One more useful tip is: never leave your account empty. Blank profile means no chances for a successful search. That is why filling a questionnaire on POF is a valuable and vital decision. Your page has to attract women, inspire them to write or answer you. It is the first and foremost impression about you in an online world.
Plenty of Fish Usability
The good:
Simple interface of a desktop version and mobile app, as well
Attractive design
The bad:
The main screen seems to be simplistic
Plenty of fish has a quite simple and unobtrusive interface. You will not spend hours trying to understand how it works. Nowadays there are two versions: computer and smartphone ones available.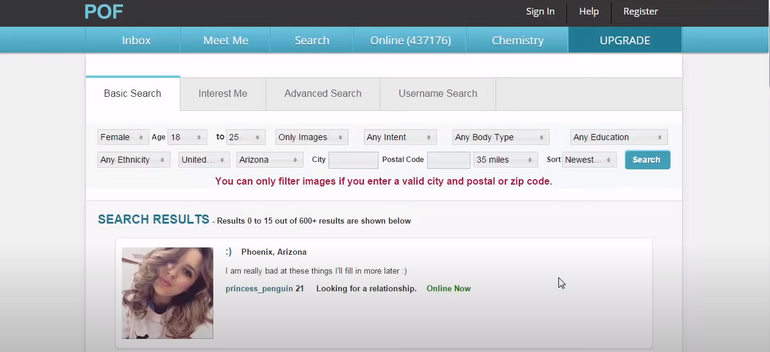 Each of them was made for the users' comfort while searching for a partner online. That is why every variant is accessible in usage. All the icons are very straightforward. Everything is clear from the first glance. POF cares about all the members without reference to their age.
Making contact
The good:
Communication through messages if free of charge for men and women
Text and voice messages are available
Statistics for revision is available
The bad:
There are filters which limit the members who can contact a lady
On POF, you may send, receive and reply to messages that are free and unlimited. Still, many other peculiarities will attract everyone. As an example, here you can see the status of your message, whether it is read or not. If a person doesn't reply to you intentionally - you will know it.
Also, plentyoffish.com offers you to limit the members who can contact you. You may establish age, distance limits, members with pictures only, and so on. You will not waste your time reading messages from people, and you are not interested in.
Additionally, Plenty of fish is the only platform that has an option to record and send voice messages. You don't need to wait for the correct time to ask a girl's phone number. Besides, for some people, it is imperative to hear the voice so that to feel the inner world of another person.
POF blocks the messages containing inappropriate information. Abusive language, pornographic images, spam links included. Moreover, all the texts that are copied from other resources or webpages are also blocked. In such a way POF protects its users from spam or unfair members who send the same texts to different people.
Plentyoffish.com takes care even about the members who don't use their services anymore. It means that other people can be confused, trying to contact them. That is why POF automatically signs out those profiles which are inactive for a long time.
Plenty of Fish Profile quality
The good:
Each account is very informative
Obligatory verification of each profile
Prohibition of face filters on profile photos
The bad:
Free members can upload fewer pictures than premium ones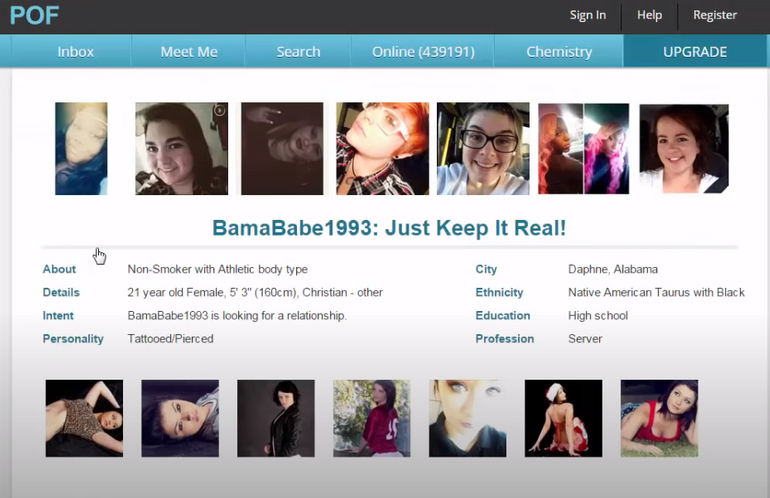 All the profiles on POF are very explicit and informative, which is one of the most critical points in dating. The thing is that descriptive accounts contribute significantly to a prolific search. No doubt, this online agency has the most detailed, advanced, and precise check. It minimizes time wasted on idle talks, and is focused on a search of a person who matches you. You know, here each tiny detail matters.
Besides, every account here undergoes robust verification. Each member has to give his mobile number. Plenty of fish will send a secret code that you have to insert to the verification page. This process has to be done on each device, and you want to get access to your profile. As you can see, no one will open your account, and your personal information is protected.
If a user doesn't have a mobile phone or doesn't want to give his number - he has to contact the customer service. Then he might verify his webpage with their help. This system of authentication is known as two steps. It presupposes not the only login, using a username and password, but also a secret code is needed.
One more unique clause, plentyoffish.com has, is the prohibition of face filters. You will not find any other dating website which has the same restriction. Even so, it is quite a beneficial one. Just think! All the pictures here are natural, so you see a real person, not an artificial image, like on the other platforms.
Plenty of Fish costs and prices
Plenty of Fish is known as a free dating webpage. But there is an opportunity to make your account premium. It is not free of charge to order some extra services. So it is free to become a member of POF. You can observe the other profiles, even to send messages, why do people pay money then, would you ask? It is simple, and they want to increase chances to meet a perfect partner.
It was noticed that women are more likely to reply or to contact members who have premium accounts. The messages of men who paid always stay at the top of their inbox. Same, the VIP pages are at the top of a search result. In a few words, members with paid accounts are more popular.
One more quite pleasant thing, available for premium members. A complete absence of advertisements that are so annoying and distracting! This advantage is worth any money. It is hard to find at least one person who likes to be bombarded by thousands of useless links on each website. So, POF knows precisely how to cater to its users.
POF is a site with an average pricing. Fee-based services are optional, and you may easily find a partner without them. Probably, it would just take much time.
Plenty of Fish Free services
Sign up
Search for a partner
Look through other profiles, including pictures and information
Send and receive messages
Free based services
Premium account
Staying at the top of a search result
Turning the ads off
Payment Options
Credit cards
As we see, there is a discount system: more extended subscription - less money. No one knows how soon you will meet the right person, maybe in a few days - in several months. Still, it is up to you to choose the subscription.
Plenty of Fish Free App

The good:
All the services are available on mobile app
The bad:
It is impossible to delete your profile from the mobile app
Plenty of fish is a new online dating community which takes into account all the tendencies. The creators know that nowadays, it is essential to be available 24/7, from any place and any device. That is why they created a mobile app of the site, which is not worse than the desktop one. It doesn't have any restrictions so that you may use the POF advantages of full use.
The most of services on Plentyoffish.com a free. You have to pay only for premium account.
How difficult is it to create a profile on Plentyoffish.com?
Creation of an account is a quick and easy process. You have to fill in the questionnaire and upload several photos.
How does the payment system work on Plenty of fish?
VIP account costs 38.70 USD for 2 months, 51 - for 4 months, 81.40 - for 8 months. You may pay using your credit card, paypal or via mobile phone.
How secure is Plentyoffish.com?
This point is one of the most vital for the users, as the scam is so widespread nowadays. POF cares about its members. The site's reputation in general, that is why it pays a lot of attention to a question of safety.
If I want to delete my profile from the Plentyoffish.com, how do I do it?
To delete a profile, you have to go to the help section and select a point Remove Profile. The website will ask you some questions, to confirm that you are the owner. If you answer, your account will be deleted.
How many people use the services of the site Plentyoffish.com?
The number of this site's members is huge. There are over 90 million users from all over the world.
Is the function of anonymous data viewing available on the Plenty of fish?
Unfortunately, Plenty of fish doesn't have this option.
How can I be sure that the profiles of women are real?
Each account on Plenty of fish undergoes obligatory strict verification. Moreover it has a prohibition of face filters on profile photos.
Sending and receiving messages is totally free on Plentyoffish.com.
How quickly can I get confirmation of my profile?
Confirmation of a profile will take you about 10 minutes.
How do I keep my account secure?
Create a reliable password and don't tell it to anyone. The site itself uses modern methods to protect you profile.