All
Registration
Usability
Profiles
Prices
Special Features
faq
Malaysians are very different. You can see this if you come to this amazing country or decide to meet someone on MalaysianCupid. This is a niche website where users from the US, UK, and Europe meet Malaysian women. Unlike Korean or Japanese dating websites, you can only find Asian women here, 95% of whom are indeed Malaysian.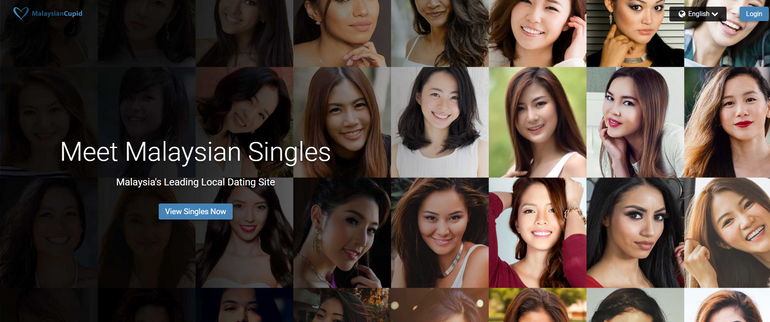 This platform is one of the Asian dating websites Cupid, which are platforms for different audiences. Dividing the audience into different groups is ingenious. Often users complain that they find it difficult to find who they are looking for. Malaysian Cupid combines only a local audience, in addition, it has all the features so that you can specify your preferences. But is it so effective?
MalaysianCupid Registration
The good:
Sign up via Facebook
Upload photos from social networks
Fast start
The platform developers did the right thing to simplify registration as much as possible. Many points and requirements should not be made at this time if it is just a dating website. To start, you can choose two options. The first is simple and fast. You need to enter only a few data (name, gender, age, orientation), specify an email and password. After that, you can start browsing right away.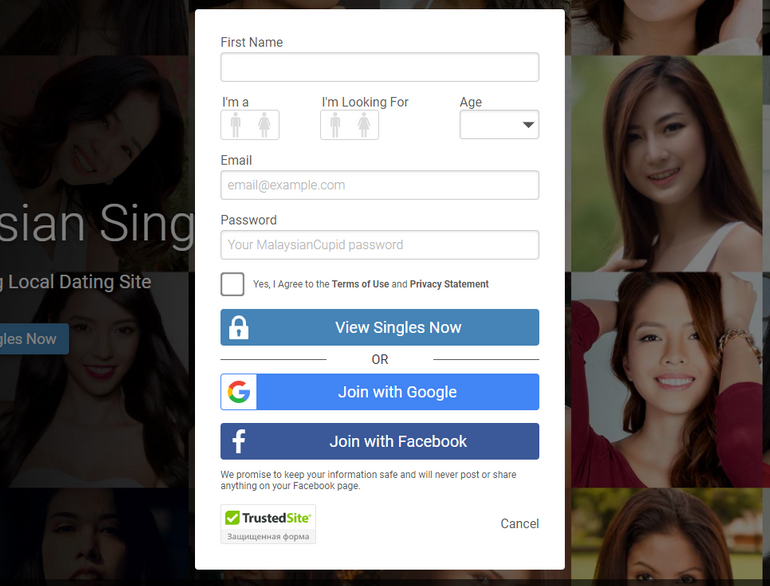 The second option is even faster. You just need to log in via Facebook, then your basic data will simply be added to your account. You should not worry about personal information, as this is a standard procedure, supported by Facebook itself. MalaysianCupid.com does not receive all of your profile information and only uses what you give your permission to. Also, no information about your profile on the dating website will be published on your behalf.
MalaysianCupid Usability
The good:
Nice design
User friendly interface
The bad:
Few features for free accounts
Impressions of using the site are positive. The design has a blue color, convenient button layout and the correct set of categories. On the main page, you can see the express search for users by age, gender, and location. To use the advanced version, you need to select a separate page in the menu next to the messages. There is also a separate Matches page that automatically selects the perfect candidates for you. True, this feature is only useful for premium accounts.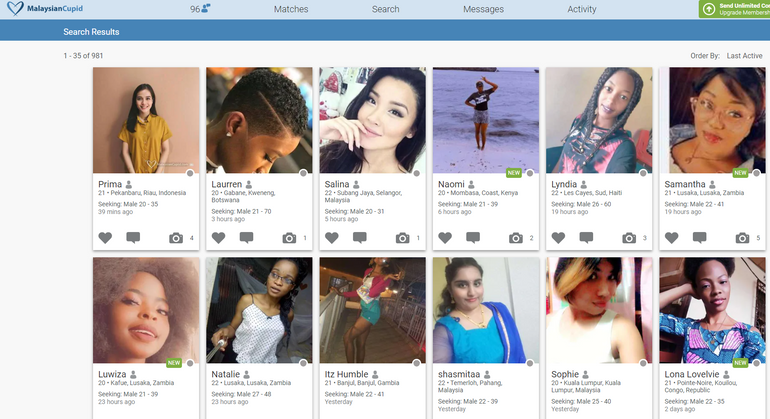 In general, all the functionality is revealed to you after purchasing a membership. It is said in many Malaysian Cupid reviews. What you get after registration is a trial version. Although, for women, this may be enough since communication with premium users is free. Usually, men here buy memberships to communicate with everyone without exception.
Making contact
The good:
Showing interest
Live chat
Open photos for any users
The bad:
Limited communication for free profiles
The MalaysianCupid com philosophy is based on fast communication with perfect matches. However, it is not so easy if you have a basic account. You can only communicate with premium users (which may be enough if you are a woman) and show your interest to someone. Therefore, forget about the free features here and move on to what you get after paying for membership.
Communication here begins with the choice of the interlocutor. Here are the most detailed descriptions of profiles among all websites. Read about it in Profile quality. Based on the profile you fill out, you get the best matches with other people here. Next, you just need to click on the message icon and drop a line to the user you like. You can also show him your interest without sending a message or add it to Favorites.
MalaysianCupid Profile quality
The good:
Detailed Profiles
Real users
The bad:
Few people fill out a questionnaire
As mentioned earlier in MalaysianCupid review, here are fantastic profiles. You can take the time to fill out the information about yourself and do it when you want. But the opportunities here to present yourself are excellent. Each user can answer a large number of questions that describe him: eye and hair color, marital status, income, favorite music, etc. Of course, you can add your answers selectively.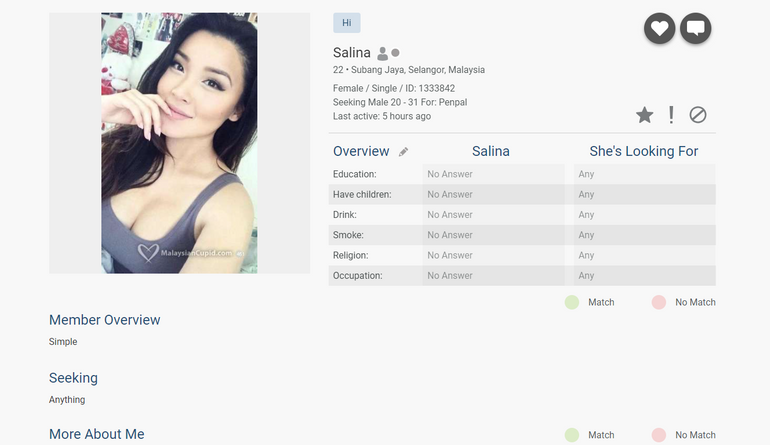 On the page of each profile, you will see a comparative table: on the left are the characteristics of the user, on the right are his requirements for candidates. Each item of his wishes is highlighted in color: green if you correspond to this and red if you don't. Very comfortable, isn't it?
MalaysianCupid costs and prices
MalaysianCupid is a paid platform. Therefore, if you are going to communicate here unlimited and get all the advantages of the site, you definitely need a subscription. The free version is for reference only. However, if you are a girl, you may not buy a membership. The fact is that free users can communicate with premium accounts, and men, as a rule, have this.
After purchasing a membership you get all the coolest features. You can write messages to anyone, chat in video chat, use the advanced search for all characteristics. Also, your profile will be allocated with VIP highlight, so everyone can see that you have a premium subscription.
Free services:
Show interest
View all profiles
Seach
Fee based services:
Unlimited communication
Live chat
VIP sign
Is MalaysianCupid dating website expensive or cheap?
This has an average subscription price compared to other dating platforms. If you buy a membership for a year, then the price per month is cheap.
Payment options
You can use your credit card or PayPal to pay for your subscription. Payment through bank transfer or Paysafecard is also available here.
MalaysianCupid Special features
The good:
Amount of members online
Detailed descriptions
Profile statistics
The bad:
There are several interesting features that you will not find on other dating platforms. For example, on the Member page, you can see how many users are online now. Profile statistics are also available. You can see who visited your profile, added you to Favorites or showed you your interest.
You can get standard features like unlimited communication after purchasing a membership. There are many more common features than most platforms. You can use video chat and translate profile descriptions and messages into your native language. Read the Malaysian Cupid overview to know more about main features.
Apps and mobile website
The good:
Quick registration
Live chat
Same features
The bad:
The app is not bad. If you tried all the best mobile dating services like Tinder, of course, you will notice the difference. But overall it is a pretty convenient and functional app. You can use this without having to register or visit the desktop version. You can also pay for a subscription through your smartphone.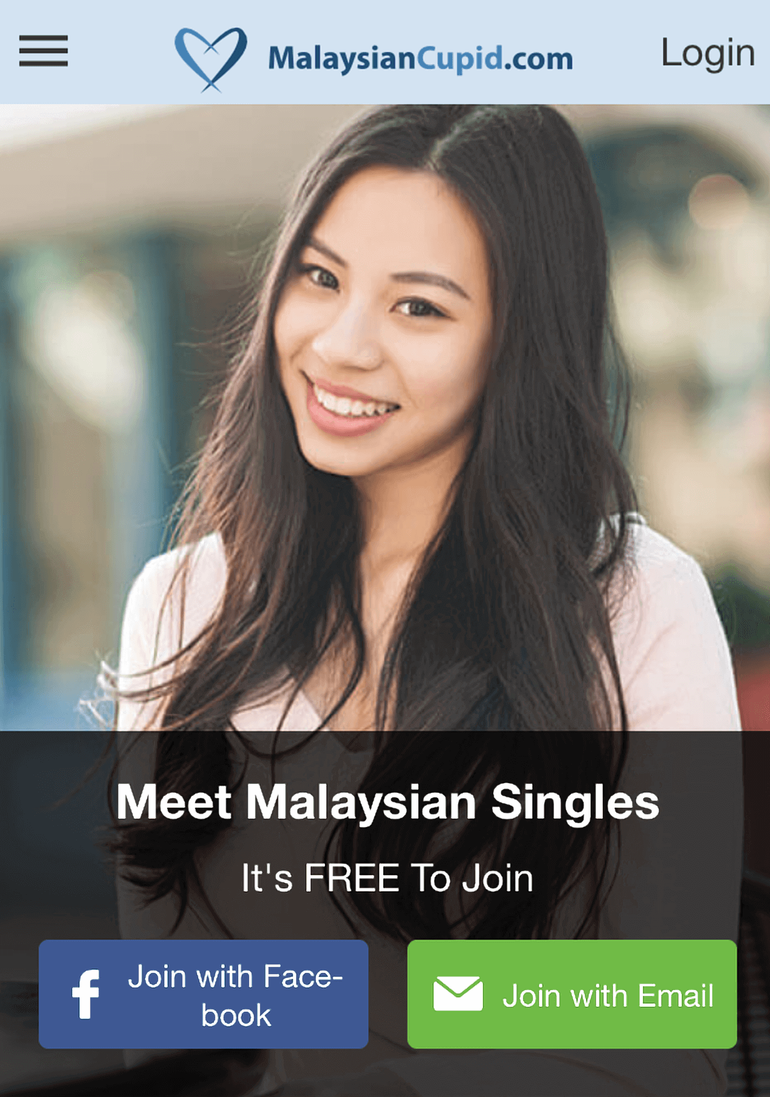 Unfortunately, this is only available for Android, so you won't be able to install it on the iPhone. In this case, you can use the mobile version of Malaysian Cupid app through the browser. It is also convenient and adaptive. Wherever you are, at home or outside, you can always chat with interesting people and even meet with them if they are nearby.
You can register and browse the platform for free, but for effective use and unlimited communication, you need to buy a membership.
How to create an account on MalaysianCupid dating website?
Go to the website and select View singles now button. Fill out just a few points and your profile is ready.
How safe is MalaysianCupid?
This has been working for a long time, so you can be sure that the site is safe for all users.
How to delete a profile on MalaysianCupid dating website?
Go to Profile Settings and select the appropriate function. After the deletion, you cannot restore your profile, so perhaps you would prefer to use incognito mode for a while.
What is the number of active users on MalaysianCupid dating site?
It has more than 600 thousand users worldwide, as well as about 70 thousand from the USA.
How to use MalaysianCupid dating platform in incognito mode?
For this, you need to have a premium membership. Then simply select this feature in the upper right corner of the website.
What to do to make sure that a person I talk to is real?
Some profiles are verified, then you can know for sure that this is a real person. In other cases, you can verify this by inviting the person you are talking to in a video chat.
How to contact people for free on MalaysianCupid?
In order to text anybody, you need to have a membership. Basic accounts can only reply to premium user messages.