All
Registration
Usability
Profiles
Prices
Special Features
faq
This seems to be the best dating platform for exploring the Chinese. Here is a quality audience with real photos and detailed descriptions. Be prepared to meet a lot of foreign languages. But this website has gathered Chinese from all over the country: there are both locals and US migrants. There are also many other people here who just want to meet them.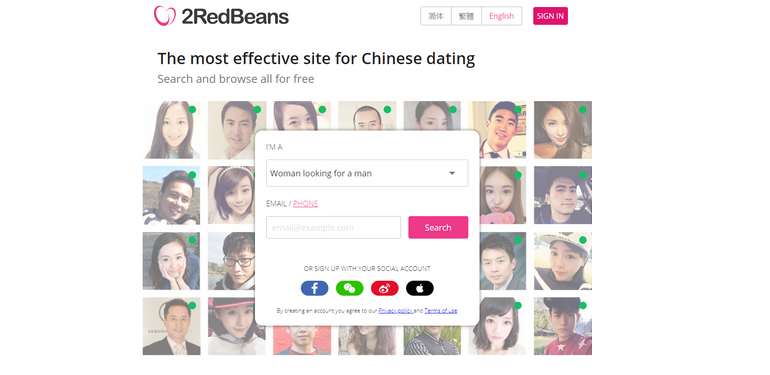 The website will delight you with a flexible subscription system and interesting features. In addition, it is adapted for all gadgets: mobile version, iOS, and Android apps. To get started, you can take advantage of the free gifts that you will receive from the platform. This will be enough to try the functionality and test how it all works. Let's see the 2RedBeans review to know more about it.
2RedBeans Registration
The good:
Sign up via email
Fast start
The bad:
Profile descriptions is required
Registration may seem annoying at some point. After you enter your password, name, and date of birth (isn't it easier to just indicate age, huh?), a pop-up window appears. You cannot close it and you will have to answer questions. For example, you can quickly select answers for questions like "Do you smoke?" And "Do you drink?". But then you need to write something about yourself and there is no way to just skip it. There is one life hack: just add random text like "hi" and you can skip this.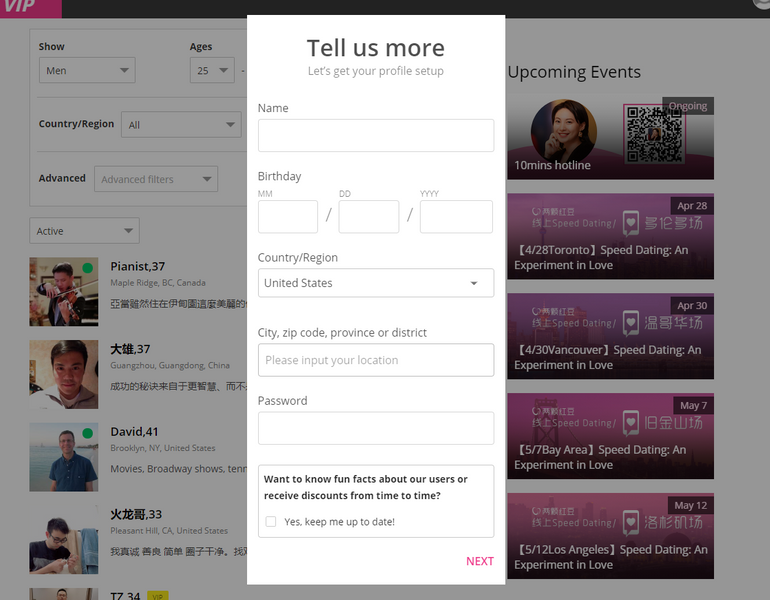 However, filling out a profile and answering questions are significant on 2 RedBeans. Other users will be able to find you according to your preferences and see how you fit together. Another lifehack: always add as much information as possible about yourself in your profile on the dating website. So, you can edit the descriptions at any time.
2RedBeans Usability
The good:
The bad:
Notifications
Button layout
Any Asian websites have their own characteristics, which may be unusual for us. 2 Red Beans is one of them. Usability may seem strange to you. Here are some obscure categories and the main page. If you click on the platform icon in the upper left corner, you will not go to the main one, as it usually happens. And if you go to Connections, here you will see the statistics of your visits, Favorites, and Bookmarks.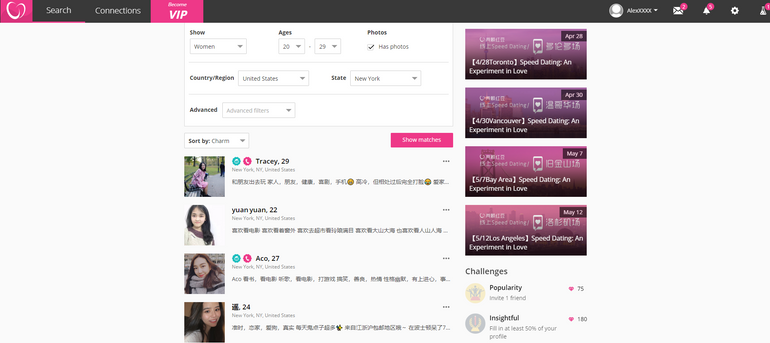 Next to the categories here is the Become VIP badge. The platform will often tell you about the benefits of purchasing a membership, which is also characteristic of Asian products. On the right, you will see messages, notifications, settings, and recommendations of the administration. In general, it's not so difficult if you go through all the pages and look at all the categories.
Making contact
The good:
Advanced Search
Diamonds to pay for functions
Winks, Favourites and Bookmarks
The bad:
Communication is limited for basic accounts
Making contact on 2RedBeans.com is pretty good. First, you find someone you are talking to. To do this, go to the Search section. Indicate the main parameters: gender, age, location. For an advanced search, you need a premium membership. With this, you can filter users by zodiac sign, body type, marital status, birthplace, immigration, faith, languages, interests, smoking, drinking, minimum income, height and more.
To contact someone, you just need to write a message. You can also show interest using winks, add to Favorites, etc. Thus, a person will notice your sympathy and, perhaps, will write to you the first. To chat in real-time without delays and write to a large number of interesting people, you still have to buy a subscription. Or you can perform platform challenges and receive diamonds. You can then use this to buy features.
2RedBeans Profile quality
The good:
Real audience
Detailed Profiles
Images and gifs
The bad:
If you know Chinese, it will be much easier for you to deal with the description of profiles. This is still a platform where the Chinese get to know each other. Usually, there are many people who have migrated to the United States and want to find someone close in culture. But there are also many who want to meet Americans, British, Canadians, etc. This 2RedBeans review says a lot about it.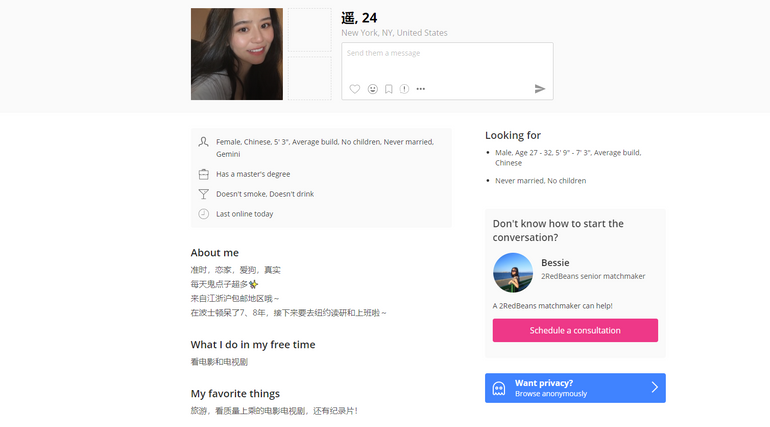 Almost all profiles are described as much as possible. Standard parameters are automatically translated into the English version of the website, and the rest you can translate using Google translator. Under each photo, you can put a rating on the choice: Cute, Stylish, Energetic, Confident, Sweet or Sexy.
2RedBeans costs and prices
It is clear that such a service is not completely paid. You can familiarize yourself with this for free. Perform platform tasks, draw up a profile to receive diamonds and use them to pay for functions. However, if you plan to actively communicate here, then free features are not enough for you. It is said in many 2RedBeans.com reviews.
After purchasing a membership you get all the features of this site. If you are an American Chinese, you will get the maximum benefit. There are many people who want to meet their compatriots. With a premium subscription, you can also use anonymous mode to go unnoticed while browsing the profiles.
Free services:
View all the users' profiles
Searching and Matches
Winks and Impressions
Fee based services:
Unlimited messaging
Incognito mode
Many more features
Is 2RedBeans dating website expensive or cheap?
It has average membership prices. But compared to other dating websites, 2RedBeans has several subscription options, as well as the ability to buy the number of diamonds you need.
Payment options
For payment, you can use a credit card, PayPal or cheque.
2RedBeans Special features
The good:
Unique matches
Anonymus mode
Diamonds for free
The bad:
This platform has really a lot of interesting features. For example, after registration, you receive diamonds (2RedBeans currency), which you can use to pay for any functions. That is, for free and without buying a membership. After registration, you can get 7 days of unlimited communication. To do this, you just need to complete the tasks of the platform, for example, add a profile description.
You can also use incognito mode or get perfect matches based on your candidate requirements. But for this, you need to have a premium membership. You may notice that here everything is a little different from regular American dating websites, but it's great to try something new, right?
Apps
The good:
Both for iOS and Android
Nice design
Easy navigation
The bad: -
It's good that now we don't have to wait when we get home in the evening and can spend an hour on dating websites. You can take it with you anywhere because mobile apps are no worse than desktop versions. It is convenient, efficient and functional. 2RedBeans com platform is available for both iPhone and Android. In-app payment via smartphone is also available.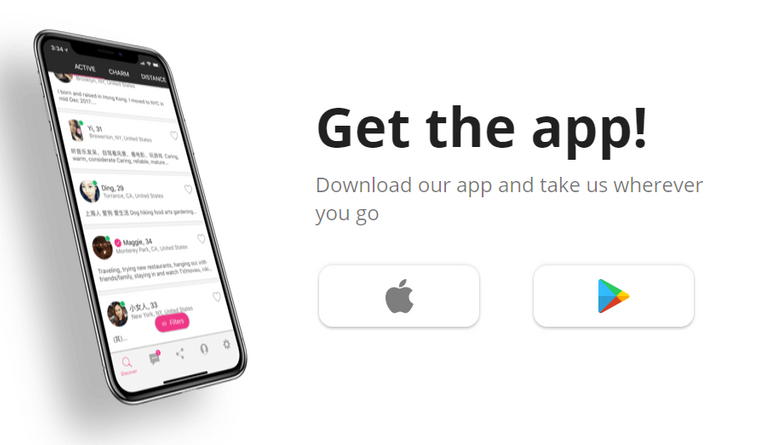 This is a high-quality, adaptive and stylish application. It has all the same features as on the website. Unsurprisingly, this is highly rated in mobile stores. To find any function, just follow the prompts of the app, then you can easily find everything you need. The interface is easy to understand.
No, this cannot be considered as free, because for full use you need a subscription.
How to create an account on 2RedBeans dating website?
Just go to the website and click Sign in. Follow the prompts to complete the registration.
What is diamonds on 2RedBeans dating site
This is the platform currency. You can get it for completing tasks or buy it. Diamonds are used to buy features.
This is completely safe, as the administration always keeps order here.
How to delete a profile on 2RedBeans dating website?
Go to Settings in the upper right corner. Select the appropriate function.
What is the number of active users on 2RedBeans dating site?
More than 1 million users. 18 thousand are active weekly.
How to use 2RedBeans dating platform in incognito mode?
You need to have a premium subscription. You can then enable this in the upper right corner of the screen.
What to do to make sure that a person I talk to is real?
All users on the website are real. However, do not forget about video chat if you have been communicating with someone for a long time.
How to contact people for free on 2RedBeans?
Fill out your profile, receive diamonds and use it to pay for 7 days of unlimited correspondence.