All
Registration
Usability
Profiles
Prices
Special Features
faq
SeniorPeopleMeet is the answer of People Media company to an issue of finding love in mature ages. In 2019, the site teamed up with another platform, and now its name is OurTime.com. With experience for over 15 years, the venue has still appeared at the top of dating site ratings. The platform has earned a respectable reputation in the successful connection of lonely people. The concrete geographical focus, namely the United States and Canada, forms strict and accurate matchmaking.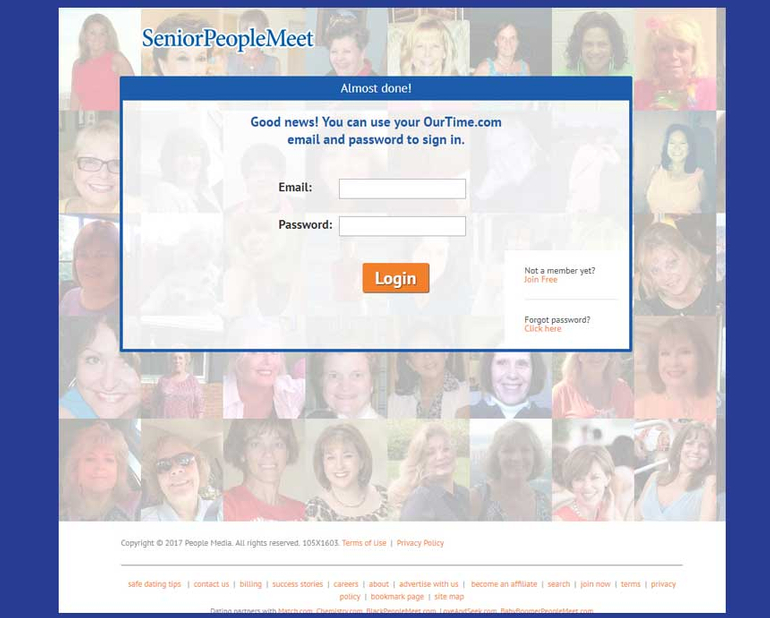 Senior People Meet has a large audience. The number of users from above 1.8 million from the United States not counting Canada. Per month, there are over 2 million site visits. It's more probable to meet your dream partner on such a big platform.
Due to the specific age range, vast experience in matchmaking, and easy navigation, the website seems to be quite a useful tool in finding a soulmate of advanced ages. To be sure of that, please read this SeniorPeopleMeet.com review and discover its peculiarities.
SeniorPeopleMeet Sign up
The good:
Quick registration
Easy procedure
The bad:
Requires postal code may limit a search to some extent
Bearing in mind some dating sites suggest quite difficult registration, Senior People Meet developed an easy sign up process. To become a site member, newcomers should indicate the state, postcode, radius of search, email, password, and name. The next step is uploading photos. The site also will ask no more than 10 questions about your personality. Overall, these actions take no more than 10 minutes. The site design is intuitive and handy, so you won't be lost looking for a registration form. That is one more advantage.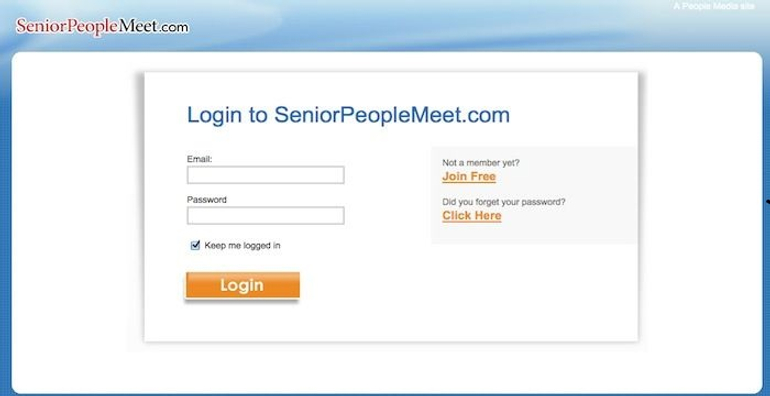 SeniorPeopleMeet Usability
The good:
Intuitive navigation
Not overburdened site construction
The bad:
Design does not ground on the newest trends
SeniorPeopleMeet has a quite modest design. It's not so likely this design impresses newcomers with the up-to-date trends in colors and forms. Nevertheless, the site construction is convenient and not overburdened. It was done to let all kinds of users easily navigate the dating venue with no difficulties.
Making contact
The good:
Free search engine
Many matchmaking filters
The bad:
Limited number of matches for free users
SeniorPeopleMeet.com lets its members use a convenient search engine free. The possible parameters to set are age, radius, availability of photos, height, religion, statues, and some others. They allow making your search more concrete and narrow. You can also choose to view online and new members. Compared to various dating sites offer only some matches per day, Senior People Meet doesn't limit its members in searching for love.
Along with that, the site created a game "Who do you like" suggesting to choose one profile between two randomly chosen or to skip them. This game is free. Another game is "I am interested," in which you can view randomly chosen profiles with the necessary information shown. You can put the profiles you like in the list of interests.
Considering communication, the option of flirt is free. Other tools, including texting, will make you think of purchasing a paid membership.
SeniorPeopleMeet Profile quality
The good:
Detailed profiles
Check procedure for photos' authenticity
The bad:
Some users might disclose personal information only during tet-a-tet contact
Users' profiles are entirely open and free to read as well as view photos. Members attempt to complete as more as possible information about themselves to assure precise searching and find a soulmate. The site is embodied with a technological tool checking whether a photo is private and not uploaded from the Internet. Platform doesn't require newcomers to go through tiring verification procedures. The advantage of this practice is the possibility to indicate a pseudonym if you prefer not to disclose real personality from the very beginning.
SeniorPeopleMeet costs and prices
Some website features are free, and it sounds good for those who would like to try SeniorPeopleMeet services. The good news is viewing profiles' information and photos don't require paying. Considering the fee-based feature, the opportunity to ask professional writers for help is unique for the dating sites market.
With Full price and Standard packages, users get full mobile access and option of reading messages. Best Value package grants full mobile access, reading messages, message read notification, profile highlight, message highlight.
To use such functions as PromoteMe, NotifyMe, MatchMe, and Virtual gifts, you are required to purchase tokens that are the special online currency. The prices are $2.99 for 55 tokens, $5.99 for 110 tokens, and $9.99 for 250 tokens. Compared to various dating platforms, this pricing is quite low.
SeniorPeopleMeet set a comprehensive pricing policy to make sure their clients choose the most suitable plan.
Free services:
Signing up
Completing your profile
Searching among users
Guidelines on safety
Reading profiles
Viewing photos
Option of flirt
Matching game
11 matches per day
Fee-based services:
Texting
Virtual gifts
Professional writers
Putting a profile at the top
Voice calls
See who liked and favored you
Payment options
SeniorPeopleMeet Special Features
Senior People Meet created additional tools for successful searching in the dating world. Users with a paid membership can try them.
PromoteMe
This tool will make your profile on the top of search results for any user. It'll increase chances for your potential partner to find you among millions of profiles.
Virtual Gifts
This tool will make you stand aside many users who text to a person interesting for you. The person will, for sure, notice this gesture.
ConnectMe
In case you and your vis-à-vis feel ready for the next stage of communication, this tool is the best option to realize this idea. ConnectMe will assign virtual mobile numbers to both of you. It'll allow you to hear each other voices without disclosing the real number.
ProfilePro
This tool allows you to make your profile eye-catching. The professional writers highly experienced in the dating sites market will help you to create such a picture of you so users won't be able to pass you by.
Events
This option shows some recent events in your location. The detailed description and prices are indicated. You can ask a person of your interest to join you.
SeniorPeopleMeet Application
The good:
Same features as for desktop version
Free to use
The bad:

SeniorPeopleMeet application is available for both IOS and Android devices. It contains all the options the desktop version has. Its design follows the website in convenience and intuitive navigation. Fonts and icons are easy to read, so there will be no confuses. This app is the best opportunity always to stay online.
Is Senior People Meet free?
SeniorPeopleMeet has some options free for all users. Among them are signing up, completing a profile, reading information and viewing photos of profiles, sending flirts, playing a matching game, searching, and having 11 matches per day. Other options like texting, voice calls, and virtual gifts need to be paid.
How difficult is to create a profile on SeniorPeopleMeet?
Signing up process on Senior People Meet doesn't take lots of time and powers to pass. Newcomers are required to indicate the state, postcode, radius of search, email, password, and name. Later, you will be asked to answer around 10 questions about your personality. You can upload a profile photo or omit this step. The process is quite easy that differs it from the various dating sites.
How does the payment system on SeniorPeopleMeet work?
To enjoy the premium features, the users are offered with two payment systems. One of them is premium membership plans, which include the option of texting. They cost from $3.99 to $7.99 per week. To use additional options like putting your profile at the top or receiving notifications when an exciting person appears online, you should pay with tokens. Virtual currency costs from $0.39 to $0.54 per token.
How secure is SeniorPeopleMeet?
The tool embodied in the venue ensures users upload not downloaded from the Internet but personally made photos. The transactions are secured with well-functioning technology.
If I want to delete a profile on SeniorPeopleMeet, how can I do it?
To delete your profile from the site, you don't need contacting the support team and getting their approval. You can complete this task on your own with the option "Remove My Profile" in the account settings.
How many people use SeniorPeopleMeet?
The number of users from the United States is more than 1.8 million. The actual number is bigger due to users from Canada.
Can I use SeniorPeopleMeet in incognito mode?
This option is absent. However, you can indicate a pseudonym instead of your real name and to write personal information in the profile partly.
What to do to make sure a person I talk is real?
Senior Meet People provides its users with free guidelines on safety regarding dating sites. It contains useful pieces of advice. You can contact the support team in case of doubts.
Premium users can enjoy unlimited messaging.