All
Registration
Usability
Profiles
Prices
Special Features
faq
How much time have you spend surfing the net and searching for the ideal network to get on with the people? How many couple making sites have you passed without satisfying results? If you are tired of all the dating sources, TalkingWithStranger is the best variant.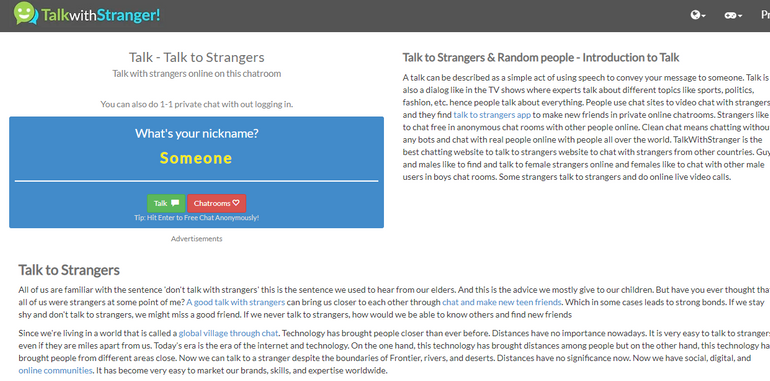 It's a portal where you can find people of different ages, sex, appearance, aims, hobbies, and chat with them. It allows you to omit the fraud, scam, and other ways of faking IDs because there is no ID at all. It seems to be awkward, but the central concept of that site is in the name: talking with a stranger. You don't know the identity of your partner, only her or his gender. That's a high possibility of letting your luck rule the situation. You randomly get your interlocutor and then continue your conversation.
TalkingWithStranger Sign up
The good
There's no need to register
You don't have to give any of your private information;
No one can steal your data from the site because it isn't on the website;
You can use any nickname you want to present yourself on the site;
The bad
With this approach like that it's hard to find serious relationships;
It can be not safe to say your personal information online because the site can't guarantee you security;
There is no login. Talking with strangers is a way of searching for friends and partners without revealing your identity. Sounds strange, isn't it?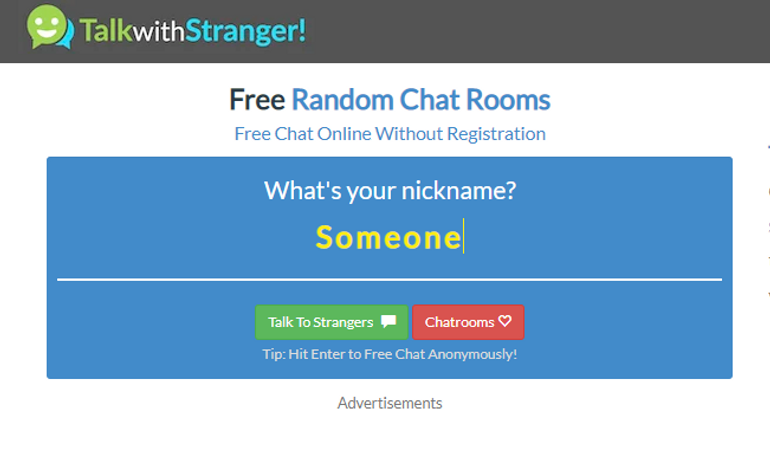 But, that's how that dating network works. You needn`t give your personal information to the site. There are no searching engines. It works the following way: if you are on the front page of the site, you will see four links. They will direct you to different chats. The type of the conversation depends on which link you chose: video chat with strangers, dirty chat, flirt chat, free video chat rooms, chat to female strangers.
TalkingWithStranger Usability
The good
With one click you will be on that chat you want;
Quite easy to use;
The bad
There's no familiar to the eye interface;
For the first time you may be confused a little bit.
Talking With Stranger is not a standard dating network with a typical interface. The first thing you see on the site is the links for different online chats. Then there's information about what the site is about and how to use it. You can see which are the benefits of usage, and what are the unsafety aspects of the network. It's not complicated to understand the way of using Talking With Stranger. It's quite clear where's the button "online chat" and how to press it.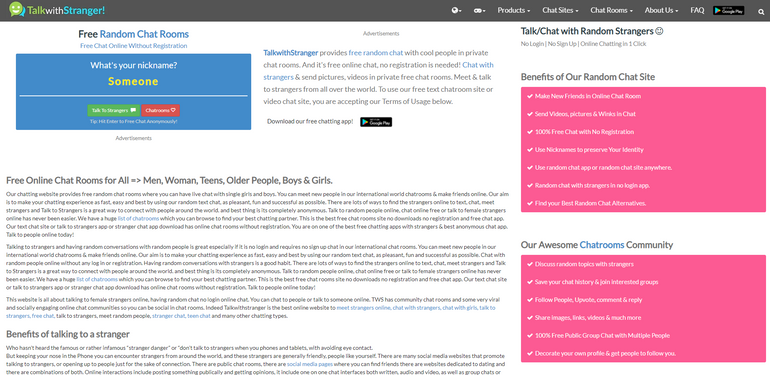 TalkingWithStranger Making contact
The good
A great variety of the services to communicate;
The possibility find a person that has common interests to yours.
The possibility to dive into the different spheres and types of the conversation.
The bad
You can't be 100% sure in your partner;
Strangers may be creepy;
You can spend lots of time searching until you precisely that person who you need;
If you have read the information above and asked a question: "So how to communicate with people?" - That's a normal reaction on such a type of the site. Very often this way seems a little bit scary. But, TalkingWithStranger has functions that offer you to discover the new fields of the conversation.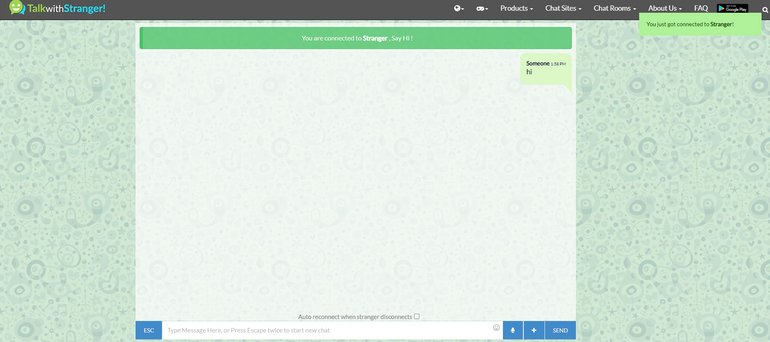 The main thing is that you can't choose who to speak - your partner is randomly selected. That method also can be described as trying your luck. Once you connect with a stranger, there's the next list of the possibilities you may utilize as a user of the site:
Random chat;
Global chatting;
Public chat rooms forum;
TWS Private Modern Chat;
Voice Chat;
The site gives you an ability to discuss different hot points with each other. You can save your conversation, join some groups, and follow people. You can comment them, share images, videos, links, make up your profile and let people have a desire to support you. It's used a TWS Chat product to make a contact.
Profile quality
The only thing you need to use Talking With Stranger is a nickname. You can take different names, and it's even better to take someone else's, because of safety. The simplicity is one of the central credos of Talking With Stranger.
TalkingWithStranger  costs and prices
Talking With Stranger is a 100% free website. You don't have to pay to use the services of that dating network.
TalkingWithStranger Special features
The good
Talking With Strangers is a great platform to develop your social skills;
You may find lots of new friends;
The bad
The safety is when you communicate in the distance
The whole concept of Talking WIth Stranger is a unique feature. It offers an exciting experience and thousands of acquaintances. There are people of different age, sex, body type, political views, and religion. You can see the world from the different angles sitting in front of the computer or by using your phone. No one knows which type of person the randomizer will give you. Be ready to have a conversation with an old truck driver from Pennsylvania and with a young waitress from New York.

To discover that new space, you have to click on the link you love the most on the site and then chose the type of dialogue. For instance, if you decided to link "dirty talk," you will get the next opportunities: chatting, video conversation, sending photos or videos.
Private pictures and videos
Now it's hard to imagine the conversation online without the exchange of memes, naughty photos and funny videos. Talking With Stranger is one of the sites that give you a chance to take the greatest from the dialogue. That's why there's a particular function developed as sending personal photos and videos.
TalkingWithStranger Mobile app
The good
An app is available for IOS and Android;
It's free of charge;
The design is quite enjoyable and straightforward for your eyes;
There's no useless functions;
The bad
Sometimes an app for Android can have some problems with the access;
It's maybe better to use the VPN to connect to the network because some countries block the site;
The company follows an aim to make your socialization as pleasant as it's possible. You are not attached to the computer or the place where it stands. Now you can distantly communicate with people and be in touch 24/7.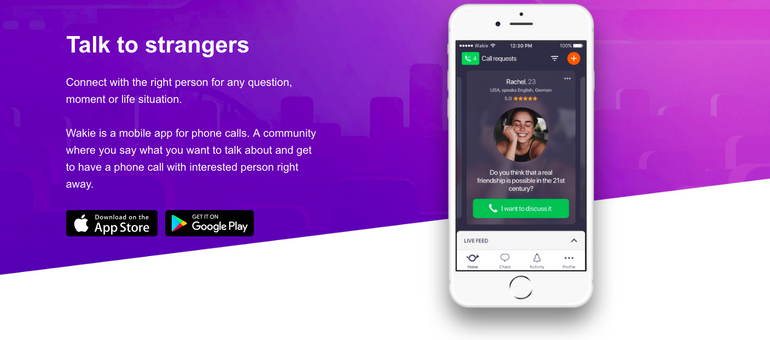 Moreover, the app is available for such operating systems as IOS and Android. So it is supported by the most significant amounts of phones. Don't wait until you get home to chat with your stranger. Use all your time to break the ice with your new friends by discussing the topics you care about.
How to create a profile on TalkingWithStranger?
You have to create a nickname that your partners will use during the conversation. No emails, phone numbers, personal information, etc. Only your nickname.
Is it safe to use TalkingWithStranger?
If you don't tell the first person you meet your address, number of the credit card and passport ID - of course. Nothing dangerous can happen if you chat with people. But, it's better to use your nickname and not to reveal your identity.
How many active users there are on TalkingWithStranger?
Now there are more than a million users and this number is growing every day. There are people of different ages and social categories. But, that feature makes that website so accessible as people love to play with fate.
Yes, and not only text. Video chatting, sending photos and other services connected with communication are free.
How to start a conversation on the dating network?
Press on the link and click on the green button "Let's talk." After that, you will be immediately connected with someone.