All
Registration
Usability
Profiles
Prices
Special Features
faq
The venue has been working since 2003 and matching couples with the same enthusiasm in sports. They go together on fitness dates, where they chat and do what they enjoy the most – work out.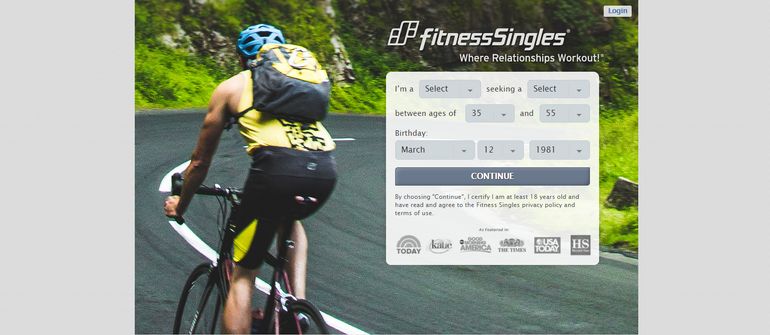 FitnessSingles Registration
The good:
The sign up is free, so you do not have to pay for access to the website
No email verification needed
The bad:
The process is pretty long with the need to fill in a questionnaire
Everyone can sign up for free. When you begin the registration, you will need to select your gender and the same for a person you are seeking. After finishing the first step, you need to select the age group of people you will be looking for there. The least one is eighteen. The last step is to tell the website what your birth date is.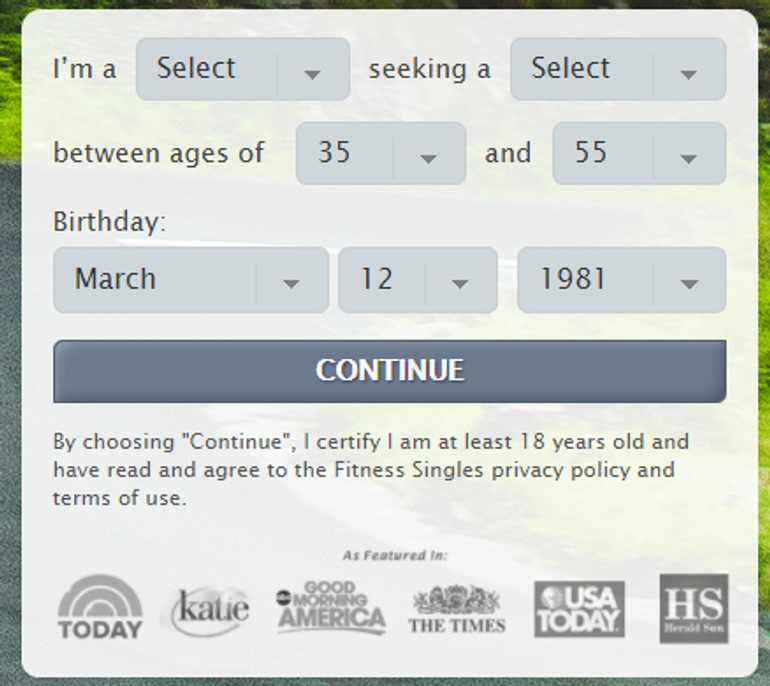 Then comes choosing your country, state or province, and city. The next step is to create your username, password, and enter the email address.
Now the questionnaire begins. First, you will have to choose sports activities which you enjoy doing. Please choose them carefully. In the next question, choose three favorite sports from the ones you have selected in the previous step. Then assess your level of doing them from beginner to advanced. Besides, describe your body type and look - choose the best feature of your body. The weight and height are also requested in the next questions. And the last part to share deals with your ethnicity, hair color, eye color, marital status, and presence of kids in your life.
If you wish, you can leave almost all the questions above unanswered and fill them out later. After these steps, you will gain access to your profile and the website. But still, you will need to wait for the verification.
FitnessSingles Usability
The good:
User-friendly interface with every function you need on the screen
A comprehensive search system where you can specify whom you want to find
The bad:
User needs membership to get in touch with another single
A pretty old design, which could use some renovation
The only available language is English
Fitness-singles is very simple in use. Everything a user needs is immediately available on the screen. Including the profile, search tab, and messages. The search system is well made. It allows choosing specific people to the taste of each individual.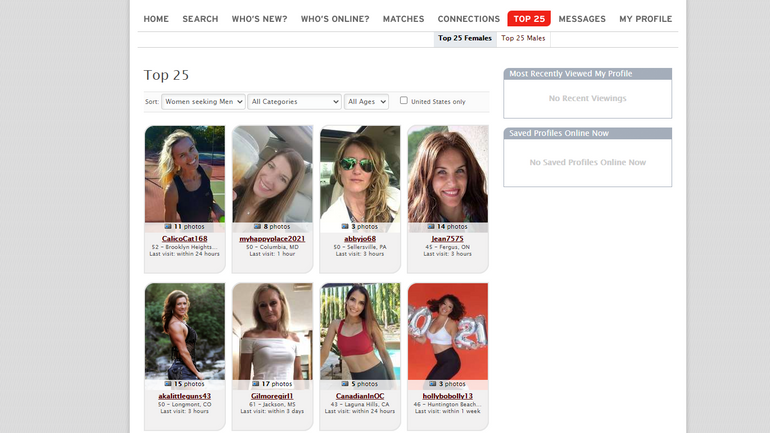 Although there are many good points, remarks also take place here. For example, the only available language is English. A proper website should have at least three, two of which should be widely spread. Secondly, the design of the venue could look much better. Through many years, new technologies have appeared. So, it would be wise to tool them on the website so that it would look more appealing to new visitors.
Communication
The good:
A unique feature called «Show Interest»
An online chat
The bad:
Membership is necessary to be able to write emails as well as receive and reply to them
Subscription is compulsory to chat with singles online
Fitness-singles.com has two different ways of communication. They are email or online chat chanells to suit every user's taste. Yet, both of these methods need a membership to use them.
There is also a unique Show Interest feature on the website. You can see this option once you go on the profile page of another person near the email button. Once you press it, the venue will redirect you to another page, where it will offer a few phrases. When you choose the best one in your opinion, you need to press the Send Message button. This function is free and well made for starting a conversation.
FitnessSingles Profile quality
The good:
Packed with information. Everything about a person is written in their profile
Many photos. You can look at them for free
The bad:
To comment under a photo, you need a membership
No videos in the profiles, only pictures and information
Profiles on the website differ from other sites by the amount of information they contain. By reading about the person, you can find out the things they enjoy.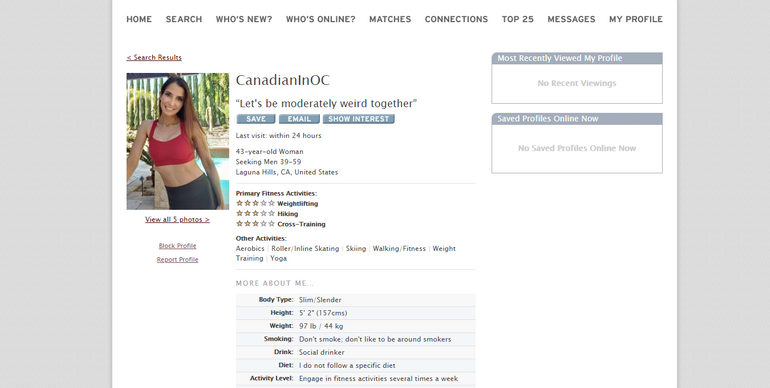 You can immediately email or write something to the person in an online chat. The buttons for that are all located on the profile page. Moreover, besides the questionnaire, you can look at the photos of a person. Of course, some features still need money, for example, commenting under the pictures.
FitnessSingles costs and prices
Fitness singles website has an interesting concept. Even though most of the features are free, a dating website is useless if you cannot get in touch with other people. So, membership is inevitable if you would like to use the site in a convenient and full (in terms of functions) mode.
Membership costs differently depending on the plan a person chooses:
Unique features
Who is online?
The venue allows you to see people who are on the site at the moment. Indeed, a unique feature which you will not meet on other dating sites.
Top twenty-five
Yes, the site also shows you the best users on it. There are top twenty-five males and females. Look at them and make a decision on dating them or not.
Of course, Fitness-singles offers both costless ones and paid services. Most of the functions are still available for users without a subscription:
Free services
A user can block another individual
Always available customer support
Safe storage of personal data
Removal of fake profiles and bots
Mobile version is available
Creation of a profile and photo posting
Free message receival
Fee-based services
Reading emails on a computer and a phone
Getting in touch with other users
Using instant messenger (online chat)
Sending and receiving emails
Placing the profile higher than others in the searches
Responding to emails
Payment
When you choose a plan suitable for you, it is compulsory to pay for it. If you use a credit card, the website will ask you to fill out the form.
FitnessSingles Mobile version
The good:
You can access the site through a browser on the phone
The website is fully optimized for different devices
The bad:
There is no mobile app to download
Nowadays, most of society uses phones more than computers, so it is a must to optimize a site for mobile devices. Fitness-singles.com is available on different ones. Although there is no downloadable app, everybody can still access the website via browser and chat with other users on the go.
How can I be safe while using the site?
There are particular rules which you need to follow to be safe. First, use email to be anonymous and personal financial data while chatting. Secondly, try to find out about a user in detail before approaching him/her closer. Finally, if you find an individual strange, or doubtful, then stop talking to him/her and get out of the chat.
How can I create a portfolio?
Actually, you are already creating your profile, while signing up. The questionnaire you fill out while registering will later appear on the portfolio. It is editable if you'd like to add some changes later or skip it at the beginning.
How long does it take for the portfolio to be approved?
The profiles get approved in approximately three to four hours from the moment of sending the application.
Communication is mostly available only with the membership, so you will not be able to talk to other singles without investing a fixed sum of money on the paid plan.
How can I be safe on the venue?
First of all, do not tell anyone your personal information. Secondly, always be cautious and do not talk to suspicious people.