All
Registration
Usability
Profiles
Prices
Special Features
faq
Nowadays we live in a tolerant society which tends to get rid of all the prejudices and condemnations. Same-sex relationships are not nonsense anymore. People don't need to pretend and hide their real preferences.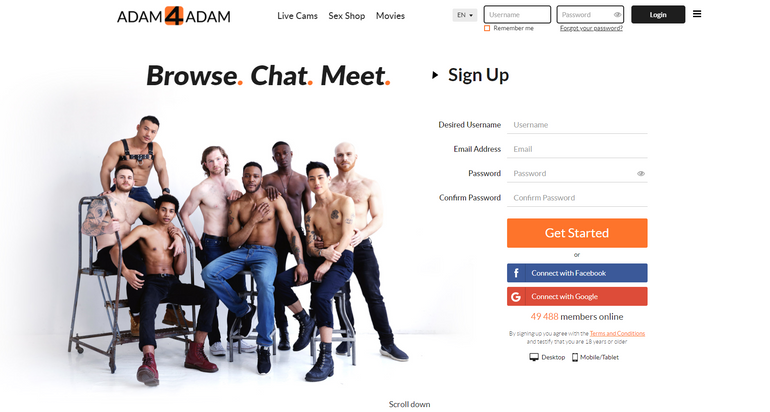 Adam4Adam is a platform for gays who're looking for a partner. In fact, the name of a site is self-explanatory. It was created in 2003 and since that time has dozens of successful stories. Actually, this community has no restrictions. It unites gays, bisexuals, metrosexuals and other representatives of homosexual orientation.
Adam4Adam Sign up
The good:
Creation of an account is free
Registration takes about 5 minutes
Sign up from a desktop or a mobile app
The bad:
To become a member of Adam4Adam you need to make 2 steps. The first one includes the creation of your username, password and adding a valid email address. Besides, there is a field where the user has to testify that he/she is at least 18 years old.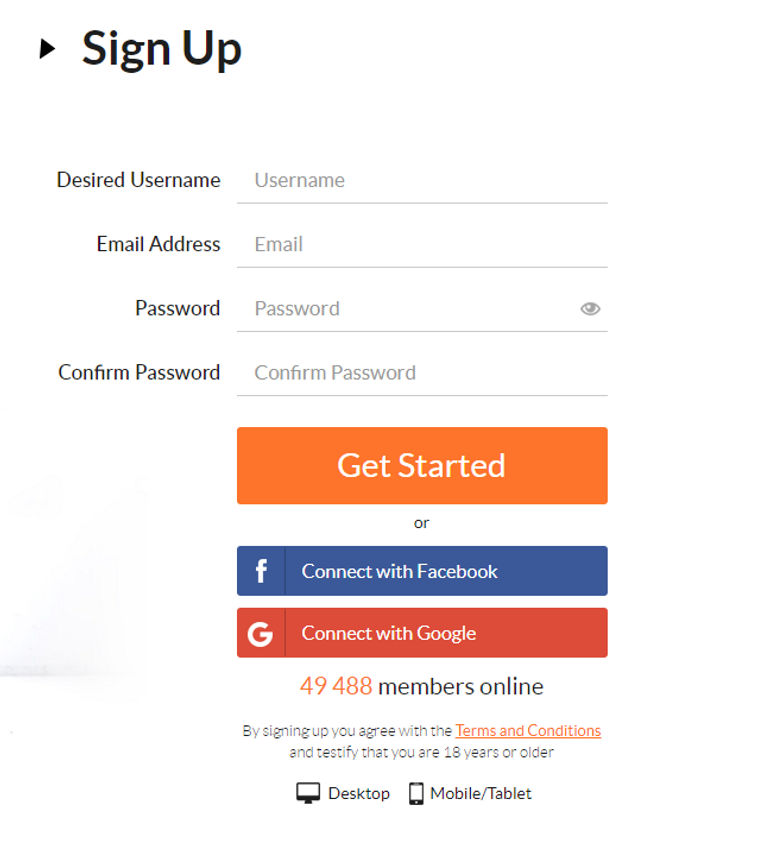 Then you have to answer some questions, indicating general information about yourself, such as age, location, and upload photos. Additionally, you need to agree with the terms of use that will provide you with access to video chat.
Adam4Adam.com also has an email verification. Still, it's possible to be a full-fledged member of the site without confirmation of your email. So, this step is not obligatory.
Moreover, the platform has a specific option that attracts a lot of users. There is an opportunity to create a Home or a Visitor profile, or even to have both of them. A Home profile is just the same as a general one, while a Visitor one is additional which you may use
Adam4Adam Usability
The good:
The bad:
In fact, we can hardly find a person who won't understand how to use the site. There is a menu in the right corner on the top of the open page. It's divided into several subgroups, each of them is described in details.
Actually for A4A design of the platform is not a matter of the utmost importance. That is why it's quite simple and for the first sight seems to be out of date. Creators wanted to make functional platform rather than attractive. Every profile here is plain and depicts the most important information about the user.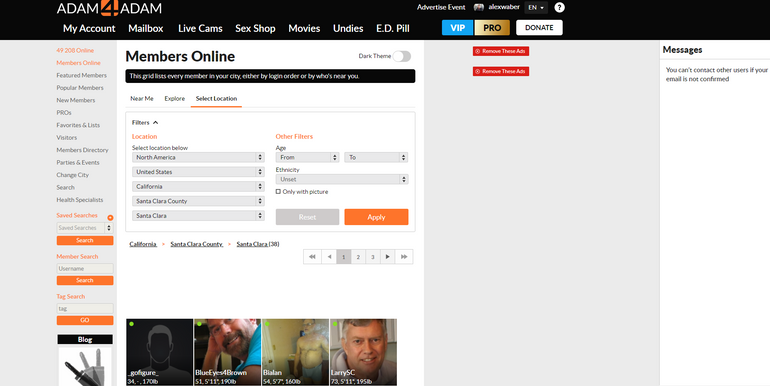 Except from being an ordinary dating community, Adam4adam provides its members with additional options, such as live cams, sex shop, movies section. If a person is not eager to communicate, anyway he/she will have a good time here.
Making contact
The good:
Sending messages is free
Wide range of search filters
Possibility to send a Smile if a member is not ready to chat
The bad:
Conversations which are inactive for more than 10 days are deleted
Other specific features of Adam4adam.com is a wide range of search filters. In such a way, any taste is taken into account, general and specific ones. It must be admitted free members can save at least 3 searches, while the premium ones can save ten and more.
Besides, if a conversation is not renewed for a long time, it will be automatically deleted. Free accounts have limit 10 days and VIP pages have 30 days. Additionally, free users can save 20 active or inactive messages in their saved folders and for the VIP profiles this quantity is increased to 200 conversations.
Also, this dating community offers its members video calls of any content. The site itself doesn't require money for this function, thus it can't be responsible for its users' conditions.
Adam4Adam Profile quality
The good:
Profiles are visible for everyone for free
It's possible to hide your last visit
Creating a Visitor account
Profile information can be changed
The bad:
Not detailed profiles
A lot of ads
On Adam4adam.com each account contains general information about a member, such as his age, location as well as details concerning his appearance, lifestyle, profession, kind of relationships he is looking for here.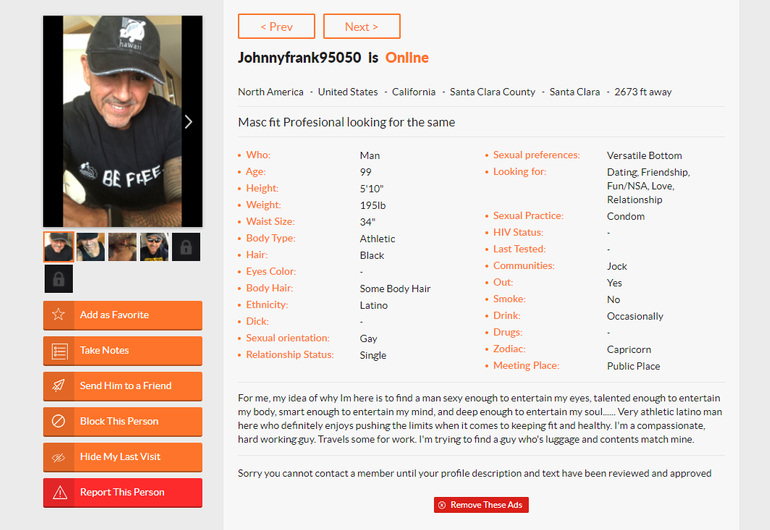 Also, it's necessary to add at least 2 pictures, one of them will be your primary photo. It should be admitted that there is a prohibition for a primary picture to show your naked body or underwear.
One more peculiarity of Adam4Adam is the possibility to create an additional Visitor profile without deleting your main Home one. As a rule, this option is used when a member travels to another place and wants to have a great time there.
Adam4Adam costs and prices
Another great thing about adam4adam is that you don't need to spend lots of money. Actually, you may be a full-fledged user absolutely free. Surely, if you want to highlight your account, you may buy a VIP membership.
Another great thing about adam4adam is that you don't need to spend lots of money. Actually, you may be a full-fledged user absolutely free. Surely, if you want to highlight your account, you may buy a VIP membership.
VIP subscription:
remove publicity
unlimited conversation
up to 10 photos in profile
up to 4 videos upload
PRO subscription:
all the VIP accounts
apportunity to advertise your services
Free services:
Creation of a profile
Looking through other accounts, including pictures and information
Send and receive messages
Save conversations
Free based services:
Add friends without limits
Block accounts without limits
Highlight your profile (ProAd)
Payment Options
Adam4Adam App
The good:
App and mobile version available
Both for android and iOS users
Various languages for an app
The bad:
Not all features are open using the mobile app
Simplistic design
The members of Adam4adam can be in touch 24/7, as the mobile app was created especially for this purpose. Still, it's not as full as the desktop one. It's an additional version rather than of full value.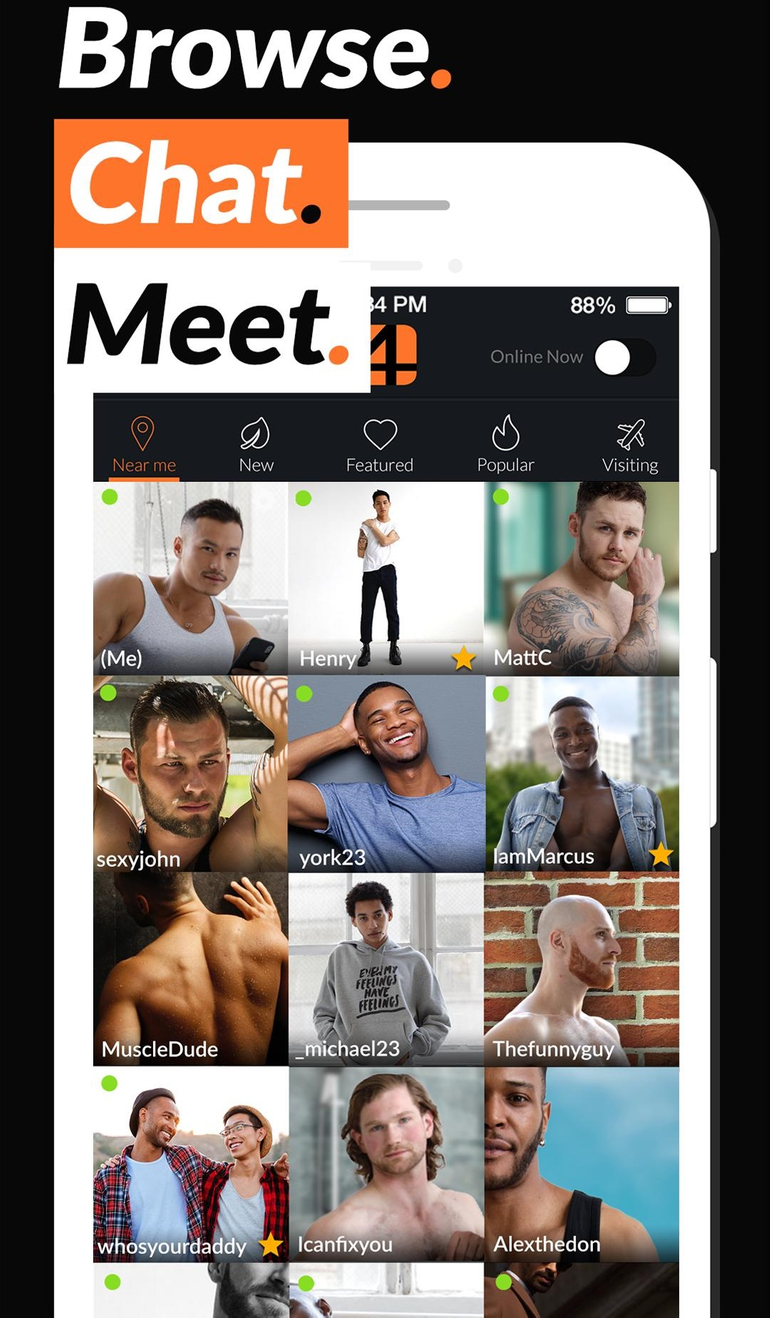 As today people are divided into Android and iOS lovers, it was taken into account, so the representatives of each group may be the users of Adam4Adam's mobile app. Moreover, there are both an app and mobile-optimized version available. It's up to you to choose.
All the necessary functions of the site are absolutely free. Besides, there is an opportunity to highlight your account with a VIP membership.
How difficult is it to create a profile on Adam4Adam?
Making an account here is a very quick and clear process. You need to add some information about yourself and at least 2 photos. It takes about 5 minutes.
How does the payment system work on Adam4Adam.com?
There are free and VIP membership. The last one costs 10 dollars for a month or 75 dollars for 6 months. Also, you can order a VIP membership with an additional advertisement for your profile, it costs 30 dollars for a month or 75 dollars for 6 months .
The community created useful tips on how to protect yourself from a scammer and save your personal data. Besides, each account undergoes verification before being registered. Don't forget that there is a support team available 24/7.
If I want to delete my profile from the Adam4Adam, how do I do it?
You can delete a personal page, selecting My Account on the top left corner of the open page and choosing Delete account.
How many people use adam4adam.com?
There are over 10.000.000 members, about 6.300.000 are users from the USA. Usually, you can find about 60.000 of active members at any time.
Is the function of anonymous data viewing available on the Our Time?
Yes, this option is available.
How can I be sure that the profiles are real?
Follow the tips of the creators. Remember that each account undergoes verification. Report immediately if you find something suspicious.
How quickly can I get confirmation of my profile?
It will take about 5 minutes.
How do I keep my account secure?
Always create a strong password and don't tell it to anyone.