All
Registration
Usability
Profiles
Prices
Special Features
faq
If you are also a fan of Japanese beauty, you may have previously encountered the problem of finding these wonderful people online. Especially if you don't speak Japanese. Right now we have many different dating websites that help filter out your audience and only deal with the users you need. One such website is JapanCupid.com.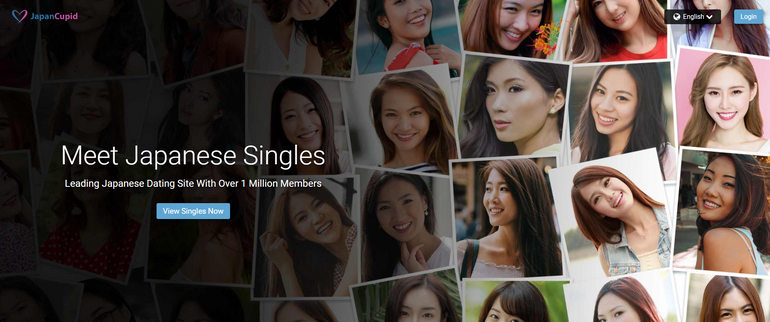 Here you can not only find many Japanese but also choose for yourself the one that suits all your requirements. Detailed profile descriptions are simply amazing when you see comparative tables about your preferences. However, even here there are pitfalls. This will be discussed further.
JapanCupid Registration
The good:
Automatic verification
Fast start
View all features
The bad:
All necessary functions are paid
Registration for JapanCupid is standard for such websites. Although, it is also simpler and faster. You need to enter your name, gender, whom you are looking for (woman or man), your age, email, and password. Click exposure and... Done! You can start looking at your profile and website.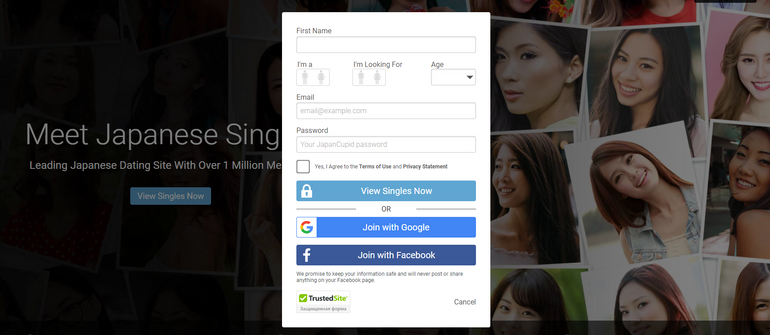 On the main page, you can already see which users you can chat with. To attract attention and collect as much positive feedback as possible, you need to take care of your profile. Add a real photo and fill out all the points on the questionnaire. There are many questions about you, from hair color to your income, as well as about the person you are looking for. Based on your answers, you will get the best possible matches with other users.
JapanCupid Usability
The good:
Convenient Features
Nice design
Fast website
The bad:
Not different from others
JapanCupid.com is no different from other quality dating websites. You can quickly and conveniently navigate the pages, use the advanced Search, etc. The design is nice and unobtrusive. During use, you simply do not get distracted by understanding the interface and finding something. You just get good usability.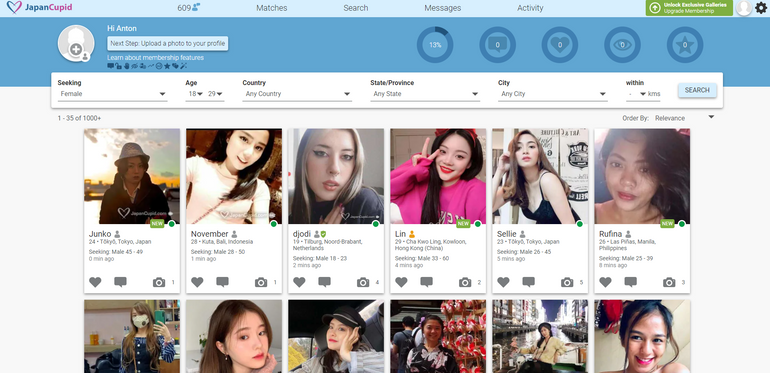 This is also the case with the mobile app. Although it is only available for Android, it is still a good addition to the website. All in all, JapanCupid products are comfortable and good.
Making contact
The good:
Free search
Many users to choose
The bad:
The structure of the platform is to get the most perfect matches. You have to fill out many fields on the questionnaire to compare how you fit a particular user. If you are perfect for each other, you can quickly send him / her a message.
However, making contact is mostly paid. You can only show your interest to a user who has a premium account. If he / she is interested in you, then he / she will write to you and you will be able to communicate. In general, this is a normal situation for paid dating websites. It is said in all Japan Cupid reviews.
JapanCupid Profile quality
The good:
Detailed profiles
Real photos
Comparison table
The bad:
Not all profiles are filled
You will be surprised how amazing is the fullness of the profile here. You need to answer a bunch of questions about you and your preferences, then compare yourself with the requirements of other users. This greatly simplifies life for everyone, because you can immediately see how you fit together. Indeed, in most cases with ordinary dating websites, we simply search blindly.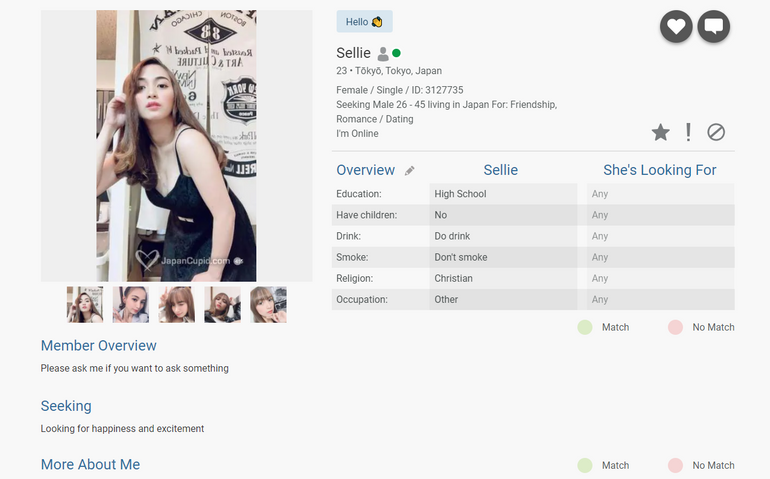 As for the other options, you are unlikely to find something that you don't like. All users look real and ready to meet you. There are no retouched model photos on Japan Cupid platform, everything looks honest. The administration monitors the quality of users, sends warnings about possible fraud and blocks suspicious people. Although there are girls from other countries, most of them are from Japan.
JapanCupid costs and prices
Since JapanCupid com is a paid platform, after paying for a membership you get access to all the necessary functions. Access to the site immediately after the registration is free just to show you the functionality. It is worth noting that this is a good offer.
So, premium membership gives you the ability to text anybody, use live chat, and browse anonymously. That is, you can temporarily hide your profile and no one will notice that you continue to use the site and view pages. If this feature is disabled, with a paid account you will feel rockstar here. The platform raises your profile in the ranking and gives you a special VIP badge to distinguish you from the rest.
Free services:
Registration and filling out a profile
Chatting with premium users
Search and view profiles
Fee based services:
Unlimited chatting
Live chat
Many other features
Is Twoo dating website expensive or cheap?
Compared to other paid dating websites, JapanCupid is average. It is definitely worth the money because you get full access to the platform features. So, this is a reasonable price.
Payment options
There are many more ways to pay for membership than other websites. You can do this not only with a credit card or PayPal but also with bank Transfer or Paysafecard. So, you should have no reason not to try this.
JapanCupid Special features
The good:
Perfect matches
Live chat
Incognito mode
The bad:
In terms of competitiveness with other platforms, this has no special features. But JapanCupid is different in its approach and ideas: here you can find a Japanese wife or girlfriend for all your requirements. The website is designed to take into account your wishes and select the perfect matches.
You can also get many benefits after purchasing a premium membership. For example, the ability to browse anonymously is rare for dating websites. You will also get visible differences from other users: the premium will increase your ranking and you will receive a special badge that will distinguish you from the rest.
Apps and mobile website
The good:
Good design
Same functions as a website
Quick registration
The bad:
Now many people do not have a computer, because this is not a necessity. But this is not a reason not to try online dating, because JapanCupid has a mobile app. The only problem is that it is not available for iOS. You can download it only for Android on Google Play.
As for the functionality of the application, you will not be disappointed. It has all the same features as the desktop version. It also does not matter where you register - in the app or on the website. By the way, you can reduce the time of joining the platform and log in via Facebook. Not many JapanCupid overviews say about it.
No, it's not. You can register and browse the website for free, but for full use, you need a paid membership
How to create an account on JapanCupid dating website?
Go to the website and click the Registration button. After that fill in all the points and your profile is ready! You do not even need to verify this additionally
It is a completely secure platform. Security terms may not say anything, but the fact is that this website has been operating for a long time, so we can consider it authoritative
How to delete a profile on JapanCupid dating website?
To do this, simply go to your account settings and select the appropriate function. If you want to remove this temporarily, you better hide the profile (if you have a premium membership), since you will not be able to restore it after the removal
What is the number of active users on JapanCupid dating site?
It has over 700 thousand members around the world and about 5 thousand active users daily. Enough to find someone for yourself, huh?
How to use JapanCupid dating platform in incognito mode?
For anonymous browsing, you need to have a premium subscription. After that, just select this function in the upper right corner of the screen (if you are using the desktop version)
What to do to make sure that a person I talk to is real?
The administration strictly monitors website fraud, but you should always be careful. If you are a chat someone for a long time, invite her / him to a video chat to clarify for yourself whether this person is real and whether you like her / him
How to contact people for free on JapanCupid?
You can text users for free only if she / he has a premium subscription. In any case, it is not very convenient - to choose only among those who have it