All
Registration
Usability
Profiles
Special Features
Prices
Conclusion
faq
This fantastic dating venue has been on the market for over a decade. Considering the users' needs, the site's officials made everything for your comfort. The venue is gaining more popularity. So the Black Christian People Meet hosts thousands of new members every day. After reading this detailed review, you will be able to learn special tricks and fun, exciting aspects. Do not miss your chance to find everlasting happiness!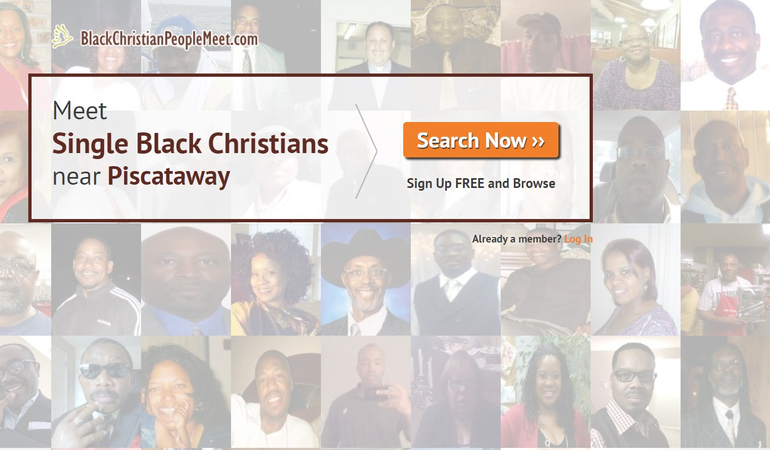 The good:
Simple and fun design
Complete transparency and full security
Focus on Black Christians
Over 2 million beautiful singles
Professional help
Handy blog posts
The bad:
No mobile app
No audio or video chats
Almost every tool is paid for
No ID verification
Sign up
The good:
Not complicated
You can upload pics from your Facebook
The bad:
You do not get help from questionnaires
May seem too simple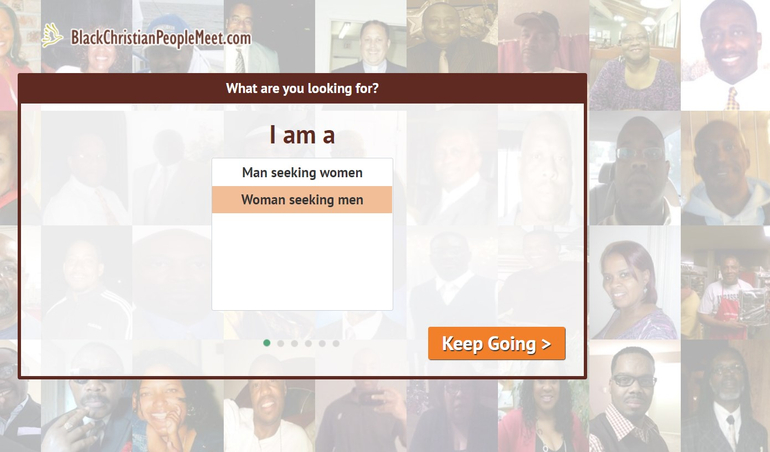 This primary process is incredibly quick and super easy on BlackChristianPeopleMeet.com. You have to register using your email address. Type in some basic info such as your birthday, gender, name, and password. Then download your photos from your computer or upload them from your Facebook page. The last step would be writing a small paragraph about yourself.
Usability
The good:
No annoying advertisement
Easy controls
Amiable environment
The bad:
Can be too simple for some people
May lack some fun colors
The dating website looks pretty simple and chic. There are no bright colors that would tire the eyes of those who spend long hours looking for their love online. Its friendly atmosphere makes you feel relaxed. It encourages full enjoyment of your experience. The site's navigation doesn't have any visible difficulties. Every section has its rightful place and stands for vital control over your profile. There are no popup windows that would annoy users and stop them from chatting with their crushes!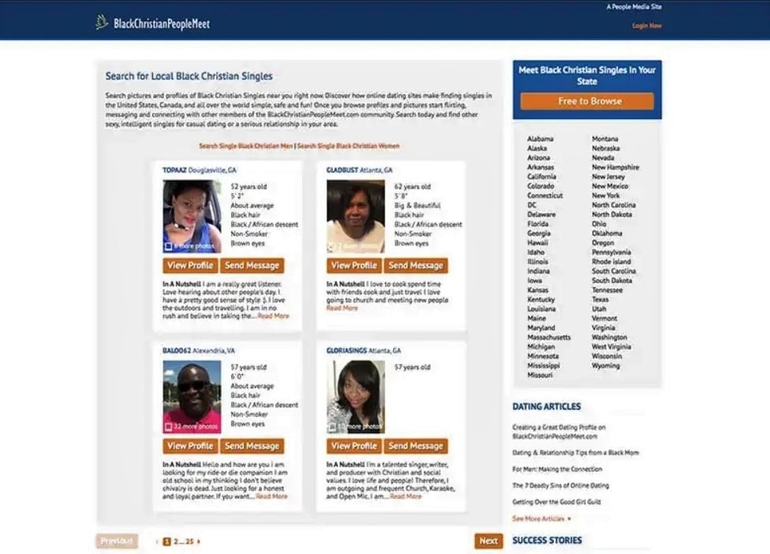 Making contact
The good:
Familiar communication tools
Not complicated
Fun extra activities
The bad:
Messaging is not free
You have to pay to have unlimited access
BlackChristianPeopleMeet offers some standard communication tools. This list includes mailing, instant messaging, sending flirts, liking profile pictures, and more. The only free services available for you would be sending Flirts and adding to Favorites. As for a premium dating platform, there are some restrictions on the free use.
Profile quality
The good:
Online tick
Fully developed profiles please the eye
The bad:
You can encounter underdeveloped profiles
People may not tell the truth about themselves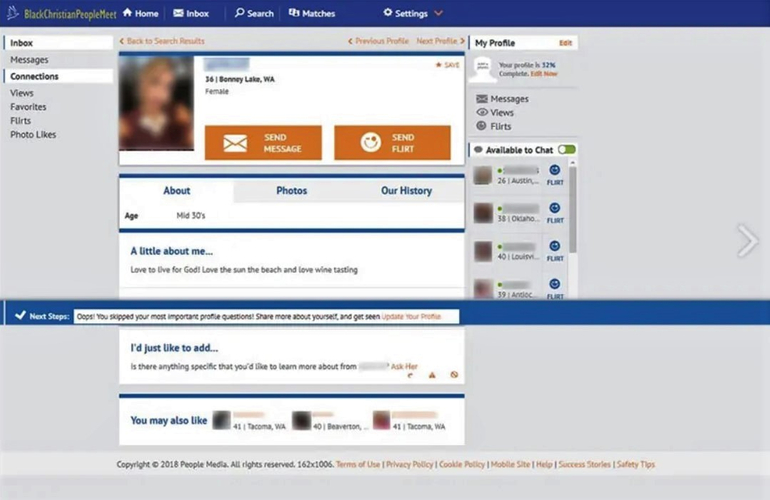 To attract more users to your profile, fill out sections of your preferences. Choose some fun facts about yourself. Mostly all profiles are well developed. They have photos. Members of Black Christian People Meet have serious intentions. They are looking for long term partners. Besides, your account will not be on the match list unless you have a user pic. You can identify your height, body type, weight, and some other personal measures.
Mobile App
The good:
Adaptable version for the phone browser
The bad:
No application
Decreased comfort
There is no specialized app that you can download to your phone. Nonetheless, there is a fully working mobile version of the website. You can access it from the browser on your device. The desktop version of Black Christian People Meet platform is still the best.
Special features
The good:
Fun helpful tools
Exciting new knowledge
Animated materials to upload
The bad:
You may not get as much appreciation as you would wish to
Message Starter Ideas
You can ask some questions, and they will appear on your profile page. People who are interested in you may answer those. Thus you can start the conversation without any awkwardness.
Echo
A matching alert that you will receive when the person you like have liked you back.
Event Listing
You can check what kind of local gatherings there are in your area and mingle with fellow singles that come there as well.
Blog
There is a forum. There you can find lots of useful articles. They may help with your dating difficulties and expand your knowledge of the topic.
Videos
Besides photos you can also upload video material that will be visible to people who visit your profile.
BlackChristianPeopleMeet costs and prices
Free services:
Sign up
Flirts
Browsing
Adding to Favorite
Searching for possible matches
Fee based services:
Chatting
Mailing
Advanced search criteria
Account stats
Instant matching tools
Due to its reputation, the BlackChristianPeopleMeet cannot offer more free services. To get unlimited access to the site you have to buy a subscription plan.
What is the pricing policy for BlackChristianPeopleMeet?
If you compared this platform to similar ones, you would see that it has lower costs than the others on the market.
Payment options
PayPal
Credit Card
Debit Card
Payment discretion
Your transactions are protected by the 128-SSL encryption. The excellent online security organizations working with this venue protect it too.
Further costs
You have to pay a one-time processing fee of $3.99 every time you upgrade your plan. Plus, Washington residents have to pay an extra state tax of $4.34.
Editor's conclusion
Are you black and looking for a decent Christian dating platform? Do you want to register on a place that would please your romantic needs? BlackChristianPeopleMeet.com is the right choice! Excellent online security and new tools are ready for you. Explore and start your flirting journey into the bliss of the future! Don't be shy about meeting new people. It can become the first step towards your final love goal.
Contact information
Company: BlackChristianPeopleMeet.com operated by People Media, Inc.
Address: PO Box 12627, Dallas TX, 75225, USA
FAQs
Is BlackChristianPeopleMeet Free?
No, this Christian dating platform requires its users to buy subscriptions. They would allow you to use its services and fun tools. There are, yet, some free options. But they would not give you a full understanding of venue.
How to create a profile on BlackChristianPeopleMeet dating website?
You have to register first. Then fill out necessary personal information such as email, password, name, and birthday. Then answer questions about yourself. They would follow up with a text. It would open your personality and give others a better view.
How do BlackChristianPeopleMeet credits work?
This exact dating platform does not work with them. Instead, there are premium membership options you can choose from. The subscription will give full access to the site's services and allow you to use any tool offered. Without it, you will have minimal access to the site.
Is BlackChristianPeopleMeet safe?
The dating website is entirely secure. Online security companies work hard to protect the site from the fraud and keep you at peace. Even so, you can never be too cautious. You have to protect your account with a strong password that won't be very easy to guess.
How can I delete BlackChristianPeopleMeet profile?
You have to enter your account settings and find a section that manages your account. There you will find a button that can erase your history on the website and delete your profile. Please mind that this particular action is irreversible and you cannot undo it.
How many members does BlackChristianPeopleMeet have?
The venue has over 2 million singles that are looking for love online. With the majority coming from America. Every month there are almost 35 thousand new listings. So you will be satisfied with the diversity of new people and exciting acquaintances.
Can I use BlackChristianPeopleMeet anonymously?
You can use a tool that allows you to text people without disclosing your private information. You can also request a phone number provided by the site that will let you talk with your crush. Again, it will be possible without them getting your info.
How can I know that the profiles are real?
You always have to trust your gut when you are on someone's account. See if they have enough personal information that you can study. Check their pictures, and make sure that a person has his/her face open. Besides, there is photo identification. It is carried out by the professional help team, so they will also be on the lookout for untrustworthy members.
Unfortunately, you cannot converse with fellow members without buying a premium plan. You cannot even talk to the paying users if you are a free one yourself. Chatting and mailing requires a financial commitment to the BlackChristianPeopleMeet.com.
How long does it take to have my profile approved?
You do not have to wait at all to have your ID checked, or your email confirmed. You can directly start your experience. Buy your membership, and begin mingling with beautiful singles. The only aspect is that you will be invisible to others before you upload your photos.