All
Registration
Usability
Profiles
Prices
Special Features
Safety
faq
If you're interested in spotting beautiful Polish singles, Polish Hearts is the ideal and largest network for these females. There are numerous ways in which it connects participants and finds them their ideal matches. The site operates in English and Polish languages.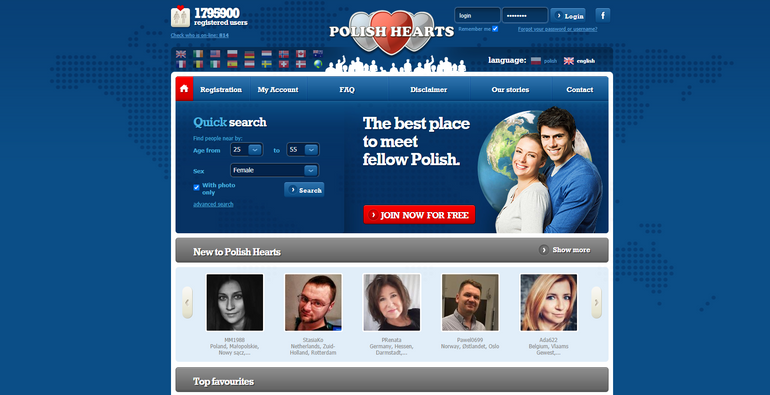 Meet beautiful Polish singles on the network without any hassles. The customer support team is very robust and ensures only real profiles are displayed. Check out all the positive and negative sides about the site in this Polish Hearts review. Keep on reading!
PolishHearts Sign up
The good:
Free registration
No match recommendations
The bad:
PolishHearts has a simple process for sign-up. New subscribers can register using their email or directly via Facebook. In case you choose the first, you'll only have to provide basic particulars about yourself. Once you have mentioned it, verify your email. To do that, check the instructions sent to you over mail. The entire process will take around 3 minutes and if you don't see any letter in the inbox, check your spam folder.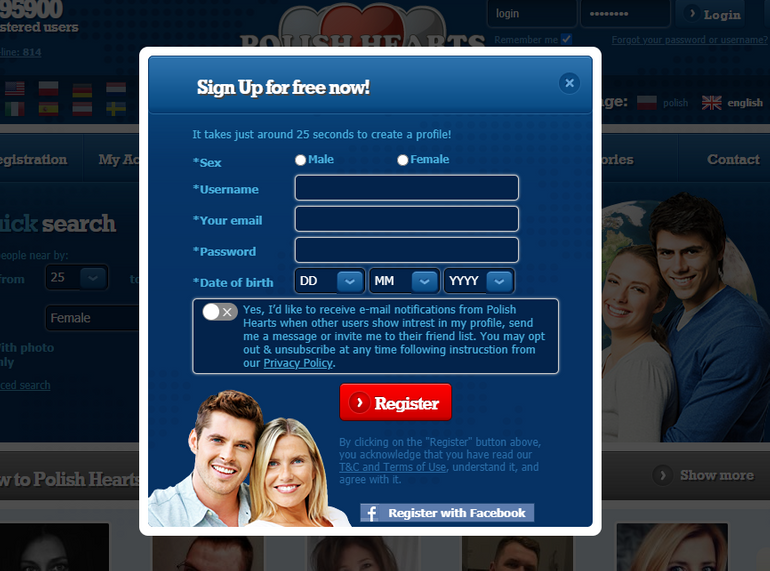 There are no match suggestions though which is a drawback, but since the profiles are verified, any probability of having fake profiles is ruled out.
PolishHearts Usability
The good:
Classic interface
Easy navigation
The bad:
The network has a basic website. It can be called a classic simple to understand and operate, but there are a lot of advanced options nowadays. Polish Hearts still has a simple, understandable for every participant site. Therefore, members can browse and date without any hassles.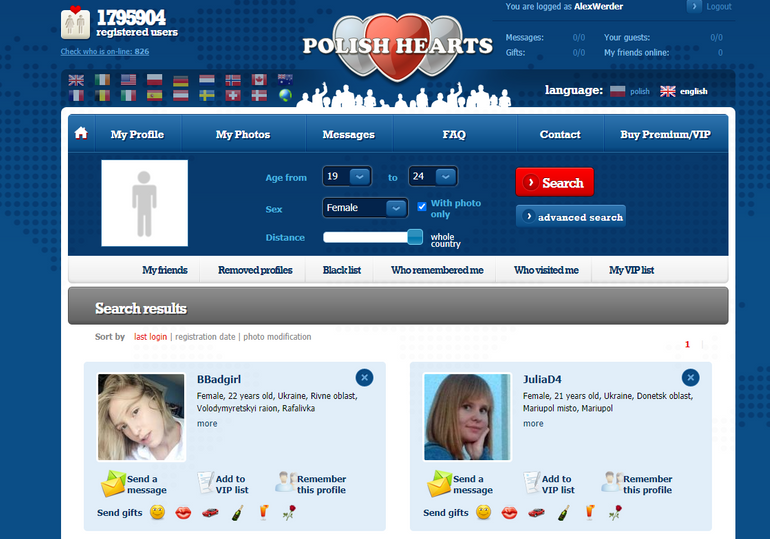 The color theme is pleasant the eye and offers a comfortable dating experience.
Contact
The good:
Free pages browsing
Who visited me list
The bad:
PolishHearts.com has basic and advanced search available for every participant. With the filters, you can find the female of your dreams and one who matches all your preferences. But only premium subscribers can send texts, read emails, deliver presents, and do a lot more. Standard participants can send reactions to others. There's still a perk on Polish Hearts allowing the non-paid subscribers to interact using texts. This is only possible when a standard participant is added to the VIP list of another user. There's an option to remember a profile as well for later.
PolishHearts Profile quality
The good:
Complete and detailed accounts
Approved pages
The bad:
The profiles on the network have the basic specifics that are crucial to know before interacting with someone. You can find out their DOB, sex, location, and other personal details such as appearance, hobbies, etc. There are no real names of many members, but the usernames are used for identifying a participant. Meanwhile, all the profiles on Polish Hearts are verified before they're made visible to other subscribers.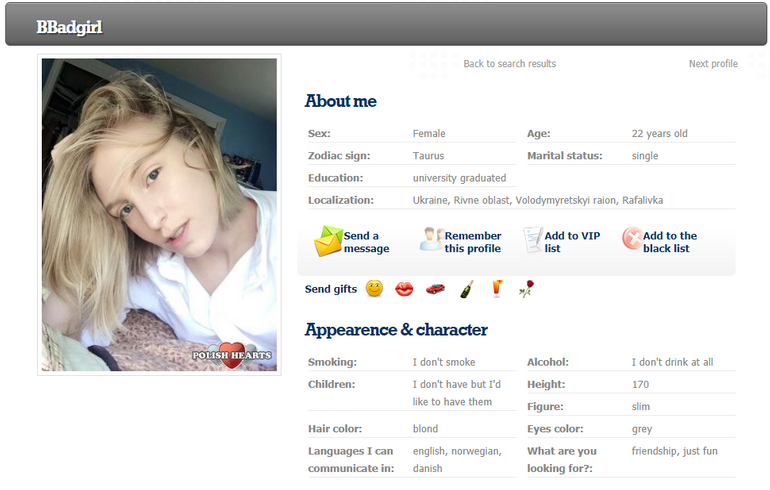 The profile images are open to every user and there's an option to block a particular account as well in case you find something inappropriate.
Polish Hearts costs and prices
The network has an upper moderate pricing structure. Being a premium member, you can utilize all the superior benefits the site provides. If you're truly interested in finding someone on this platform, you should certainly consider making an investment in these plans. Find out the details below.
Free services
Signing up
Browsing through the network
Checking out member profiles
Creating a complete profile page
Using basic and advanced search filters
Remembering a profile
Fee based services
Sending messages
Delivering virtual presents
Finding out who remembered you
Uploading upto 5 images
My VIP list
Payment options
Credit card
Direct debit
Bank transfer
PolishHearts Special Features
The good:
Easy-to-use tools and services
The bad:
Focus on paying members mostly
Who visited me
Here you can check out people who came to your profile recently. This is a handy tool as you can immediately start interaction with the members who showed interest in you.
My VIP list
This benefit allows the participants to add people to this category. This feature is only for VIP members. Subscribers who are added to the list can send messages. Even standard participants in the VIP selection can send texts and interact with the VIP user.
My friends
This list contains all the profiles you saved. You can add people to this category and then come back to their page later. Click on the "Remember this Profile" button to save pages to your friends list. There is also a "Who Remembered Me" section where you can check out who added you to their list.
Gifts
Participants can send presents to other users to surprise them and make them happy. This benefit is only for premium subscribers though.
PolishHearts App
The good:
Android mobile app
Easy navigation
The bad:
There's a tool for Android users. The application can be downloaded for free from the Play Store. Apple owners can take advantage of the mobile friendly version of the network. Though the app can be a glitch at times, it has the same features as the desktop.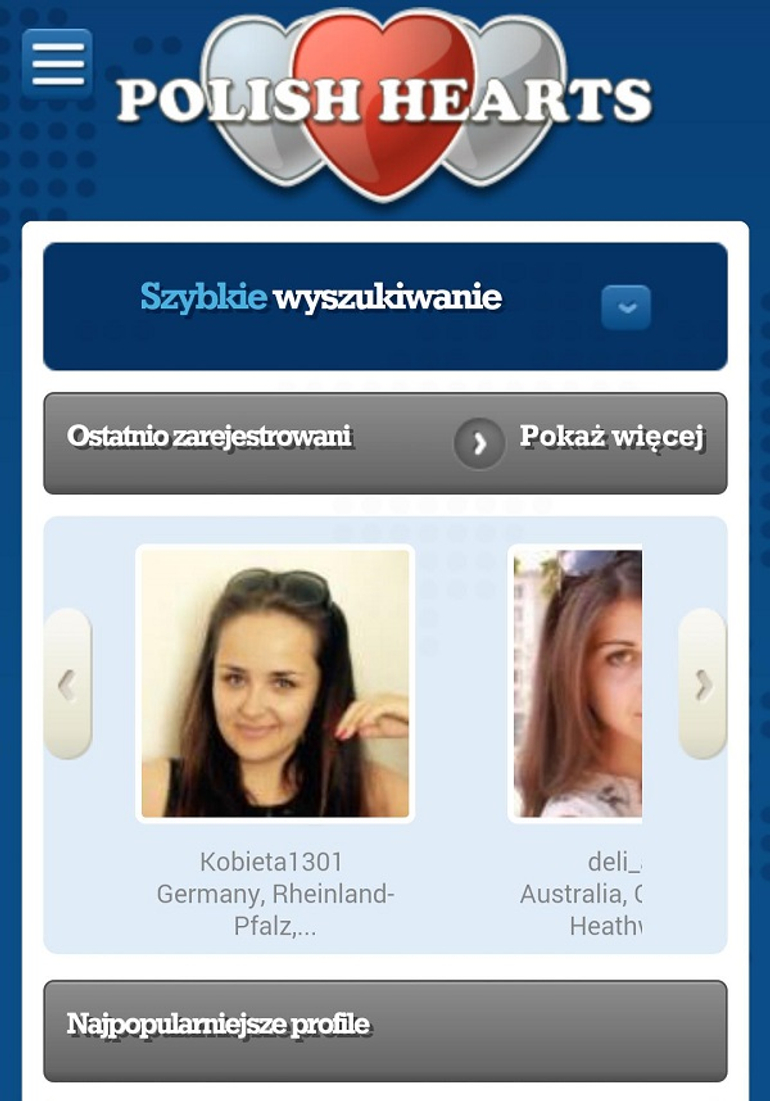 Dating on the go will be fun and hassle-free with the mobile friendly website and the Android application.
The transactions on PolishHearts are protected by 128-bit SSL encryption.
PolishHearts Contact information
Company: Haby Internet Business Management FZ LLC
Address: BLDG A4, Office 932, Al Hamra Free Zone, Ras Al Khaimah, UAE
Email: admin@polishheart.com
Is PolishHearts.com non-paid?
There are plenty of free features on the network. Registration, profile creation, browsing, etc. are all non-paid. To experience all the other services please, upgrade your membership.
How to build a page on Polish Hearts?
You need to give certain information about yourself while registration to create a profile. There is an option of Facebook sign up as well.
How does the payment system work?
There are two types of membership options available. You can choose Premium or Premium + VIP package.
Yes, the admins claim the network is completely safe and secure.
No, for utilizing the texting services, you have to opt for a premium membership on the network
How can I delete my account?
You can do so by heading to the 'My Profile' section and then choosing 'Profile Settings.' You'ill get the option to delete your account there.
Can I use the network anonymously?
No, you cannot operate this network anonymously.
How can I know accounts are real?
Every new subscriber has to verify his email address. Even after entering the platform, only validated users are displayed on the site.
How long does the approval take?
The authorization process is simple and takes a couple of minutes barely. After that, you can utilize network services.