All
Registration
Usability
Profiles
Prices
Special Features
Safety
faq
This website is a place where you can have such a great time you would be guessing why you haven't registered there earlier. It is a new online community. There, people share their feelings and looking for life partners. They have fun! You will find your crowd in seconds and learn new things. You can describe this platform as an exceptional social network for black people.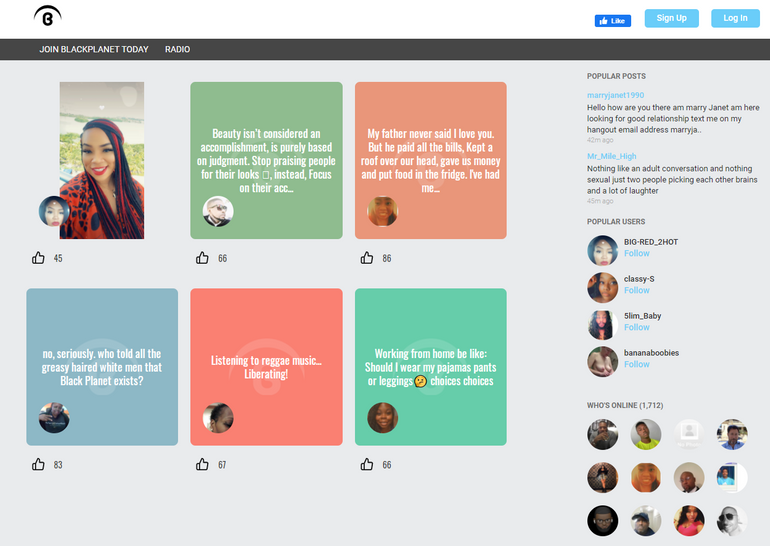 BlackPlanet Sign up
The good:
Very quick and simple
No extra questionnaires
The bad:
Your connection to the website may not be secure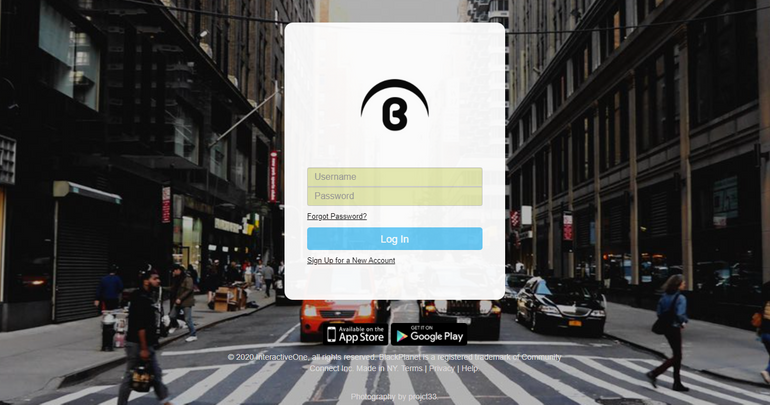 Profile creation and the registration process will take less than 2 minutes. The website asks for your basic info, such as your name, your birthday, your sex, email address, and a password. After completing filling out these registration fields, you can add more data to your account. You can make it look more real writing about yourself, your hobbies, your life moments and so on. There is no email verification, so you do not have to wait to start browsing and mingling with fellow users.
BlackPlanet Usability
The good:
Interactive design
Multi-colored
Availability of interesting news
The bad:
Might not be suitable for seniors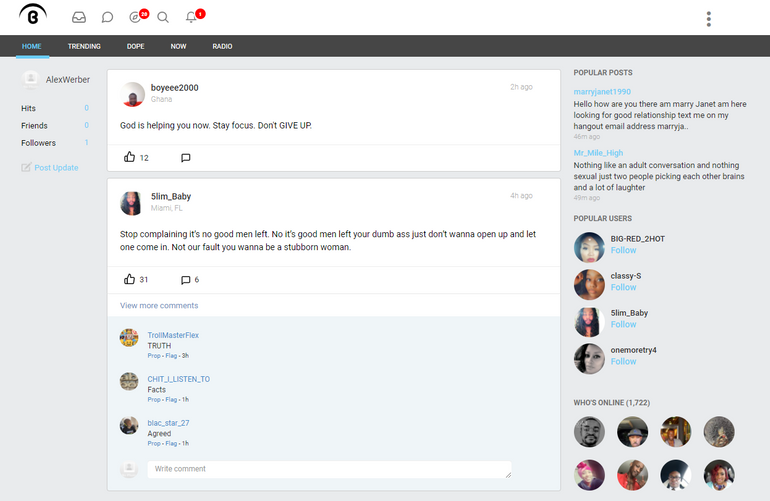 The BlackPlanet platform looks modern and fresh. You will not feel like you are on an actual specific dating website. The atmosphere is very relaxed, and it feels like you are just socializing at the online network. There are loads of useful widgets and articles you can discover.
Besides, the community is one of the greatest in America. People share their experiences, help each other, give advice. They support those in need, and of course, look for love.
Making contact
The good:
Talk to people from your area or another state
Leave some witty comments and get some recognition
The bad:
BlackPlanet.com is different from any other dating platforms you may encounter. It is fit for younger generations and features tools. It includes commenting and liking the posts people have shared. You can communicate through instant messages. Or you can talk in the chat room with many people at the same time. Also, you can send hits and follow users you like, so you get notified once they have some updates on their profiles.
BlackPlanet Profile quality
The good:
Colorful personal pages
Loads of photos and animated pictures
Various personal data
The bad:
You can find underdeveloped accounts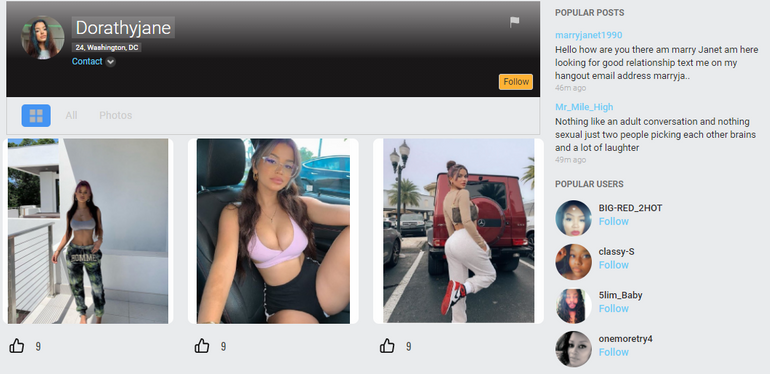 Personal accounts are diverse in information and designs. Some users might add more info and photos, and others might leave some fields empty. Moreover, people can add GIFs to their profiles, so it makes it even more fun to check out who you can click. You can always see how many followers they have and what people comment on their photos. You can use the open opportunity to encourage someone and impress them with your kindness or satire.
BlackPlanet Black Planet costs and prices
This platform certainly stands out among similar venues. It is an independent organization that does not need its users to pay for the services they get. Instead, the site runs many ads. They connect to some essential related items you might need while looking for love on the web. It is a big plus. This free access attracts millions of people who wish to flirt and discover this virtual reality.
Not everyone can afford a paid membership on the premium dating platform. So there is a solution at BlackPlanet.com. Yet, there is a disadvantage. Genuine singles can meet untrustworthy people and get scammed for money or personal information. That's why it is crucial to know how to protect your web presence and learn not to share your data with strangers.
Payment options
There are none because the platform is free for everyone.
BlackPlanet Special Features
The good:
Cool options for youngsters
Helpful tools
The bad:
May cause confusion among older generations
Trending
There are online pages that feature popular posts and famous people. You can be up to date with what is happening on the platform and maybe even in the world. Any user can get to the trends if he gets a lot of likes and comments.
Notes
This specific feature puts text onto the photos you post, and people can read it and leave comments and likes.
Stories feature
Users have access to the page full of articles with breaking news and ongoing world events. They can discuss them online and exchange opinions.
Mobile App
The good:
The bad: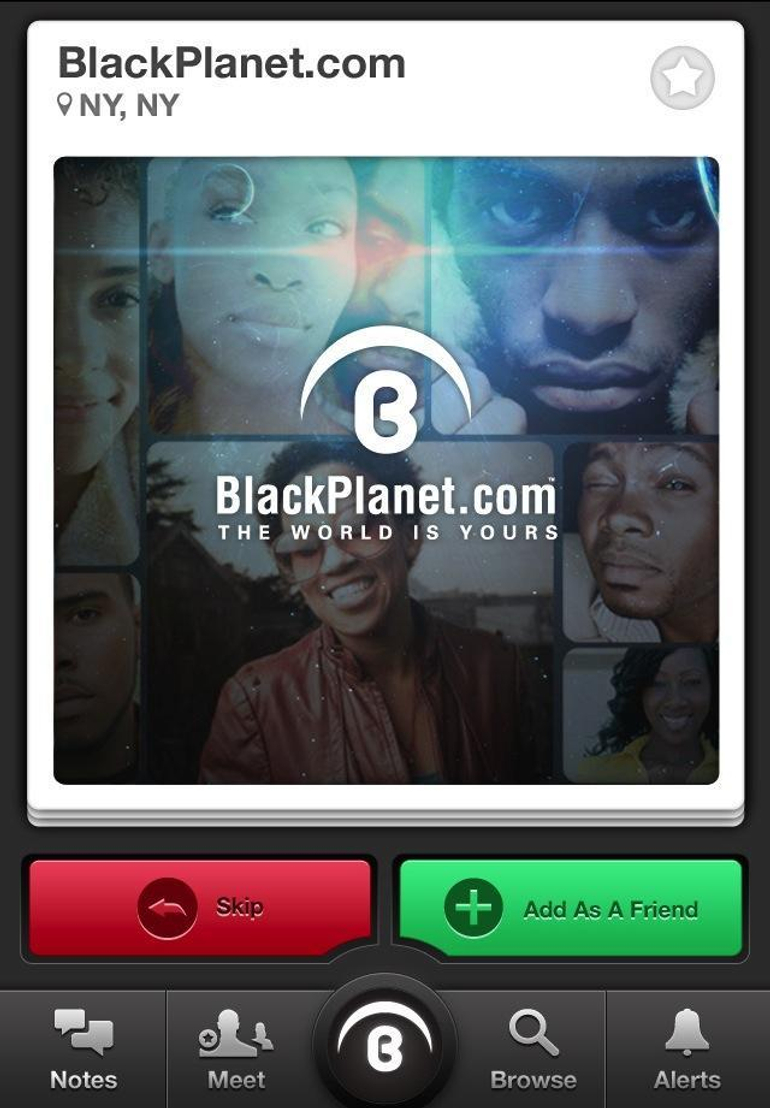 BlackPlanet.com has launched its unique application for electronic devices in 2009. Since then, they have made some upgrades and implemented innovations. Besides, the mobile app runs ads that might disturb your scrolling and texting. It is, unfortunately, a fixed feature as the website does not need any payment from its users.
The website's safety is at a high level. Many web security organizations collaborate with Black Planet. They make sure everyone is safe and transparent online. You digital prints are encrypted and unavailable for disclosure.
BlackPlanet Contact Information
Company: BlackPlanet.com, a registered trademark of Community Connect Inc.
Address: 4 NY Plaza Suite 501 New York, NY 10004, United States of America
E-mail: memberadvocate@interactiveone.com
Yes, it is. Any registered user can have access to every tool and service available on the website. It is possible without paying any extra costs. Although, singles can run into ads on the site that promote various useful tools.
How to create a profile on BlackPlanet dating website?
Registration is made extremely quick and straightforward. The platform does not need you to fill out many questionnaires stating your choices. Instead, you fill in the signup box with your name, gender, email, and password. And later you can add any descriptive information to your existing account.
How do BlackPlanet credits work?
This organization does not offer purchasing them. Same for any other sorts of subscriptions. This particular venue is free of charge. It is available to register for everyone interested in mingling and getting into a fun environment of the black community. Most probably it is one of a kind among other related dating platforms.
Yes, it is. The site has reliable web protection. It works with many online safety services that provide quality maintenance. Nonetheless, every user should be cautious with what information they disclose and what people might be asking you. In case you see any suspicious activity on the site, you can contact the help team.
How can I delete BlackPlanet profile?
You have to open it and go to your settings. There you can find a "Close Account" button that will do the deleting. Once you do that, your history on the platform will disappear completely. If you wish to come back, you can register again with the same email address and start all over.
How many members does BlackPlanet have?
This dating platform has over 6 million members, and it is ever-growing. Every day the website is visited by more than 250 thousand active users. The majority of them are females. Every black man has high chances of meeting a romantic partner or finding a good friend to talk to.
Can I use BlackPlanet anonymously?
No, you cannot. It is a free dating venue that offers various tools and communication services. But, anonymous browsing is not one of them. It goes against the security policy and may harm the safe environment built on the platform.
How can I know that the profiles are real?
Unfortunately, there is no straight identification that the account is not fake, and the person behind it is genuine. Still, you can check various profiles and see how people present themselves. It is clear that if there are loads of personal pictures, and he/she has enough information on the profile, then most probably it is one of the trustworthy singles looking for love.
Yes, it is. One of the best features of this organization is that every communication tool and service is entirely free of charge. You do not have to worry that you cannot afford to talk to one of your crushes, because you don't have to pay for it!
How long does it take to have my profile approved?
There is no email or ID verification on BlackPlanet.com. It might seem to be unprofessional and suspicious. But, it rules out the possibility that people will not be interested in registering. Once you sign in to your account, you can start flirting and looking for people to talk to straight away.