All
Registration
Usability
Profiles
Prices
Special Features
faq
Vietnamese is an amazingly beautiful and unique nation. If you know about this, you must have tried to get to know one of them on the Internet. Unfortunately, finding them is not easy. But what if there is a place where only they are? VietnamCupid platform is a unique project that combines an audience target and interesting features. Should you consider this a serious dating website?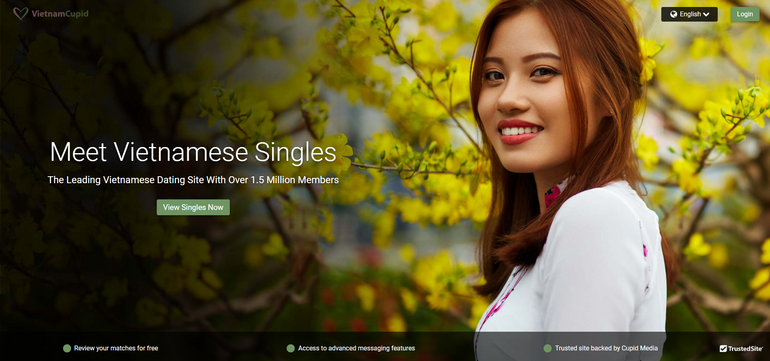 VietnamCupid Registration
The good:
Really quick and easy
Sign out via Facebook
Fast pictures downloading
The bad:
Registration here is quick and accessible for everyone. It is said in many VietnamCupid reviews. You can sign up via email or Facebook. Then you will see a window with input fields. Here you need to enter your name, gender, orientation, and age. Next, enter your email and password in order to use this to enter the site. To confirm, click View singles now (do not be afraid of the lock icon). After this small registration, your profile is ready to use. You will be prompted to add a photo from your device or from Facebook. You can scroll down this window a little and skip this action (Cancel button) to do this a bit later.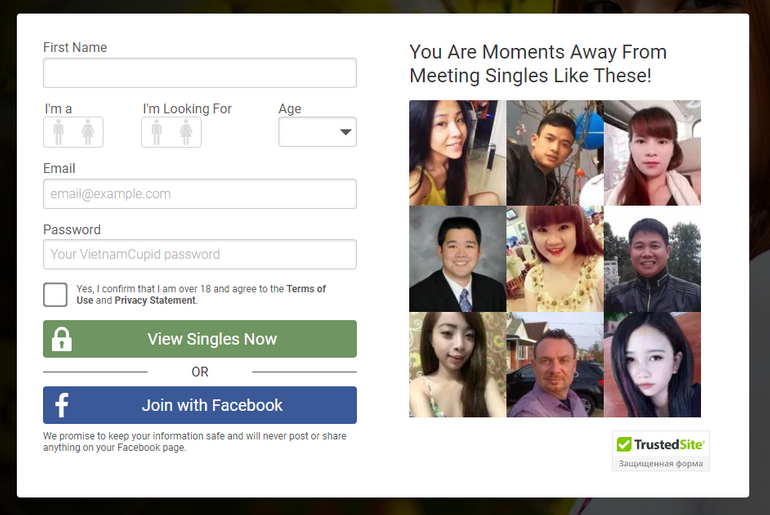 This posting is an example of how this should work on dating websites. You do not need to undergo annoying verification, although you can do so at will. This does not prevent the administration from keeping the audience clean, as they verify the authenticity of your photos. Well, not so carefully, but if they suspect you of fraud, they will immediately ban your account.
VietnamCupid Usability
The good:
High speed of work
Comfortable design
East to understand
The bad:
Usability is such that you simply cannot complain about it. That is, it is pretty good, but nothing special. If you are the same experienced user of dating platforms, then this will not see you. Maybe this means that we have reached certain standards? Then, that could be great news. So, VietnamCupid is ideal for its performance and convenience.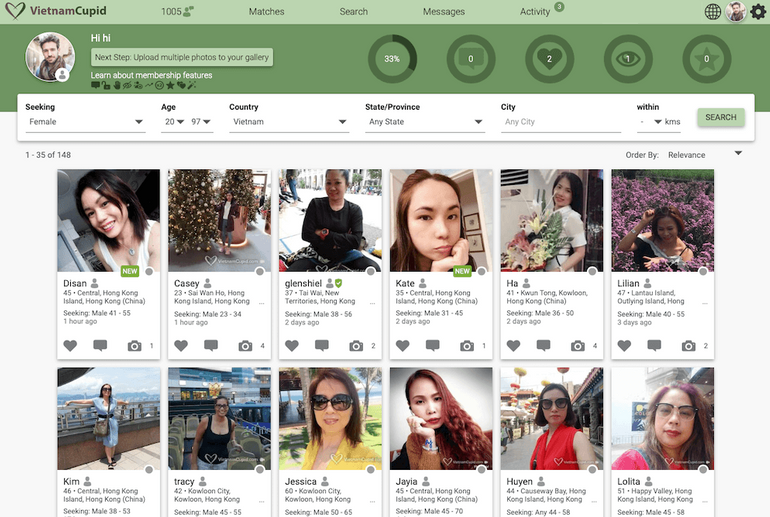 Here, a calm green color, minimalistic design and the correct location of the buttons. This is very important since it is proved that all this affects the decisions that we make on dating websites. It should be concentrating, relaxing and creating a comfortable environment. This is exactly the interface of this service.
Making contact
The good:
Many people to meet
Video chat
Messages translator
The bad:
Limited for basic profiles
You can quite easily contact someone here. In fact, if you format your profile correctly, you will receive many messages throughout the day, even if you are a man. Here are confident women who often write first. This is absolutely normal because... come on, isn't that why we came here? So get ready to feel like a local superstar here. Especially if you have a membership. And this Vietnam Cupid review will help you to feel it.
Yes, in fact, you will need a subscription to communicate freely here. This has a very limited ability to communicate with the basic account. You can write only premium members and hope that they will answer you. Although, this works great for girls and they may not buy a subscription at all. But if you have it, you can use it without restriction. There is also a great advanced search.
VietnamCupid Profile quality
The good:
Comparison table
Mostly real users
A lot of pictures
The bad:
Few users fill out a questionnaire
Oh, it's worth it to write a separate Vietnam Cupid com review about it. But let's try to describe it in a nutshell. Nowhere is there such a detailed and useful profile description as here. It is designed with the idea that you clearly know what you want. Each user receives about 40 questions about his / her appearance, preferences, marital status, education, hobbies, etc. This will describe the user in as much detail as possible.
After that, you fill out the same questions, but now it concerns the ideal candidate you are looking for. Then a comparative table appears on your profile: what you have and what you want. When you go to another user's page, his requirements are answered in red (if you do not fit this requirement) or green (if you match).
VietnamCupid costs and prices
Still, VietnamCupid.com is a paid platform. Therefore, you should not be surprised if you do not get many free features here. But after purchasing a premium membership, you can see what you are paying for. It has a huge set of useful features that were mentioned earlier. This differs among other dating websites in just that. You get everything and more.
Free services:
Create an account
Searching and viewing profiles
Chat with premim members
Fee based services:
Unlimited communication
Live chat and translator
Many more features
Is Vietnam Cupid dating website expensive or cheap?
This is the average among all online dating platforms but provides more features. Therefore, the price is justified if you want to communicate with the Vietnamese.
Payment options
The easiest ways here are by credit card and PayPal. In addition, there is bank transfer and Paysafecard.
VietnamCupid Special features
The good:
The bad: -
There are many interesting features that you will discover during use. As well as many Vietnam Cupid reviews. The developers have tried to please us with details. For example, you can add Cupid Tag to your page. These are just a few words that describe your mood and motivate other users to treat you correctly.
If you think a message from a user is inappropriate or annoying, you can add it to the block list. You will see the corresponding button next to its profile picture. There are also many other unique features that were mentioned earlier: comparative tables, advanced search, video chat, etc.
VietnamCupid Apps
The good:
Good design
Same functions
The bad:
Nothing special
Average rating
Apps is not a strong point of VietnamCupid dating app. They have an Android application that has been downloaded over 50 thousand times. However, this is not available for iOS. If you are an iPhone user and you also want to enjoy the platform from your smartphone, simply use the mobile version of the website through your browser. This is not inferior to the quality of the application and in some things, it is even better.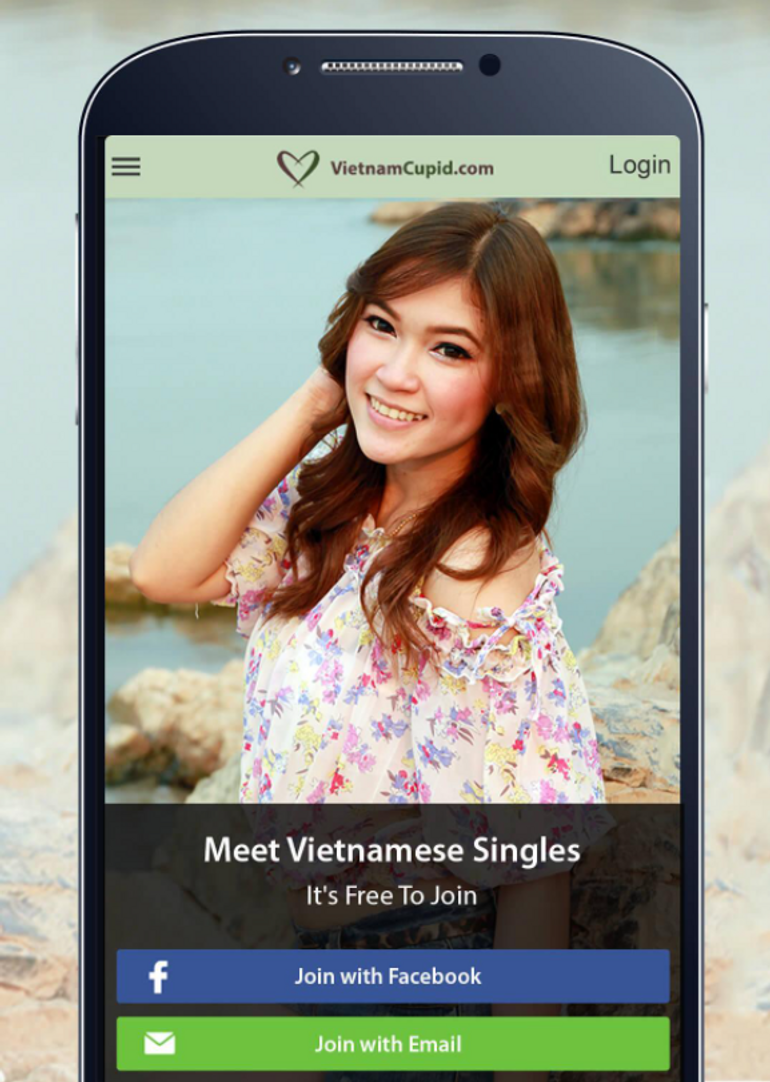 Overall, this is average. You can use this, but you won't get the impression you would use the tinder. This is not such an interactive interface and design. Some features are inconvenient. Therefore, if you intend to use this often, do not start with the application.
Is Vietnam Cupid com free?
No, this cannot be considered free, although you can use it without membership. For full use, you need to buy a subscription.
How to create an account on VietnamCupid dating website?
Go to the website and select View singles now. The Registration section of this review writes more about this.
How safe is VietnamCupid?
This has been working for a long time, so the administration is doing everything to keep this place safe.
How to delete a profile on VietnamCupiddating website?
Go to your account settings and select this feature.
What is the number of active users on VietnamCupiddating site?
More than 1000 people visit the platform daily. In total there are more than 800 thousand registered users.
How to use VietnamCupiddating platform in incognito mode?
To use this anonymously, you need a premium membership. After that, simply activate the mode in your profile.
What to do to make sure that a person I talk to is real?
Use video chat after some time of correspondence to make sure that this person is who he claims to be.
How to contact people for free on VietnamCupid?
Choose people who have premium accounts. You can contact them without a membership.