All
Registration
Usability
Profiles
Prices
Special Features
faq
Want to meet charming men and women? FilipinoCupid is great if you are looking for a long-term relationship. The main difference of this platform is the ability to fill out a huge number of description points and compare their features with user requirements.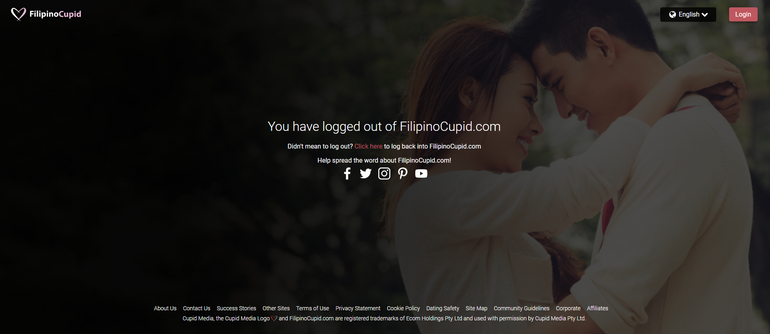 Here is an honest policy and a large number of real users. It is also worth noting the security of this website, because the administration monitors fraud, stops it and constantly warns users that you should be careful. But is everything so perfect on this platform? Let's find out in the Filipino Cupid review.
FilipinoCupid Registration
The good:
Fast and easy
No verification needed
The bad:
Frequent reminder about adding a photo
Registration on Filipino Cupid here is extremely fast. You just need to enter your name, choose whom you are looking for (man or woman), specify the age, email and password. Done! Your profile is ready, you only need to fill in the information about yourself correctly. You do not need to add a picture right away, you can do it later.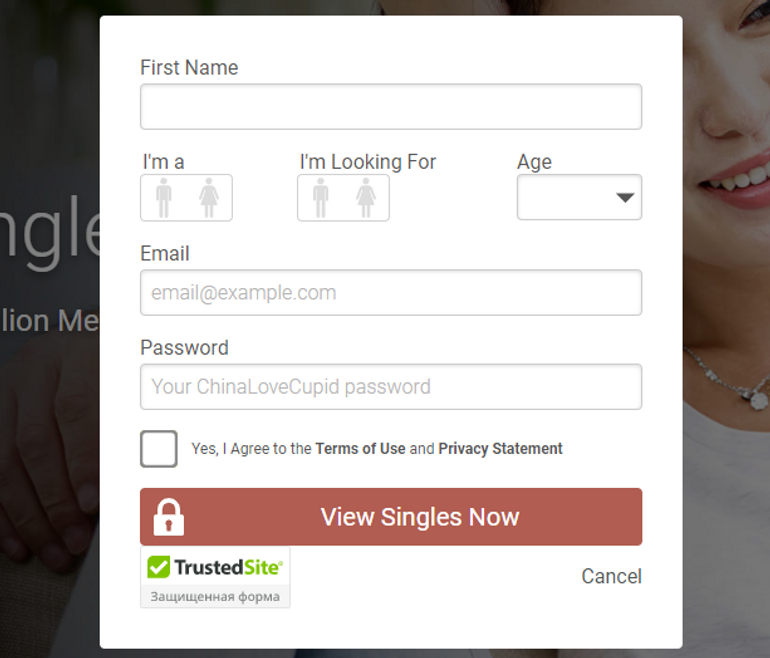 After registration, you can freely familiarize yourself with the site's capabilities. You don't need to go through account verification, but you can notice a feature of this platform. Some user profiles are temporarily closed because they are waiting for confirmation. This happens when the administration suspects someone of violating the rules of the service.
FilipinoCupid Usability
The good:
Correct button layout
Minimalistic design
Lack of advertising
The bad:
Normal design without something special
It looks like typical dating websites and is inferior to many others, without a special interface. Many FilipinoCupid reviews say about it. Although it has excellent profile content, this information will be in the following paragraphs. In general, it is convenient to use. Above you will see a reminder to add a photo or description if you have not done so. Then there are the main categories: search for users on the main page, matches, messages, and activity.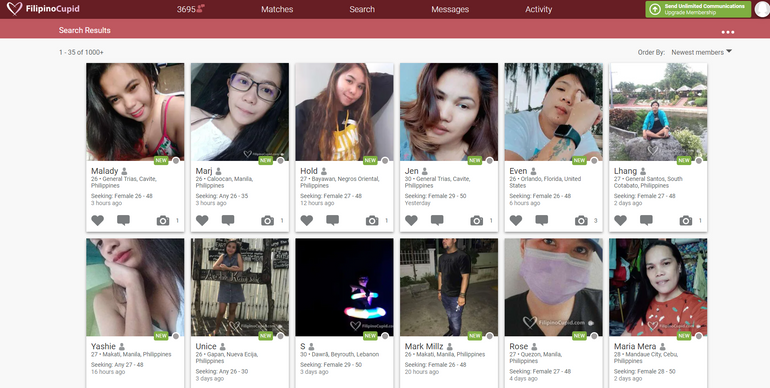 Most features will be available after updating the profile. You get all the basic functions that are usually found on dating platforms. This is fast and you can conveniently switch between pages. There is also a chat window in the lower right corner, so you can continue to explore the site and reply to messages at the same time.
Making contact
The good:
Hearts sending
Matches
List of favorite users
The bad:
Everything is done here so that you get a lot of information about the user and can quickly contact him / her. Another question is whether all the complete dossiers add about themselves. Some do this, and some do not. But as for the choice of a girl on the website, you will be completely satisfied: there are many diverse women.
You need to have a membership to send messages. To do this, simply go to the main page, where you will see many profiles. Select one of them and click the Messages icon. This is even more convenient to do in the mobile app. Hope this FilipinoCupid com review helps you to make it better.
FilipinoCupid Profile quality
The good:
Huge list of questions
Profiles are open to everyone
Verification Icon Available
The bad:
Not all profiles are filled
If every FilipinoCupid.com user answered all the questions in the profile description, this would be an ideal place for dating. It is unlikely that you will meet so many points elsewhere. But still, 1 out of 10 girls takes this seriously and in her profile, you can find out everything about her.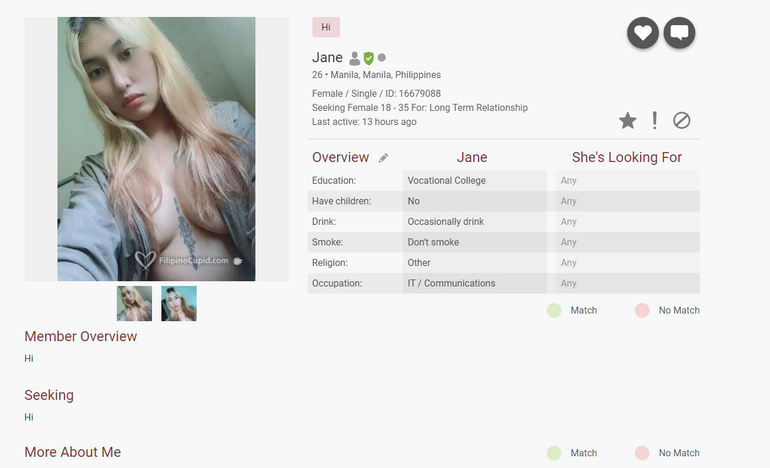 On each page of another user, you can see a comparison table of how you fit together. On the left, there is information about her / him, and on the right, her preferences will be indicated, which are highlighted. If the color is red, then your options are not suitable for her. Questions begin with hair color, habits, pets and end with religion and having children. You need to specify both information about yourself and your preferences in order to get the best matches.
FilipinoCupid costs and prices
Let's be honest, you need a subscription to fully use the platform. However, you are not making the choice blindly, because you will know what functions you will receive. Firstly, you can send messages to any users, and advertising will no longer bother you.
Secondly, in addition to the full use of the FilipinoCupid com, other users will see that your profile is VIP and you will be higher in the overall ranking. You can also use the platform anonymously if you want to stay incognito for a while. In addition, you will receive the best matches and use a message translator.
Compared to other dating platforms, this is the average price. If you plan to use FilipinoCupid for a long time, then the price of $ 11.67 is quite small. In addition, two types of a subscription is an excellent solution for users. You can freely use the Gold Membership platform or buy Platinum if you are a true fan of this website.
Free services:
Account creation
Show interest to others
Chatting with premium users
Fee based services:
Unlimited chat
Rating Benefits
Many other features
Payment options
It has many payment options as said in FilipinoCupid reviews. Credit Card, PayPal, Bank Transfer, Paysafecard. The fastest is the credit card payment. After choosing this option, you will automatically go to the payment page and enter your card details. After a couple of minutes, the account will be paid.
FilipinoCupid Special features
The good:
The bad:
All major features are available after subscription
You will not get many features of the Filipino Cupid free version, but even in membership, you will find a simple set of necessary features. The main advantages and differences can be called detailed descriptions and targeted audience with charming Filipino users. Profile filling is really mind-blowing here.
In addition, in the paid version you get other interesting features. For example, you can hide your profile and browse anonymously, go higher in the ranking, translate user messages into your native language, etc. This is not an entire list, but it is best to leave something to surprise you.
Apps and mobile website
The good:
Nice and simple design
Same functions
The bad:
Usability worse than on the website
All dating platforms usually focus on one thing: a desktop version or mobile app. If you're used to doing everything with your smartphone, you probably won't like FilipinoCupid. It has a more convenient website design. Although, if you still do not have specific usability requirements, you can still use it.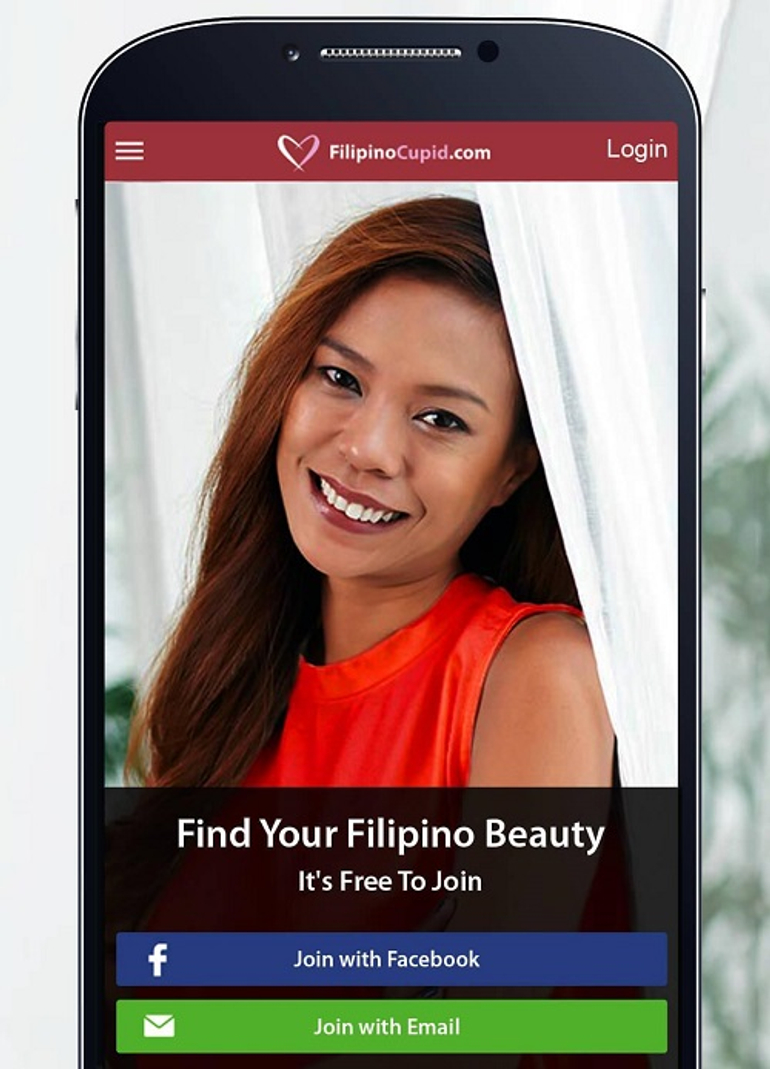 The main problem of this application arises when you start to search and communicate a lot. For example, on the Search page, you will receive an uncomfortable list when a single profile photo occupies the entire screen of the smartphone. This way you have to flip through many profiles before you find someone you like.
No, it's not. You can register and test the website for free, but for full use, you need a subscription
How to create an account on FilipinoCupid dating website?
Go to the platform, enter your basic data that is requested and ... Done! Your profile is ready to use.
How to choose membership on FilipinoCupid dating site
If you are a beginner, you can start with a Gold Subscription. When you feel ready to pay more for the features of this website, you can buy Platinum.
How safe is FilipinoCupid?
This is an absolutely secure website that complies with all safety standards.
How to delete a profile on FilipinoCupid dating website?
To do this, you need to go to Profile Settings and select this function. Remember that in a premium account you can temporarily hide your profile. After deletion, you cannot restore it.
What is the number of active users on FilipinoCupid dating site?
It has over 1 million users and 3,500 active profiles daily.
How to use FilipinoCupid dating platform in incognito mode?
To do this, you need to buy a premium subscription. Then you will see the incognito function and you can temporarily hide your profile.
What to do to make sure that a person I talk to is real?
All profiles on the platform are checked and you rarely see fake profiles. Nevertheless, if your communication has become serious enough, do not forget to talk in a video chat to make sure that this is a real person.
How to contact people for free on FilipinoCupid?
You can chat with people for free here if they have a premium subscription. That is, you can show your interest to this person and if he writes you himself, then you can chat.