All
Registration
Usability
Profiles
Prices
Special Features
Safety
faq
In this review, you will find everything you need to know about this dating platform. It has been specially created to accommodate the audience over 50 years old. It is not a secret that younger generations don't have a hard time finding someone to build a relationship with. They are eager to mingle and discover. Whereas for senior people, it is slightly harder. And SeniorBlackPeopleMeet.com has considered all the existing aspects of dating when you are over 50.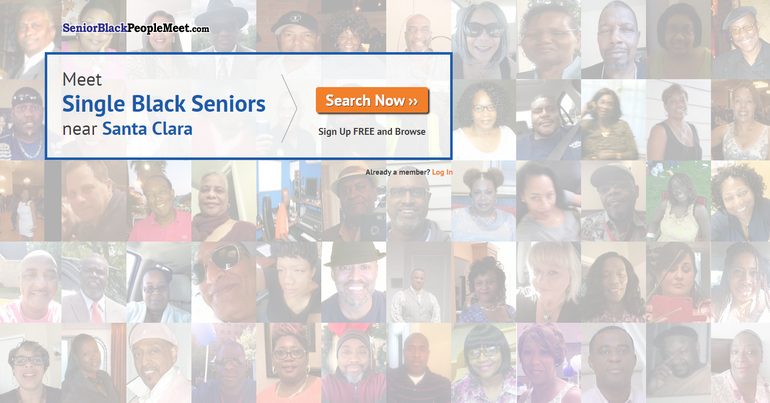 Senior Black People Meet Sign up
The good:
Free and simple process
Does not take long
The bad: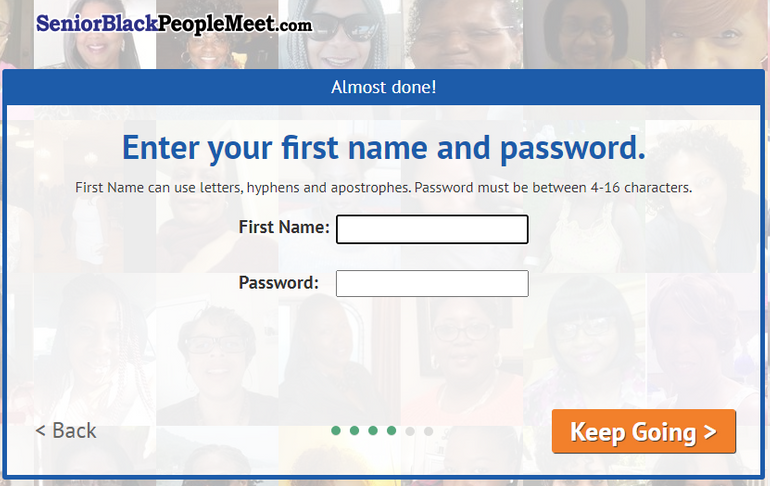 You can see that this website was designed for a senior audience. It has an incredibly simple registration system. It is understandable for people of any age. It will take less than 5 minutes to create a profile. You have to start the registration by filling in the information asked by the website.
State your name and gender. Choose who you are looking for and when your birthday is. State where you are located, put in your email address, and create a safe password. Later, you can add some descriptive text to your account. There you can tell some interesting facts about yourself. Do not forget to add some of your photos. Thus fellow users will see how you look like and might be interested in getting acquainted with you!
Senior Black People Meet Usability
The good:
Lovely design
Simple interface
Engaging links available
The bad: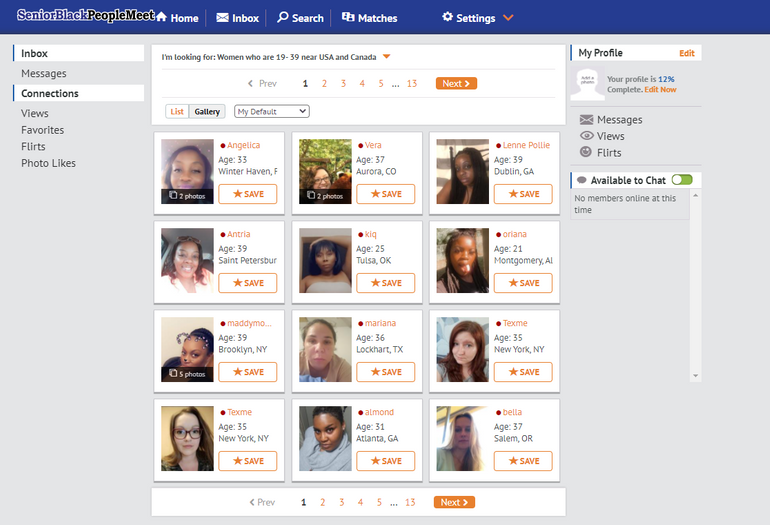 The moment you open the website, you can see the registration button. There is no excess information on the main page. So the platform guests will not be confused about what to do and where to look.
Also, there you can read extra material about the organization. You can study their primary values, some dating tips, and guidelines. To do it, follow the links at the bottom of the web page. There are no pop-up windows or any extra data that might not be relevant to the user and distract his attention.
Making contact
The good:
Straightforward interaction
The bad:
No flower or gift delivery
Senior Black People Meet platform does not have too many different communication options available. Maybe it is even better. Thus senior people will not be confused and have a clear understanding of how they can get to know each other. Users can communicate via Instant messages, where they text each other in a private chat.
You can also contact your partner via Video or Audio chat. Moreover, you can send cute flirts indicating that you like the person and wish to talk. Adding to favorites is a great tool! So after you have done your match searching, you can see whom you liked and where to start the conversation.
Senior Black People Meet Profile quality
The good:
Very descriptive and eloquent data
The bad:
Some information might be closed to the public eye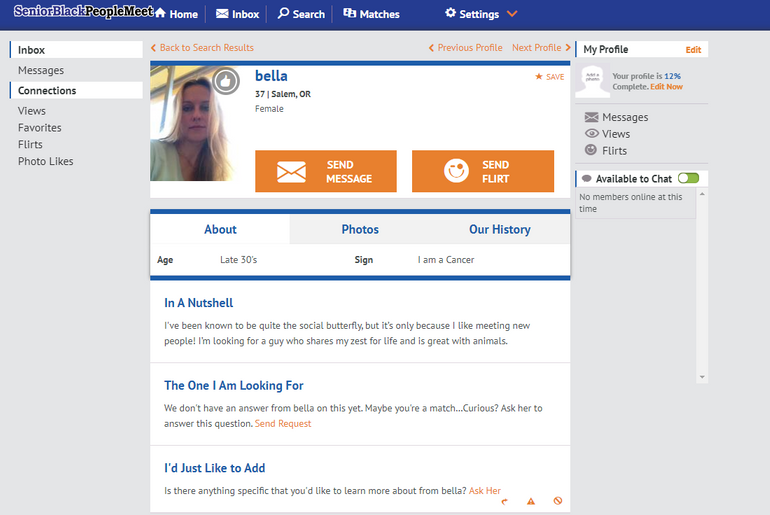 It is a common fact that older people are more articulate with their descriptions. Thus, almost every profile has enough extra information to learn and discover. There might not be a lot of photos of each user. But, you will see the genuine intentions of these singles and be surprised by what they have to offer as a result. Besides, this platform offers various types of relationships. You could be looking for a romantic partner or a pen pal there.
Senior Back People Meet costs and prices
This dating venue offers its clients various membership options. There a person can choose how long he wishes to stay at the platform. You can renew your subscription anytime. Feel free to do it when you want to get more time to spend meeting attractive singles.
As you can see, you cannot do much without paying. Even so, the free options may get you excited and bring a wish to try out all the tools of the platform.
Free services
Registration
Sending flirts
Browsing the list of singles
Adding to Favorites
Free based services
Messaging
Checking your account statistics
See who sent you Flirts and added you to Favorites
Texting in the Chat rooms
Payment options
Senior Black People Meet Special Features
The good:
Loads of helpful content
Tips and life hacks from dating professionals
The bad:
Nothing that will excite the communication between two people
Dating tips
This particular feature is undoubtedly useful. It presents to your attention some life hacks and critical points on how you can improve your dating skills and attract more people. Moreover, these articles give you crucial information on online and offline dating. They can let you make sure you know how to protect yourself in dangerous situations.
Message templates
There are some examples of the texts you can compose if you do not know how to start a conversation. There's no need to panic and be sad if you do not know how to flirt, there are some patterns you can follow and be successful.
Instant Match
It is a fun way to get acquainted with fellow users and learn who you can find on the website. With this feature, you only see the photos of people and base your liking on how people look like.
Success stories
A long list with the real feedback from people who have already found their love on SeniorBlackPeopleMeet.com. It will lift your spirits and motivate you to try out your luck in romance.
Mobile App
The good:
A mobile friendly site version
The bad:
Sadly, there is no available application for Senior Black People Meet venue. Although it is always easier for older people to use computers and access the website. The mobile app may lead to some serious confusion and misunderstandings.
The website has very high-quality web protection. It also has guaranteed encryption of your financial transactions on the platform. The site officials will not have any access to your private data, and it will not be disclosed either shared to third parties.
Senior Black People Meet Contact Information
Company: SeniorBlackPeopleMeet.com operated by PeopleMedia, Inc.
Address: PO Box 12627, Dallas TX, 75225, United States of America
Telephone: (866) 320-0106
Is SeniorBlackPeopleMeet free?
No, it is not. Due to its high quality and specifics, this dating platform is paid. You will get the best service for the smallest amount you spend on this website. This platform values its excellence and requires some payment for its features.
How to create a profile on SeniorBlackPeopleMeet dating website?
You have to first register on the platform. Then put some necessary personal data like name, email, and password, so you have an account. After you have to add more detailed info to your profile. It is needed to tell people some facts about yourself and make them want to talk to you.
How do SeniorBlackPeopleMeet credits work?
The website does not work with credits but offers its users various membership options. A customer can choose among three different subscription options. They differ in prices and time length of being on the site and using its tools.
Is SeniorBlackPeopleMeet safe?
Yes, it is. The website has a high range of online security collaborations. Plus, it monitors the activity on the site. It also uses some precautionary measures when needed. Besides, there are some articles on how you can protect yourself online and offline.
How can I delete SeniorBlackPeopleMeet profile?
Deleting your account from the website is an entirely straightforward process. You can do it from your settings. Click on the "Delete my profile" button, this way erasing your account from the venue's list of registered users.
How many members does SeniorBlackPeopleMeet have?
The number is still not known publicly. But, there are over 100 thousand daily active users on the platform. Which makes your chances to meet your love high as ever. You would not get that much recognition in real-life setting.
Can I use SeniorBlackPeopleMeet anonymously?
Unfortunately, you cannot do it here. SeniorBlackPeopleMeet values the safety of its clients. So it does not allow anyone to undermine the trust of fellow users in such a way. You can browse the profiles without being seen. Although if you like the picture or add someone to Favorites, that person will receive a notification about your interest.
How can I know that the profiles are real?
This platform does not offer an email verification. It brings up the chances of meeting some fraud on your way. But, you will be able to identify real people. If you check their profiles and see enough of personal information they wish to share they are genuine.
No, it is not. To communicate with other attractive singles, you have to buy one of the subscription options presented by the site. Messaging will be unlimited for paid users, and you will not have to worry about any extra costs.
How long does it take to have my profile approved?
You do not have to wait for your profile to get verified. You can start your dating journey straight away after the registration. SeniorBlackPeopleMeet has a very efficient online help team. They work hard to provide the best-personalized service to every registered client. They will not request any ID confirmation. Still, they will check every unacceptable action and stop it.